Proposed federal food safety rules to be aired at Hanover meeting
The listening session aims to answer questions from farmers and other food producers about the Food Safety Modernization Act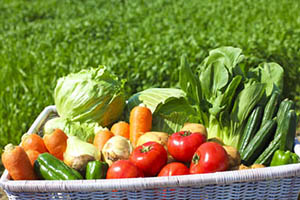 New Hampshire farmers and food producers with questions about how the federal Food Safety Modernization Act could affect their operations are encouraged to attend a free listening session next week in Hanover, where federal officials will be on hand hear their concerns and answer questions.
The listening session – co-hosted by the New Hampshire Department of Agriculture, Markets & Food and the Vermont Agency of Agriculture, Food and Markets – aims to answer questions and offer clarification on the rules that have been proposed under the FSMA. It also offers a chance for farmers to speak directly to federal officials about how the proposed rules would impact their operations.
It will be held from 9:30 a.m. to 12:30 p.m., Tuesday, Aug. 20, at the Alumni Hall Auditorium in the Hopkins Center at Dartmouth College.
The Food Safety Modernization Act is a massive reform of American food safety laws that aims to prevent food contamination from occurring, rather than responding to it when it does. Its goal is to stop multi-state foodborne illness outbreaks, of the sort that happened in 2011 when cantaloupes contaminated with listeriosis from a Colorado farm led to the death of 30 people over several months.
"For the first time, it puts federal direction on how fruits and vegetables are grown in the field," said Roger Noonan, an organic farmer at Middle Branch Farm in New Boston, N.H., who is also president of the New England Farmers Union, which represents and advocates for farmers in the region.
In January 2013, the Food and Drug Administration issued two proposed rules under the FSMA: "The Standards for the Growing, Harvesting, Packing, and Holding of Produce" rule, which proposes enforceable safety standards for the production and harvesting of produce on farms; and "The Current Good Manufacturing Practices and Hazard Analysis and Risk-Based Preventive Controls for Human Food" rule, which would require makers of food to be sold in the U.S (whether produced domestically or in a foreign facility) to develop a formal plan for preventing food products from causing foodborne illness.
The two proposed rules, which together total more than 1,200 pages, were the first of five rules that will be issue in implementing the law.
Small farms
Noonan said he has many concerns with the rules as proposed, but agrees with the goals of the law.
"It's not that we're against food safety – it's obviously not good for our businesses if we poison and sicken our customers," said Noonan. "We're for food safety. We just want to make sure these (rules) address the concerns of small and mid-sized farms."
As proposed, the rules seem more tailored for larger-scale operations in the Midwest, said Noonan, and could be onerous for the smaller food producers that are much more common in New England and New Hampshire.
One of the requirements, for example, says that raw manure that could potentially come in contact with a crop must be applied 270 days before harvesting, which would leave local farmers applying it in the winter to frozen ground or paying substantially more for composted manure, which can be applied in a shorter window, said Noonan.
'The produce safety and preventive control rules as currently proposed by the FDA threaten to impose substantial regulatory and financial burdens that will impede the growth of these small farms and value-added on-farm enterprises.'
In May, U.S. Sen. Jeanne Shaheen and Congresswoman Annie Kuster sent a letter signed by 18 other members of the New England congressional delegation to the Food and Drug Administration, urging it to hold a public hearing on the rules in New England, where the lawmakers warned that the rules could be too burdensome and expensive to the region's farmers.
"It appears to us that many aspects of the rules were derived from existing practices of large-scale farming operations that do not represent the majority of farms or farming practices in New England," the letter read. "The average farm in New England is only 110 acres and fully 65 percent of our farms have yearly sales totaling under $10,000. The produce safety and preventive control rules as currently proposed by the FDA threaten to impose substantial regulatory and financial burdens that will impede the growth of these small farms and value-added on-farm enterprises."
The request resulted in the Aug. 20 meeting.
The rules do include certain size exemptions, which would exempt small food producers with less than $500,000 in annual gross sales or that sell the majority of their food directly to consumers within the state from the federal requirements.
But, said Noonan, "the problem is, we have farmers who are selling wholesale and who may want to grow who don't want to be beholden to that exemption."
The Aug. 20 listening session is an opportunity to "provide reasonable, good comments that will influence the rules and gets something that works for everybody," said Noonan.
The public comment period has been to Nov. 15. Those with comments are encouraged to submit them at regulations.gov/#!docketDetail;D=FDA-2011-N-0921.