Propane autogas: the top green fuel for vehicles you've probably never heard of
The propane motor vehicle fuel is gaining respect and market share even as it continues to fly under the radar as a viable alternative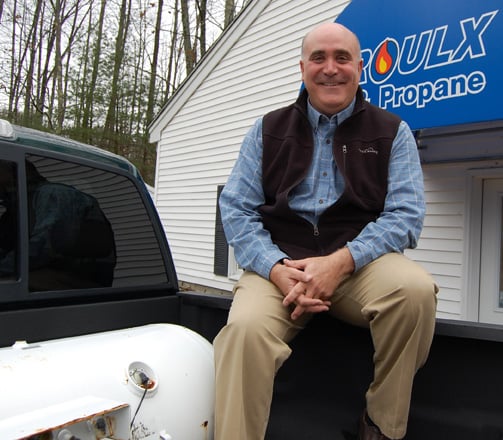 Though it has been a fuel source for more than a century, propane has been relegated to the Rodney Dangerfield category of getting no respect when it comes to applications outside the realm of heating or outdoor barbecue grill use.
But nationally and globally, autogas is gaining respect and market share even as it continues to fly under the radar as a viable alternative fuel. Autogas is used in more than 18 million vehicles worldwide, is the third most utilized fuel behind gasoline and diesel and is the top alternative fuel source for vehicles.
Jim Proulx, president of Proulx Oil and Propane in Newmarket, has become a passionate convert. He believes it will make business sense for the long-term future and growth of his family-owned and -run company, which officially launched its autogas program last year. He's betting that common financial sense will eventually prevail and lead to a boom in autogas use.
"This isn't a science project," said Proulx, whose company oversees the Prins Autogas conversion program in New England. "The numbers work."
Proulx knows this firsthand, because four years ago he installed a propane gas tank in the bed of his own Ford pickup. He has driven it more than 120,000 miles without any problem. As if to prove to himself that the autogas refueling station infrastructure was extensive, Proulx and his son Chris took a 2,300-mile round trip to South Carolina. With the exception of the last 75 miles, the entire trip was fueled by autogas.
"I wanted to have my own data experience and to measure the reliability and performance," said Proulx, a trained engineer and a graduate of Maine Maritime Academy. "It helped to reinforce my own comfort that this was the right platform."
Growing client base
Proulx paid about $5,800 for his truck's conversion and said he long ago paid off the investment. He has continued to rack up savings due to the low cost of autogas which, with federal rebates of 50 cents a gallon, can be as low as $1.50 a gallon. Though autogas only has between 85 percent and 90 percent of the mileage efficiency of regular gasoline, its burns as much as 70 percent cleaner (which is why it was categorized as a certified alternative fuel by the federal government in 1992) and can extend the life of an engine.
Proulx has already converted half his service vehicle fleet, and he plans on having all gasoline-running vehicles converted this year. He said the operational cost savings are significant enough that a user can break even in 12 months after conversion of a vehicle.
Proulx has established a certified conversion center at North American Equipment Upfitters in Hooksett for fleet customers. Proulx's growing client roster includes a school district in Penacook, an automotive group in Massachusetts, and a landscaping company in Kittery, Maine, which has done autogas lawnmower conversions.
Garrett Scholes of The Provider Enterprises – a Brentwood bus company with a 250-vehicle fleet that provides transportation for special needs students in school districts throughout southern New Hampshire – said that the company will likely take part in an eight-vehicle pilot program in 2014.
"For us, the investment would be significant," said Scholes of the conversion costs for the company's gasoline-fueled fleet of 14-passenger vans. "But the cost savings would also be significant and could reduce our fuel costs from 15 percent to 10 percent of our budget."
Scholes said he met Proulx at an alternative fuel conference in 2013 and has researched the pros and cons of conversion for months.
"It's not only the cost savings, but the environmental impact is important as well. We could decrease our smog emissions by 80 percent," Scholes said.
Tipping point
Also known as liquefied petroleum gas, or LPG, propane is a natural byproduct of natural gas processing or domestic oil refining. Compared to other countries, such as Australia and Turkey, the United States is lagging way behind, with about 300,000 vehicles using autogas and about 2,700 fueling stations – 2 percent of the worldwide total.
According to Shell Australia, one of the largest autogas providers in that country, there are more than 615,000 vehicles and 3,200 fueling stations. And due to determined government intervention in Turkey to cut domestic oil consumption, 37 percent, or more than 3.1 million passenger vehicles, run on autogas, and the country has more than 8,500 fueling stations.
Proulx said he believes that the United States is nearing a tipping point in terms of awareness and financial viability for the commercial sector. His company and others offer free installation of on-site fueling stations for large-volume customers and he offers conversion financing programs to help potential customers.
What has made autogas difficult to break through in this country, he explained, is that the propane industry has mostly small and medium-sized players and hasn't had the massive public relations boost behind it that, for example, the natural gas industry does in its quest for compressed natural gas, or CNG, vehicle conversions.
Not unlike the propane industry itself, autogas breakthroughs come in seemingly small bites, such as a limousine service in Massachusetts, a municipality in Georgia – or in Arizona, where, according to the Petroleum Education and Research Council, the Mesa school district plans to convert all 517 of its buses and, according to school officials there, will save an estimated $6,500 per year per bus when fully implemented.
Prins is not the only Autogas conversion process on the market. Rousch Clean Tech is a major player, but focuses on complete conversion, while Proulx said Prins has retained worldwide market dominance because it keeps the gasoline option in place.
"A lot of my job is education. I think we are at the point where diesel fuel was in the late 1960s and early 1970s," Proulx said. "The good news is that we are making headway. What's different today is that we already have the technology and infrastructure in place. I believe the headlines in five years won't be about who has converted but will be looking at who didn't do it."