Pro-NAFTA report finds New Hampshire economy gains from treaty
Business Roundtable urges U.S. to expand, not scrap, agreement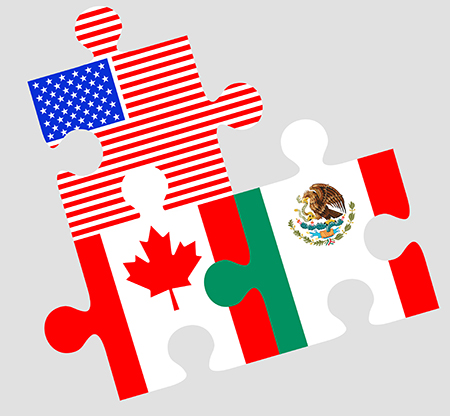 The North American Free Trade Agreement supported nearly 60,000 New Hampshire jobs in 2014 and in 2015 helped facilitate $1.4 billion in exports — plus almost all of the imports that came into the state through the treaty weren't consumed but were used to make other products — according to a report released by the Business Roundtable, a strong NAFTA defender.
The report is being issued at a time when President Trump is renegotiating the treaty with Canada and Mexico. And rather than scrap NAFTA, as Trump has often threatened to do, the organization wants to expand it.
"Successful negotiations to update NAFTA should expand on, not diminish, the many benefits this U.S. trade agreement has already created," says the report.
The report looks at the positive impacts of NAFTA and makes no attempt examine the negatives: some industries leaving the country so they can take advantage of lower labor costs without tariffs and the accompanying loss of those jobs to another country, notably Mexico.
And although $1.4 billion in NAFTA exports might seem large, New Hampshire may have room to grow in that area. Nationally, the report credits NAFTA with generating $600 billion in exports. That means, given the state's population, the state could have another $1 billion in exports.
For example, Vermont, which has less than half New Hampshire's population has slightly more exports and Massachusetts has five times more people and six times more exports. (Maine's exports are on par with ours.)
Most of New Hampshire's exports are in goods (about $1 billion) as opposed to services. Of the three biggest NAFTA exports examined in the report – timber, motor vehicle parts and sugar products – much of them go to Canada.
Imports from Canada and Mexico are a big deal for Granite State companies. Some 95 percent of imports from those two countries into New Hampshire are inputs – products used for manufacturing – as opposed to consumables. In comparison, Vermont is at 80 percent, Maine at 72 percent and Massachusetts at 69 percent.