Private well testing produces troublesome results
Water in one out of five NH private wells contains levels above state standards for arsenic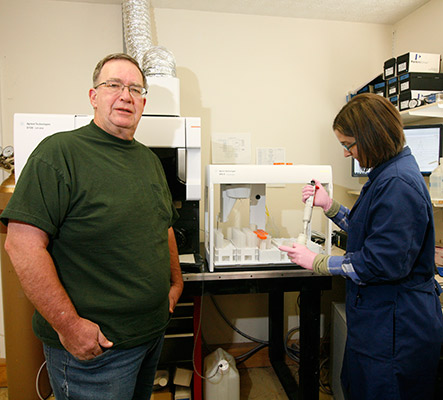 Arsenic is the most widespread and "number one drinking water concern affecting public health in New Hampshire," says Lou Barinelli, who manages the water lab for the NH Division of Public Health Services.
A naturally occurring element widely distributed in rocks and soils around the world, arsenic has been known as highly toxic for millennia. Under the right conditions, it can migrate from the rock into the water of a drilled well.
Bob Scott, commissioner of New Hampshire's Department of Environmental Services, estimates that 62,000 New Hampshire residents may be at risk by drinking water from untested bedrock wells, in line with numbers from an independent report by the U.S. Geological Survey that estimates the high-arsenic domestic well population for the entire U.S.
Experts note the risk may be compounded by foods and drinks containing high levels of arsenic, including rice and rice products, as well as some juices, beers and wines.
Communicating the risk
The Arsenic Consortium, a loose-knit group of Dartmouth College researchers, federal scientists from the USGS and the Environmental Protection Agency, representatives of state and local public health and environmental agencies, managers of public water systems, water contractors, municipal officials and others, gathered recently in Concord — as they have annually since 2010 — to share the latest research findings and public outreach initiatives around arsenic in our water and food.
The consortium's aim: to help the general public understand the risks and take steps to reduce their exposure to arsenic in their food and water.
It's a seemingly straightforward task. But if their water and food looks, tastes and smells good, no one in the household is sick, their doctors aren't asking about their home drinking water supply and their neighbors aren't talking about well testing, it's hard to convince people they might be at serious risk for an illness that might not show up for years or even decades.
Furthermore, once people have become aware of the potential risk, they need information to help them assess their individual risk and take action to reduce their arsenic exposure. Many of those folks may also need regular reminders: Reducing arsenic exposure requires not only awareness and initial action, but ongoing vigilance.
"No safe level of exposure"
In 2001, the EPA lowered the drinking-water standard for arsenic from 50 to 10 parts per billion. New Hampshire has adopted that standard for New Hampshire's 1,150 public drinking-water systems.
"The standard isn't intended as an indication of safety," says Paul Susca, who supervises the planning unit in the state's drinking water program at NHDES. "There's no safe level of exposure to arsenic in drinking water. The standard is a compromise between concern for public health and what's achievable for public water supplies."
No testing mandate
While the state requires regular monitoring and remediation of public water systems, neither EPA nor the state has testing requirements for the private wells that provide drinking water to nearly half the state's residents.
State officials estimate that the water in one of five private wells contains arsenic above the state drinking-water standard.
Although neither state nor federal regulations currently require private-well testing, a handful of towns require testing private wells before issuing a certificate of occupancy. Some lenders require a water test before issuing a mortgage, but may not specify a test for arsenic or other drilled-well contaminants.
A 2015 amendment to the statute governing real estate transfers added language that requires a seller of real estate to notify the buyer about the potential for arsenic in well water and requires the buyer to acknowledge receipt of that information, though it stops short of mandating testing, leaving the decision to test up to the buyer.
"Who pays, who tests and who receives the results is always a matter of negotiation," says Bob Quinn, government affairs director for the NH Association of Realtors. "Furthermore, a seller with knowledge of a water test is required to notify a prospective buyer about the test."
What is arsenic?
A naturally occurring element widely distributed in rocks and soils around the world, arsenic has been known to be highly toxic for millennia. Its name derives from the Greek word for "potent."
Tasteless, colorless, odorless and easily procured, it became the homicidal agent of choice throughout much of Europe from the Middle Ages through the Renaissance.
"Be Well Informed," a new NHDES website (https://www4.des.state.nh.us/DWITool/Welcome.aspx) is designed to help people understand the results of arsenic testing. It also provides information about health concerns and water treatment options.
In addition, some communities are promoting private well testing by holding community-wide events that help overcome the challenges involved in reaching individual well owners.
Dartmouth also offers a comprehensive toolkit (/content/uploads/data-import/8d83394f/wellwatertoolkit.pdf) that contains step-by-step instructions for distributing communication materials and/or holding community-wide events to hand out and collect well water testing kits.
There's no way to remove arsenic from bedrock — not adding bleach, boiling the water or using activated carbon filters. If a water test reveals a concerning level of arsenic in the household drinking water, it will take special treatment to remove the arsenic, and ongoing vigilance to maintain the treatment system.
Effects of chronic exposure
Scientists have learned that chronic exposure to small doses of arsenic damages human genes through mechanisms not fully understood, increasing a person's vulnerability to a wide variety of diseases, including various cancers, cardiovascular disease, diabetes, endocrine disorders, neurological disorders and weakened immune function.
Bruce Stanton, who directs the Dartmouth Toxic Metals Superfund Research Program, from which the Arsenic Consortium emerged, says, "There's a lot of good, solid evidence for a direct cause and effect between arsenic exposure and disease."
Though arsenic doesn't accumulate in the body, Stanton says, "The transient effects are additive. Arsenic changes our genes in a permanent way. There's even some evidence that kids exposed to arsenic might pass those genetic changes to their offspring. What we don't know is exactly how arsenic does its damage, or whether there's any way to reverse it."
Researchers note that the risk arsenic exposure poses to an individual depends on many factors, among them the age, genetics, health and nutritional status of the person, the amount and extent of exposure and the co-occurrence of other negative environmental influences.
Fetuses (arsenic crosses the placenta), babies and young children are at gravest risk, since their growing bodies take in more food and liquid per pound of bodyweight than adults.
Research shows that early arsenic exposure can interfere with children's brain development, ability to pay attention and academic achievement.
'The guys on the ground'
According to Andrew Koff, a hydrogeologist with the NHDES Drinking Water and Groundwater Bureau, New Hampshire's 200 licensed water-well contractors currently dig or drill between 1,000 and 2,000 new wells a year (up slightly the past two years because of the drought, but way down from the housing-boom era from 2000-2004), around 98 percent of them bedrock wells.
Although contractors are required to report the location and type of each new private well, there's no legal mandate to test the water.
Henry DeBoer, who owns and operates Epping Well & Pump Co., says his company installs about six arsenic remediation systems a week year-round for private well owners.
"The water quality is different in each well, and the mitigation system has to be custom-designed for each home, depending on the chemistry of the water and the needs of the household," he says. "Arsenic remediation can cost anywhere from $1,000 to $20,000, and between $400 and $2,000 a year in operating and maintenance costs."
Treating the water from a household well contaminated with arsenic can be an expensive proposition, requiring ongoing maintenance costs. But there's a low-cost choice.
Dartmouth researchers tested a set of inexpensive, readily available tabletop water pitcher filters for their ability to reduce the arsenic concentration in drinking water to levels below the EPA standard of 10 ppb.
Are shallow wells the solution?
Twenty years ago, Joe Ayotte, a Concord-based hydrologist with the New England Water Science Center of the U.S. Geological Survey, dug a well for his home using a prototype for a novel design concept that would overcome the primary disadvantages of shallow wells: insufficient water during periods of drought and susceptibility to bacterial contamination.
Because the shallow glacial aquifer that provides water to the well lies above the bedrock, Ayotte knew it would likely be free of arsenic.
The central idea: "a massive hole — 20' x 20' x 20' or larger" — containing a six-inch-diameter plastic well casing with horizontal collectors, surrounded by crushed stone, and topped by a geotextile and a layer of low-permeability materials that prevent contamination from groundwater.
Last July, the USGS received a patent for Ayotte's well design, and is looking for a partner to further the commercialization of the technology through a license or a collaborative agreement.
Interested parties can contact James Mitchell at jmmitchell@usgs.gov.
Only one met that standard, the ZeroWater water pitcher filter. Researchers suggest it as a short-term solution for filtering drinking water until a more permanent treatment system is in place, or as a low-cost option for individuals and families unable to afford the permanent treatment options.
They add that the filter must be changed regularly, and the pitcher may not be the best option for households with young children who drink from other water sources in the house.
"I'm glad the Arsenic Consortium is bringing so many different groups together, including doctors," DeBoer says, adding he sees an urgent need for more awareness among health care providers.
"We're the guys on the ground people reach out to when they learn they have high levels of arsenic in their water," he says. "Their first questions aren't usually about the water treatment options, but about the health effects. We want to tell them to talk to their doctors. But when I asked my own doctor about the risks of arsenic in food and water, she said she didn't know anything about it."
Ongoing research
One research project, the Dartmouth Primary Care Cooperative Information Project, is working with a network of northern New England primary care practices, many of them in rural areas where patients rely on private drinking-water wells, to identify the best ways to integrate well testing into routine pediatric preventive care.
The project aims to educate both health care providers and parents on the basics of drinking water safety, water testing and the options for treating water when arsenic levels are above the standard.
Another Dartmouth-based project is following a large population of mother-child pairs from pregnancy through early childhood to study the effects of environmental contaminants, including arsenic, on their health. Researchers hope to develop guidelines for public health organizations and medical providers.
A study underway at the NH Department of Health and Human Services is recruiting 500 volunteers from 27 New Hampshire towns with a high probability of arsenic in private wells and 50 volunteers whose drinking water comes from Concord's public water system. The project will test subjects' private well water, collect dietary information and test urine samples to determine if there are associations between arsenic exposure and the forms of arsenic excreted.
"Arsenic is complex and nuanced," says Kathrin Lawlor, community engagement coordinator for Dartmouth's Toxic Metals Superfund Research Program. Noting that several new projects are in the works, she adds, "We're really lucky here in New Hampshire to have so many researchers and government agencies collaborating on such an important public health matter."
Editor's note: Arsenic Consortium membership is open to anyone interested in the topic. To get on the mailing list, contact Laurie Rardin at laurie.rardin@dartmouth.edu.