Possible tariff puts NH solar firms on edge
Pending U.S. ruling seen as possible job killer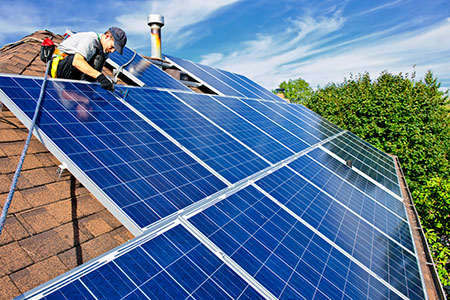 The possibility of a major trade tariff on photovoltaic cells could eclipse much of the nation's growing solar energy industry, especially in New Hampshire where it is already trying to overcome two state regulatory barriers.
The U.S. International Trade Commission is expected to issue its first ruling on a tariff request on Sept. 22. It was made by two foreign-owned manufacturers seeking to impose both protective tariffs and a floor price on photovoltaic cells and modules. The mere threat of a tariff has already driven up prices by 15 to 25 percent, according to Sam Lavallee, director of financing for ReVision Energy, a Brentwood-based company with offices in Concord, NH, Massachusetts and Maine.
Whatever the ITC recommends, the final decision rests with President Trump, who has not been friendly to the solar industry and has been a strong advocate of using tariffs to protect manufacturers.
In addition to the Solar Energy Industries Association (SEIA) — an industry trade group that has warned protective measures could cut jobs in the industry by a third — a number of conservative groups have opposed the tariffs on free-trade grounds, including the Heritage Foundation and the Cato Institute.
If the plaintiffs got their way, "That would probably knock a third of the wind out of our sails," said Erik Shifflett, co-owner of Granite State Solar, a Boscawen company that mainly serves residential customers in New Hampshire.
It will also mean that expansion of the solar-related production by GT Advanced Technologies "would more or less come to a halt," said CEO Greg Knight. The Merrimack company, which recently emerged from bankruptcy, sells equipment to manufacture solar cells to the companies that are the target of the tariffs.
Shrinking rebates
The tariffs would also affect the broader industry, particularly in New Hampshire, because of two recent regulatory changes in net metering and a state rebate program funded by the shrinking Renewable Energy Fund (REF).
The money from REF is supposed to be used as rebates for residential — usually rooftop solar — and a variety of commercial projects. But the NH Public Utilities Commission abruptly stopped accepting applications for the funds on July 14.
That's because the REF — which is funded by utilities that don't meet renewable portfolio standards — is slated to end up at roughly $3.6 million for the year, $1.3 million less than the previous year and roughly a third of what it was two years ago. In other words, the program has become a victim of its own success: Utilities are increasingly meeting the standards and, thus, they pay less into the fund.
"We got no advance letter" about the decision to put a moratorium on REF rebates," said Shifflett. "We got an email at 4:21 on a Friday. You think they would have given us a heads up. Our sales cycle is months long. A quote we provide has to be good for two or three months."
The PUC had no choice, said Amanda Noonan, a PUC spokesperson. "We need to be fiscally prudent and we had to give a bright line. You can't give a warning, or there will be a rush to meet the deadline."
Once an audit of the REF is conducted in September, the PUC must decide what to do with the program growing forward. Several people in the industry has suggested it might lower the maximum residential rebate to spread it to more projects.
In October 2015, the PUC lowered the maximum rebate from $3,750 to $2,500, so it might go down even further — to $1,500. That could cut the payback period from six or seven years, to eight or nine years, estimated Jack Ruderman, a former PUC staffer who is director of ReVision's community solar initiatives. Commercial project rebates — currently limited to $65,000 maximum — might go down as well.
But Noonan said it is "premature" to say if there will be program changes, since the audit has not yet been conducted.
Solar panel prices
The PUC's June 23 decision on net metering — which allows residents and businesses to sell excess power to the grid — could potentially go into effect as soon as Sept. 1. (It could be later if utilities aren't able to adjust their billing software in time.) The good news, especially for very large projects — which won't see much of a rate change — is that the cap that restrained the program for the last few years has been lifted.
But a big change is coming for the rates for new residential customers, who will no longer get a full rebate, but will shoulder some distribution costs. Eversource customers, for instance, would receive 15 cents for every kilowatt-hour produced but pay 18 cents on the kilowatt consumed.
Currently, that has meant that "some people are scrambling get their projects in under the deadline," said Ruderman, and that has offset somewhat the negative impact of the REF application freeze. But he expects a drop in demand after the new rates go into effect.
Yet ReVision — a company that does both small and large projects — has still been able to grow. It now has 175 employees, 70 of them in New Hampshire. That's 25 more than last year.
Granite State Solar, however, has experienced a slowdown, said Shifflett. It used to get eight to 10 jobs a week and now it gets five or six. It still has a backlog of more than sixty projects, so it hasn't had to lay off any staff. And it is prepared for the lower net metering rate. Because the future payment will be cash rather than a kilowatt credit, it makes more sense for homeowners to overproduce, so it might actually increase the number of panels sold.
But all that might change, if the price of solar panels shoots up. "That is what really concerns me," said Shifflett.
'Dumping charge'
Both New Hampshire companies get most of their solar panels from Asia, and the price had been dropping precipitously until this latest trade dispute.
They almost all used to be from China. The United States and other counties complained that China, by providing massive loans to the manufacturers, was able to subsidize the cost of production so much that it amounted to illegal "dumping."
But the U.S. and Europe increased tariffs in 2012. The Chinese countered with a tariff of their own, against U.S. companies that were supplying equipment to solar cell manufacturers, like GTAT, whose innovative technology also contributed to the manufacture of more efficient and inexpensive solar cells.
The trade war was one factor that drove GTAT into making its decision to begin producing different products for the LED industry. But that decision led to the company's disastrous deal with Apple Inc., and eventual bankruptcy.
Private investors brought the company out of bankruptcy last year and returned it to its legacy business: making equipment for material manufacturers, mainly solar. And it did so just when the solar industry seemed to be turning around. With much of the photovoltaic manufacturing shifting to countries like Vietnam and Korea, which were not affected by the tariffs against China, GTAT increased its staff to 104, 25 more than when it left bankruptcy, to meet the anticipated demand.
"We spent the last year developing the technology, and we are just now entering into some commercial agreements with some manufacturers that are looking to expand into the expanding markets," said Knight.
Complaint dispute
In April, Suniva Inc., a Georgia-based company that is ironically owned by a Chinese firm, filed its complaint shortly after filing for bankruptcy, claiming that the cheap price of imports was hurting U.S. solar manufacturers. Suniva asked for duties of 40 cents per watt on imported cells and a floor price of 78 cents per watt on modules. The company was joined by SolarWorld — a German-owned firm with U.S. headquarters in Oregon — when it filed for bankruptcy in May. On Aug. 22, QSTec, a firm owned by the state of Qatar, acquired a 49 percent interest in SolarWorld, with the hope that it would emerge from bankruptcy.
Both companies claimed that the levies would lead to 110,000 new manufacturing jobs. But SEIA, which represents about a thousand solar installers, said such claims were "preposterous" and the tariffs would cost 88,000 existing jobs — about a third of the jobs in one of the fastest growing industries in the nation. It also blamed the companies' bankruptcies on poor management, not solar imports.
The ITC review is conducted in two steps. By Sept. 22, the ITC must decide if the manufacturers were really harmed by the imports that violated international trade agreements. Then it must recommend a course of action by Nov. 23 to President Trump, who could follow that course, or choose his own.
However, any decision could be retroactive to the Sept. 22 ship date. And since it takes several months for shipments to get from Asia to the United States by sea, there are no new "risk-free" panels available, said Lavallee of ReVision Energy.
"This has created a scramble to grab as many of them that they can," he said.
That stagnant supply and speculative demand has driven the price up from 6 to 10 cents a watt, or 15 to 25 percent, he said. And that's just a taste of what might come.
If the tariffs requested are imposed, the price of solar cells could double, warned SEIA.
"It would really change how attractive an investment it is," said Knight. "If there is a contraction in demand in the United States, the second biggest end-user market aside from China, then the world will be sitting on overcapacity. Investment in new technology will dry up."
How this would effect the solar installation industry is anybody's guess.
Shifflett is pessimistic, saying that the tariffs could "set back the industry years."
But Lavallee is more sanguine: "This is going to be a bump in the road. The train has already left the station. The solar industry is still going to grow, whatever the ITC and Trump decide to do."