Plymouth State effort targets growth in North Country town
Lancaster initiative brings university, business leaders together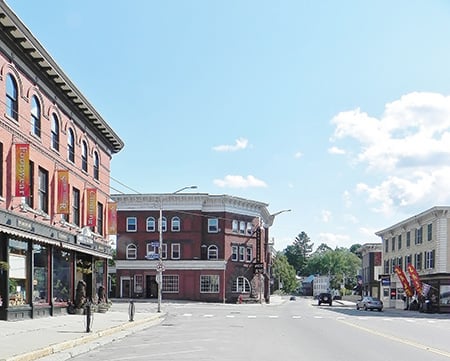 Plymouth State University and members of the Lancaster business community have launched a multi-faceted initiative aimed at evaluating challenges and opportunities in attracting young people and small, entrepreneurial businesses to Lancaster.
The 16-week effort will involve more than 60 PSU students from various academic disciplines in what the university describes as a collaborative, applied learning model.
The initiative got its start during a meeting last fall with Lancaster businessmen Peter Powell of Peter W. Powell Real Estate and Greg Cloutier of Lancaster Main Street Buildings and PSU faculty. The result was a project designed to explore ways to launch and stimulate entrepreneurial ventures in town, develop strategies to attract and retain young professionals, and multi-use planning for the landmark Lancaster National Bank building, recently purchased by Cloutier.
Other organizations are involved as well, including the North Country Investment Corp., the Northern Forest Center and Passumpsic Bank, which is involved in the development of the landmark Lancaster National Bank building.
"The Lancaster Initiative is a great expression of collaborative, applied learning in action," said Roy Stever, professor of business, Plymouth State University. "The aging workforce is a statewide issue, but is particularly acute in the North Country. Through the three areas of this project, PSU students will explore ways in which Lancaster can attract young professionals to live and work there. What better way to engage students in the North Country than by addressing this issue?"
The four-course initiative includes students from 10 different academic disciplines, including the arts, communications, adventure education, health promotion, design and a range of business majors. Led by PSU faculty members Stever and Pamela Anneser as well as Eric Spieth of the Enterprise Center at Plymouth, the students will travel to Lancaster regularly throughout the semester for field-based research and activities.