Planning, zoning rules faulted for housing woes
Seen as key contributors to NH's limited supply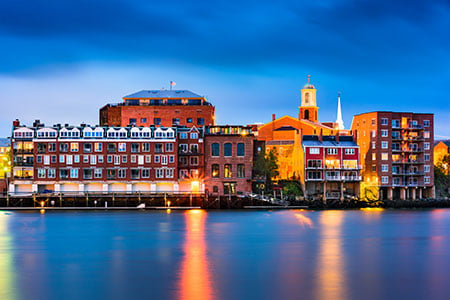 There's a growing sense of concern that municipal zoning ordinances and planning process have been contributing to New Hampshire's sclerotic housing market and its related drag on the state's economy.
"New Hampshire has obsolete development controls," said Russ Thibeault of Applied Economic Research of Laconia.
He was echoed less bluntly by Dean Christon, executive director of the NH Housing Finance Authority, whose most recent report on the housing market describes local land use regulations as "retrospective."
Both see municipal zoning and planning processes as adding to the cost and limiting the supply of housing, which in turn hinders the growth of the workforce.
"Exclusionary zoning has damaged New Hampshire economically," said Steve Lewis, a developer who has undertaken a number of affordable housing projects in the southern tier of the state.
The dearth of "affordable" or "workforce" housing targeted for households earning a little less or a little more than the median income has been a challenge since before the turn of the century.
In 2008, after years of debate, the NH Legislature required municipalities to comply with a 1991 decision of the NH Supreme Court by providing "reasonable and realistic opportunities for the development of workforce housing, including rental multifamily housing."
Perhaps most importantly, the statute qualifies "reasonable and realistic opportunities" to mean opportunities to develop "economically viable workforce housing."
In other words, the statute directs municipalities to weigh the effects of their ordinances and regulations on the cost of residential development, which now increasingly weigh on the entire housing market.
Russ Thibeault
of Applied Economic Research
"The market is stalled," Thibeault said, with demand outrunning supply, driving increases in both prices and rents. Listings of homes for sale have dropped nearly 40 percent since 2015, to their lowest level in more than a decade, with houses selling for less than $300,000 especially scarce in the hottest markets.
Housing starts, which have historically numbered between 5,000 and 7,000 a year, have slipped to around 3,200, with permits for single-family homes near the number posted in 1962.
Aging inventory
Thibeault noted that, since 2010, employment has increased at twice the pace of housing starts. The median home price has topped the peak of $270,000 in 2005 and is nearing $280,000. However, the regional disparity in median home prices is marked, ranging from more than $330,000 in Rockingham County to less than $100,000 in Coos County.
In a rental market with vacancies below 2 percent — less than a third of the national average of 6 percent — rents continue to climb, jumping 12 percent between 2013 and 2016 to raise the gross median rent for a two-bedroom apartment to more than $1,200.
Altogether, a third of the rental housing inventory is at least 70 years old and 70 percent of all rental units were built before 1974. Some rental housing has been constructed recently in the southern tier, where Rockingham, Hillsborough, Strafford and Merrimack counties account for nearly eight of 10 rental units in the state. But new rental units are priced near the top of the scale.
Further, the mix of housing stock is poorly suited to the preferences of different age cohorts.
"New Hampshire is a single-family market," said Ari Pollack, an attorney who represents the NH Home Builders Association. "There is a lack of diversity in the housing inventory. What are we doing about it? Very little."
'No starter homes'
Although households are shrinking in size, a recent study by the NH Center for Public Policy Studies reported that homes with three or more bedrooms far outnumber the sum of one- and two-bedroom units. Meanwhile, the more numerous aging baby boomers seeking to downsize and the smaller younger age cohorts seeking starter homes, find themselves competing for the smallest share of the inventory, with the advantage to the elders, who bring equity to the table.
For younger individuals and couples without the means to own or with a preference for the rental market, are met with sparse inventory, aged units and high costs offer limited opportunities.
Carmen Lorentz, executive director of the Laconia Area Community Land Trust, which has developed more than 300 units of permanently affordable housing in the Lakes Region, said flatly that "private developers are incentivized to build more expensive homes. There are no starter homes being built."
"If you grew up in New Hampshire," Lewis remarked bluntly, "you can't afford to live here now."
Managing growth
As Thibeault emphasized, the tight labor market, cost of building materials and stricter lending standards are all weighing on the housing market, but land-use regulation and planning processes are the factors most susceptible to public policy.
The National Association of Home Builders recently reported that, in 2016, regulation, zoning ordinances and building codes represented nearly 30 percent of the cost to construct an "average single family home."
Many municipalities introduced zoning amid ordinances to address rapid population growth between 1960 and 1990, when the census counted population increases of more than 20 percent in 1970, 1980 and 1990, with the aim of managing, if not slowing or stalling, growth.
In particular, municipalities feared that residential development would increase school enrollments, requiring expenditures far in excess of the property tax revenue generated by the additional housing.
"For the past 30 years the NIMBYs have run the show," Lewis said.
In 2007, a survey undertaken for the NH Housing Finance Authority, sought to measure the incidence of regulations known to affect the development and supply of affordable housing. Altogether, 114 municipalities, representing 72 percent of the population and 68 percent of housing units in the state were included in the survey.
The survey found that, in more than half the municipalities, the minimum lot size for a single-family home was at least one acre but less than three acres, with an average minimum lot size in all the single-family districts of 2.06 acres. In 41 percent of municipalities, there was at least one zoning district where less than one acre is required for a single-family home. Likewise, more than half the municipalities have at least one district where two- or three-family homes require less than an acre. More than three-quarters of municipalities permit cluster development, where by relaxing dimensional requirements — lot size, road frontage and setbacks — a tract can be developed to its maximum density while leaving much of the tract as open space.
However, less than a third offered density bonuses for cluster developments. A third of municipalities had enacted some sort of growth management ordinance. These municipalities had minimum lot sizes larger than those without such ordinances and two-thirds of them offered no density bonuses. Just less than a third of the municipalities surveyed levied and collected impact fees.
Tailored ordinances
Although the survey is dated, according to an annual survey of zoning ordinances conducted in 2016 by the NH Office of energy and Planning, among the 129 municipalities responding 36 percent levied impact fees and 15 percent applied growth management ordinances.
Although 32 percent incorporated workforce housing in their zoning ordinance, only 6 percent included inclusionary zoning, or incentives like density bonuses, expedited permitting and exemptions from zoning regulations and waived or reduced impact fees, to compensate developers for foregoing a market-rate project.
A primer for addressing the challenge of workforce housing, prepared by NHHFA, reads, "Many municipalities have implemented zoning in a way that is unnecessarily restrictive — that is, zoning's limitations on the use of property are sometimes out of proportion with what is actually needed to fulfill its objectives. This has dramatically limited the ability of developers to build housing that is affordable to low and moderate income households."
In particular, many municipalities have tailored their ordinances to limit, even exclude, multifamily housing.
For instance, Gilford permits multifamily structures as part of a planned community development, which requires between 5 and 25 acres, or on lots for 5 acres or more. Moreover, in both cases the units must be served by public sewer, which reaches a small part of the town. Apart from age restricted units, Litchfield permits no residential development of more than two units.
Density requirements and dimensional standards bear heavily on the economics of development. "It's all about density," said Steve Smith, whose surveying and engineering firm has worked throughout the Lakes Region. Other things being equal, the more lots a parcel can be subdivided into, the greater its value and the more profitable the development and the more affordable the units.
Moreover, the greater the minimum road frontage for each lot, the greater the per-unit cost of the infrastructure — roadway, curbing, sidewalks and storm drains — required to support the subdivision. Less explicitly, other dimensional standards, including designated building envelopes, overlay zoning districts and buffering requirements, may also unnecessarily limit the density of residential development.
Municipal standards for designing and constructing infrastructure, especially roads, may also contribute to the problem.
Although a minimum paved width of 18 feet to 20 feet is a widely accepted standard for lightly traveled residential streets, many municipalities require 24 feet, and some 28 feet. Most residential areas are in rural settings, yet subdivisions of even moderate density are required to install sidewalks and curbing, and along with them storm drains. Impact fees can top $10,000 per unit while growth management ordinances requiring projects to be constructed in phases increases the carrying costs borne by the developer, who generally reaps a return only after 80 percent of the units in a residential subdivision have been sold.
Smith described the planning process as "cumbersome," noting that he advises clients seeking approval for a three-lot subdivision to expect a decision in six or seven months while larger, more complex projects can take years to be approved. "Time is money," he said.
Noting that applicants regularly appear before planning boards with a surveyor and perhaps an attorney, he said that the process can become unnecessarily expensive. He suggested that time and money could be spared by referring technical matters to the planning department staff for administrative decisions.
Londonderry example
One community that has taken steps to diversify its housing stock with the goal of fostering and serving a multigenerational community is now the fastest-growing town in the state.
Londonderry Town Manager Kevin Smith
Londonderry Town Manager Kevin Smith said that much of the spadework began before his tenure, when the town scrapped its growth management ordinance and impact fees and began streamlining its planning process.
"The town had acquired a reputation of not being friendly to development," he said. "We want to be perceived as friendly to development."
The town had been developed in "a suburban condition," strewn with single-family homes and riven by strip development, he said, leaving some 11,300 acres remaining to be developed. Between 2000 and 2010, the population grew by just 0.5 percent and more than half the 815 new households were headed by someone aged over 65 or single, as the town attracted 60 percent of households headed by seniors in the Southern New Hampshire Planning Commission region.
The median age rose to 40.5 years while those aged between 20 and 34 represented just 13 percent of the population.
Changing course, the town's master plan, adopted in 2013, called for abandoning low-density, single-use residential development in favor of concentrating future development in "villages" or centers with a mix of residential, commercial, civic and recreational uses. Projections indicate this approach would accommodate both more people and more employment while preserving more open space to continue with past patterns of development.
Smith stressed the importance of ensuring "the full spectrum of housing options" of different types, sizes and prices, including workforce housing and assisted living, in close proximity to one another to house a diverse, balanced population.
This spring, the town broke ground on Woodmont Commons, the first of these mixed-use neighborhoods, which Smith described as "the downtown of Londonderry."
The project, which will be built over 20 years, will include retail, hotel and office space, along with an assisted living facility and entertainment venue and some 1,400 housing units of all types. "We are on a very good trend," Smith said, adding that in 2016 the town's school enrollment increased for the first time in a decade.
"Localities have a lot of influence over the economic future of the state," Smith remarked.