Picked for perfection 'Iron Brides' in Nashua to put together floral arrangements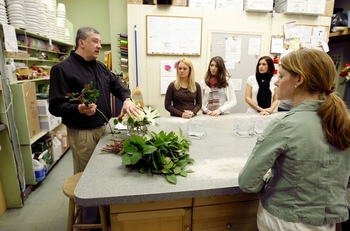 A local contestant in a reality TV show that pits bride vs. bride has tackled such skills as wine pairing, etiquette and, on Thursday, flower arranging. Who know what lurks next for Tarryn Brandl, 26, of Milford?
Not Brandl, nor any of the seven other bride-to-be contestants on "Iron Brides," a show in production and due to air in March on MyTV.
"The girls never know what's going on. They're clued in as needed, like the CIA," said George Jobel, the executive producer of the Concord-based show.
Scrambling for information, the contestants "scour the Web for clues, like stalkers," Jobel said.
It turns out, after leaving Fortin Gage floral shop on West Pearl Street, the young women were whisked off to lunch and then to a surprise – for them – visit to a nearby studio, where they would be versed in the fine art of wedding boudoir photography.
Sadly, that session was closed to the press.
Conversely, Fortin Gage in the morning was bustling with media, shop workers and a production crew of seven, including Jobel, the associate producer, director, assistant director, two show hosts and a limousine driver.
The stars of the show, however, were the hydrangeas, lilies and various other blossoms the brides worked with to make the most aesthetically pleasing arrangement they could muster.
Then, shop owner Edward "Jody" Gage III judged their work.
"I really know what I want for my wedding," said Nicole Corvini, of Melrose, Mass., the lone Bay Sate contestant.
Brandl is the only one from the Nashua area. Three are from the Seacoast. There's one from Maine, and two from the Lakes Region. There are also two alternate brides.
Corvini picked her favorite flower – hydrangeas – and did the arrangement like she wanted to have it done for her wedding.
It didn't win, but she liked the results, and putting it together was sort of like a dry run for her wedding day, she said.
Brandl built a colorful arrangement that netted her second place in this stage of the contest.
"I don't really like the winter. I was going for something bright and cheery," she said.
Brandl and her fiance, Sean Wilkerson, are planning a September wedding.
Gage was more than a judge for the competition. He also answered questions and advised the contestants on the ins and outs of choosing flowers for their wedding.
"They had a good time, which is what it's really all about, and they learned a few things, too," Gage said.
Unlike the typical TV reality show, where backstabbing, forging fragile alliances and otherwise trying to humiliate the competition is the norm, the angle of "Iron Brides" is to build harmony and have some fun as the women gain skills for planning what hopefully will be the best day of their lives.
No competitor is eliminated, explained Brian Eibert, one of the hosts.
While one competitor will win a video and photo package for their wedding worth $9,000, there will be other prizes that haven't been announced.
"I don't think anyone is going to leave the Brandl moved to Milford from Nashua last year.
She teaches dance at Academy of Movement in Nashua and helps run Spascape, a fully mechanized spa in Amherst, with her mother.
While filming began in late November, the production schedule picked up this week. The contestants have been living and traveling together since Sunday, and have bonded and learned a lot about themselves along the way.
"It's more than a bride competition," Brandl said. "It's been an incredible overall life experience."
For more information on "Iron Brides," visit www.ironbrides.tv.