People and Property: Real Estate and Construction News Roundup
Lakes Region Chamber to hold Infrastructure Week forum, 2019 Preservation Conference set … and more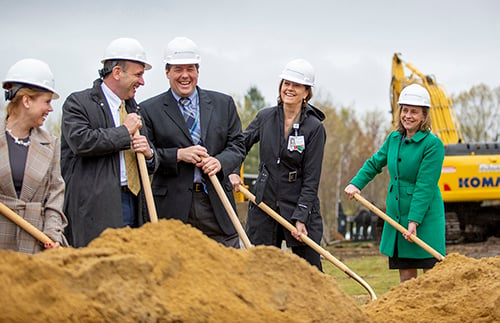 Sparked by 10 single-family sales of more than $1 million, the most since last August, total sales of single-family homes in the Seacoast Board of Realtors' 13 sample communities were up 12.6% from 2018, the Realtors reported. Six of the million-dollar sales exceeded $1.5 million, including two in Portsmouth, three in Rye and one in Seabrook. The closings helped boost the April monthly median sale price to $464,500, up 4.4% from a year ago. Residential sales are now up 13.6% for the year with a four-month cumulative median sale price of $462,000, up 3.8% from last year.
The April condominium median sale price was $339,900, the highest since October and up 2.5% from last year. Condo sales volume for the month was off 7.8% from last year.
Renovations have been completed at Spaulding Youth Center's Lambert Hall residential cottage. The cottage, one of five residences on the Northfield campus, received several updates, including layout modifications and new living room areas. Sullivan Construction of Bedford was the contractor and flooring components were provided by Holmes Flooring of Chichester.
For a few minutes last week, Merchants Fleet's staff gathered as part of a "Demolition Day" event celebrating the remodel of what will be the company's new headquarters at 14 Central Park Drive in Hooksett. Ownership, leadership and staff members kicked off the afternoon by taking turns swinging sledgehammers into a wall that was slated to be torn down to make an expansive and open new space. Merchants signed a 10-year lease on the space in January, and it is projected to open late this summer.
The Lakes Region Chamber of Commerce will be holding a business breakfast forum on Friday, May 17, as part of the seventh annual Infrastructure Week. The forum will feature an update on the region and state's infrastructure, including housing, transportation, energy and the impact they have on running a business, said Karmen Gifford, president of the chamber.
The event will begin at 8 a.m. at the Beane Conference Center in Laconia. Panelists include Jeff Hayes of the Lakes Region Planning Commission, Carmen Lorentz of Lakes Region Community Developers and Huck Montgomery of Liberty Utilities. The program will be moderated by Gifford and Justin Slattery of the Belknap Economic Development Council. To register, visit LakesRegionChamber.org.
The New Hampshire Liquor Commission has announced plans to build a 12,000-square-foot NH Liquor & Wine Outlet in Tilton, its first in the community. The commission said it anticipates the Tilton location will generate $7 million in annual sales. Groundbreaking is scheduled for the summer with an opening expected in September 2020. The Tilton NH Liquor & Wine Outlet will be located on a parcel owned by Market Basket.
Herbie Bartlett of Coldwell Banker LinWood Real Estate in Franconia has been awarded the National Association of Realtors' Green Designation, the only green real estate professional designation recognized by the association. The designation courses were created in collaboration with a multidisciplinary team of industry experts from across the country, ensuring designees gain comprehensive knowledge of green homes and issues of resource efficiency relating to real estate.
CATCH Neighborhood Housing of Concord has announced the addition of five new members to its board of directors: Byron Champlin, Concord at-large city councilor; Jeff Feingold, editor of NH Business Review; Oreste (Rusty) Mosca, managing director of Nathan Wechsler & Company; Beth Slepian, president and CEO of Concord Regional Visiting Nurse Association; and Scoop Welch, vice president of regional operations at Granite United Way.
CATCH President Rosemary M. Heard said, "We are so thrilled to welcome Byron, Jeff, Rusty, Beth, and Scoop to our board at CATCH. They each bring valuable experiences and new perspectives that will be important as we seek to grow our organizations and sustain them for a successful future."
Concord Housing + Redevelopment (CH+R) has announced a partnership with the Girl Scouts of the Green and White Mountains, a collaboration that John Hoyt, executive director CH+R said will ensure that girls from under-served areas have the opportunity to participate in scouting. Hoyt has committed to donate a total of $10,000 to the Girl Scouts, money is designated to its Outreach program. CH+R's original $5,000 donation set up two Concord area Outreach troops that currently serve 23 underprivileged girls, eight of whom live in CH+R housing.
The NH Preservation Alliance will hold its 2019 Preservation Conference and Achievement Awards. The biennial conference, "Preserving Community Character: Critical Issues and Opportunities," and its 2019 Preservation Achievement Awards, will be held Friday, May 31, at the Littleton Opera House in Littleton.
Thompson Mayes, senior counsel of the National Trust for Historic Preservation, will be keynote speaker. He is the author of "Why Old Places Matter: How Historic Places Affect Our Identity and Well-Being" and will speak to the enduring value and meaning of historic buildings, neighborhoods and downtowns for individuals and the positive economic impacts on communities.
In addition, the preservation conference will feature sessions on "Making Your Case: How to Frame your Preservation Project for Success"; "Options for Historic Municipal Buildings"; and "Preserving and Conserving Rural Landscapes."
Other sessions and workshops include "Codes and Standards: Applying Secretary of the Interior's Standards and Making Historic Buildings ADA-Accessible" and "Trail Magic: How Historic Villages Can Benefit Economically From the State's Growing Network of Hiking and Rail Trails.
To learn more about the conference and register, click here.