People and Property: Real Estate and Construction News From Around NH
Cranmore to begin new phase of base area project, Hampton Beach casino completes expansion … and more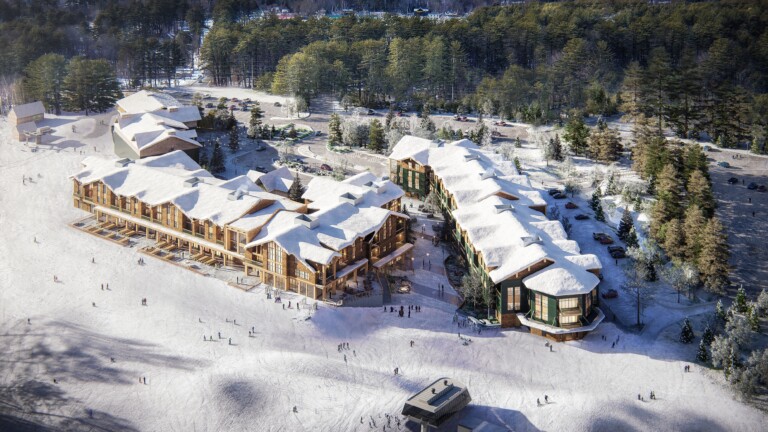 Cranmore to begin new phase of base area redevelopment
Cranmore Mountain Resort, North Conway, is set to begin construction this month on the latest phase of its multi-year base area redevelopment, The Lookout.
The building will sit near the new Fairbank Lodge at the base of the mountain extending out towards the Skimobile Express Quad. A formal groundbreaking ceremony will take place Sept. 6.
The Lookout will feature 17 two-to-four-bedroom residences ranging from about 1,170 to 2,490 square feet—as well as a 1,664-square-foot first aid facility for ski patrol. Completion of the new building is scheduled for the 2024-25 winter season.
Atlantic Construction Group is the general contractor for the project. The New England-based company was also contracted for the Kearsarge Brook II and is currently working on Fairbank Lodge, the first phase of the base area project, Fairbank Lodge, is on track to open this December. Archetype of Portland, Maine, is the architect and HEB Engineers of North Conway are the civil engineers of record.
When complete, the $85 million base area redevelopment will double the size of the area's day-visit facilities and house 100 condominium residences in the resort.
Unitil issues Dig Safe reminder
With Aug. 11 designated National 811 Safe Digging Day, energy provider Unitil is reminding customers of the annual campaign to increase awareness to contact Dig Safe before starting any digging or excavating projects.
State law requires even homeowners to have underground utilities marked before digging in their yard, regardless of the size or scope of work. The service is free, and requests for a Dig Safe ticket can be done online at digsafe.com or by calling 811.
"The utility companies will have representatives come out and mark underground electric wires and natural gas pipes. It is a very important step prior to beginning any digging project. It makes it much safer for the homeowner, contractors and neighbors," said Unitil External Affairs Manager Alec O'Meara.
According to Dig Safe, even simple, do-it-yourself projects such as planting trees, installing mailboxes or posts for a fence, require a call so utilities can be marked. The lone exception is for help identifying municipal services, such as water and sewer lines. In these cases, homeowners and contractors must contact a town or city directly for location assistance.
Goffstown firm to restore Westmoreland town clock
D'Avanza Clock Repair of Goffstown has been awarded the contract to restore the Seth Thomas tower clock atop Westmoreland Town Hall.
The restored clock mechanism will be relocated to the second floor to allow public viewing, while still operating the four clock faces and striking the bell hourly. The clock will still be hand-wound weekly.
Christon, D'Allesandro, Young to be honored by BIA
Dean Christon, former longtime executive director and CEO of the NH Housing Finance Authority, is among three notable Granite Staters who will be honored Oct. 25 with Business & Industry Association of New Hampshire Lifetime Achievement Awards
Also to be recognized for their achievements will be NH Sen. Lou D'Allesandro and attorney Sherry Young. In addition the nonprofit Friends of Aine will be presented with the BIA's New Hampshire Advantage award.
The awards will be presented at the BIA's 110th Annual Dinner and Awards Celebration, 4:30 to 8:30 p.m.., Wednesday, Oct. 25 at the DoubleTree by Hilton in Manchester. For more information, visit bia.com. To learn about sponsorship opportunities, email Lora McMahon.
Casino in Hampton completes expansion
Aces & Eights Casino in Hampton Beach recently unveiled its new 14,000-square-foot expansion, housing 92 historical horse racing machines and a dining area overlooking the casino.
The historical horse racing games, new to the casino, will be unveiled at noon on Wednesday, Aug. 10 the casino said.
Jewett completes Mass. industrial project
Jewett Construction, Fremont, has completed construction of a 214,400-square-foot multi-tenant speculative industrial warehouse campus for Davis, a real estate development firm, in Wilmington, Mass. The dual warehouse facility, known as Upton Crossing, is located on a 27-acre site.
The buildings are outfitted with Ductilcrete engineered slab systems, 32-foot clear heights with column spacing of 45 feet by 56 feet. There four speed bays, 29 dock doors equipped with dock levelers, and provisions for additional dock locations, ensuring streamlined operations for all tenants.
Bennett promoted to head Coldwell Banker in Northeast
Pauline Bennett has been promoted to Northeast regional president by Coldwell Banker Realty.
In her new role, Bennett – who previously served as president of Coldwell Banker Realty in New England – oversees 6,564 agents in 94 sales offices across New Hampshire, Connecticut, Massachusetts, Maine and Rhode Island. Combined, these offices brought in a total sales volume of over $23 billion with 35,558 transactions in 2022.
Lamont, Hanley to move Manchester offices
Lamont, Hanley & Associates, a provider of accounts receivable services to businesses, has leased 17,250 square feet of space at 186 Granite St. in downtown Manchester. Doug Martin of Colliers in Manchester, represented the landlord, Manchester Millyard Realty LLC, and assisted the tenant in the transaction.
YMCA cuts ribbon for Goffstown aquatic center
The YMCA Allard Center of Goffstown, a branch of The Granite YMCA, recently hosted a ribbon-cutting ceremony to mark completion of its $2.5 million new outdoor aquatic center.
The center includes an outdoor 25-yard, five-lane competitive pool, shallow water teaching "L" off the main pool and a zero-depth splash pad. The facility also features 20 new changing booths on the pool deck.