People and Property: Real Estate and Construction News From Around NH
Home Loan Bank awards $3m to support NH housing projects, Nobis' Giunta honored as Energy Champion … and more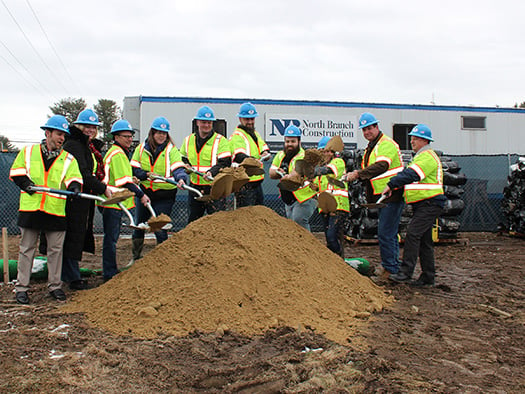 Bob Sanders, a staff writer for NH Business Review, was among five people recently honored by Housing Action NH for their work in advancing policy solutions to the state's housing affordability challenges. Sanders was presented with a Home Matters in NH Award for his continued coverage of affordable housing issues at the State House. "Bob is a constant presence at the State House," said Elissa Margolin, director of Housing Action NH. "We know that when Bob enters a legislative hearing he will stay to the very end and that NHBR readers will get the most up to date news on affordable housing policy considerations. We are grateful for his work."
Also honored with awards were Sen. Lou D'Allesandro, D-Manchester; Mary Sliney, founder of The Way Home in Manchester; Judi Currie, a reporter for Business NH magazine; and Victoria Laracy, executive director of the Mount Washington Valley Housing Coalition.
Exterior Designs of Londonderry recently donated $10,000 to the New Hampshire Food Bank, funds that will be used to help buy groceries for those in need and help educate the public on hunger in our state.
The Federal Home Loan Bank of Boston has awarded over $3 million in grants, loans and interest-rate subsidies to support four affordable housing initiatives with a total of 140 units in New Hampshire. The funds were awarded to projects through financial institutions in the region that are members of FHLBank Boston.
Winning the awards were: Chichester Commons Affordable Housing, Chichester, Merrimack County Savings Bank, $847,574 grant and subsidy, $623,302 loan; 12 Green Street Affordable Housing, Lebanon, Mascoma Bank, $650,000 grant; Harvey Heights Phase II, Meredith, Franklin Savings Bank, $300,000 grant; and A Place to Call Home, Nashua, Eastern Bank, $650,000 grant.
Donald Sutherland has joined St. Mary's Bank as a residential loan originator at the credit union's Manchester Mortgage Center.
Bedford-based TFMoran has hired Jennifer Porter as senior project engineer/traffic engineer. She worked in the firm's Civil Engineering Department since 1998 and has worked on traffic analysis, civil/site design and environmental permitting of private and public sector projects, including municipal, commercial, industrial, residential and institutional projects. In addition, Thomas Burns has been promoted to senior project manager. Burns, who joined TFMoran in 2014, is responsible for overall project management of private and municipal land development projects.
Clear Choice Home Improvements, Manchester, was recently ranked 79th on the Qualified Remodeler Home Improvement Pro 200 list, which list recognizes the nation's top home remodelers based on annual revenue. "We were thrilled to find out we have been recognized as one of the best in our industry, said Josh MacMichael, owner of Clear Choice.
ProWash Newmarket, a car wash business at 80 Exeter Rd., Newmarket, has been sold to an investor, according to an announcement by Matt Bacon and Cassandra Farley of The Masiello Group.
Joe Orsino has joined Pella Windows & Doors of New England as manager of its architectural division.
James Schwartzkopf, executive vice president of North Branch Construction, Concord, has been named to serve on the board of directors of Associated Builders and Contractors NH/VT's Self-Insured Group Trust for Workers' Compensation. The trust, formed in 1995, allows members "to realize greater cost efficiencies and control over our workers' compensation claims programs, resulting in safer worksites and lower workers compensation costs," said Schwartzkopf.
Also at North Branch, Amanda Savage, the firm's business development manager, has been named to serve as vice president of the Plan NH board of directors. The organization's mission is to foster excellence in planning and design and development of New Hampshire's built environment.
C-Store Investments, a Gilford-based consulting firm that provides advisory services to the convenience store and retail petroleum industry, recently provided advisory and transactional services to New England Farm Inc. in the sale of five of convenience stores and one car wash in southeastern Massachusetts to Worcester, Mass.-based Nouria Energy Corp. Principal lead consultant at CSI was Ken Currier who orchestrated the deal.
Tiffany Howard of Peabody & Smith Realty's Littleton office, has earned her New Hampshire broker associate license.
Boston-based Tighe & Bond, an engineering and environmental consulting firm with an office in Portsmouth, NH, has acquired Halvorson Design of Boston, a firm that specializes in landscape architecture, planning and urban design.
Nick Ackerman has joined NAI Norwood Group of Bedford. Ackerman, whose primary focus is the purchase and sale of multifamily, land, retail, industrial and investment properties in southern New Hampshire and northern Massachusetts, most recently was a project manager for a design/build firm in Washington, D.C., where he managed the development of multi-family and custom home projects.
Joe Bator, executive vice president and senior lender at Primary Bank, and Dave Peterson, senior vice president and commercial loan officer at Camden National Bank, have joined the board of directors of the Capital Regional Development Council.
Tony Giunta, director of project development at Nobis Group, Concord, and mayor of the city of Franklin, has been named Clean Energy Champion of the Year at Clean Energy New Hampshire's annual awards ceremony. The award recognizes individuals who demonstrate leadership roles in the transition to a clean energy future. Giunta was honored for his career-long interest the renewable energy market.
G.M. Roth Design Remodeling and Eversource once again have made a significant donations in support of the Nashua Telegraph/United Way Santa Fund. Eversource donated $2,500 to the fund, and G.M. Roth donated $2,000 – the two largest contributions of 2019.
Kalwall Corp., Manchester, has announced the promotion of Kevin Bruce to North America national sales manager of the Panels and Accessories Division. He succeeds Jim Andrus, who has retired retiring after 40 years at Kalwall.
Kathy Stickney has joined Decorative Interiors, Laconia, as an interior designer. She has 20 years of design experience working with both residential and commercial interiors, to include design, fabrication, and installation management.