People and Property: NH Real Estate and Construction News Roundup
Merrimack building sells for $1.6 million, Gagliusos join Bernstein Shur … and more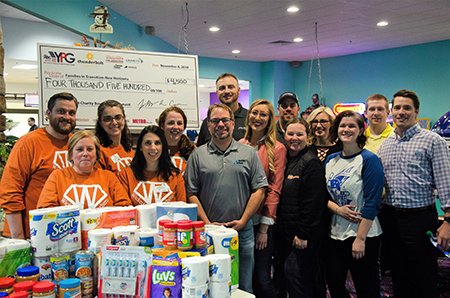 October sales of single-family homes on the Seacoast improved in October, according to statistics released by the Seacoast Board of Realtors, which tracks transactions in 13 Seacoast communities.
Single-family sales volume rose 50.7 percent from September month and 18.1 percent from September 2017. Monthly median sales price was $471,000, up more than $27,000 from September, but 10.2 percent off the year's high of $525,000, set in May.
For the year, total sales are down by 8 percent, but the median sale price is 4.5 percent better at $464,999.
Meanwhile, the condo market saw its slowest October since 2015 and sales were off 16.2 percent from 2017.
The 24,000-square-foot building at 25 Columbia Circle, Merrimack, has been sold by Zel Management Corp. of Merrimack to 25 Columbia Circle Holdings LLC of Boston. Mike Reed of Stebbins Commercial Properties, Inc. represented Zel and assisted the buyer in the transaction. According to the Registry of Deeds the sale price was $1.6 million.
Peter Flotz and Kent Gregory of Bedford Lot Venture LLC have appointed Lafrance Hospitality to manage the Tru by Hilton hotel under construction in the Manchester Millyard.
The H.L. Turner Group Inc., Concord, has added Michael Hansen to its team. Hansen has some 18 years of experience as a civil engineer with a focus on floodplain and stormwater management.
CATCH Neighborhood Housing has been awarded an $18,000 grant from the TD Charitable Foundation, the charitable arm of TD Bank, for its Resident Empowerment Program, which helps connect residents to services in their communities for everyday assistance, as well as identify opportunities for long-term, positive outcomes.
Raymond-based Jewett Construction Company has hired Tom MacKenzie of Biddeford, Maine, as an estimator and project manager based in the firms Scarborough, Maine, office.
Trigger House, an experiential marketing agency based in Portsmouth, and Brooklyn, N.Y., has leased 12,000 square feet of warehouse space at 124 Heritage Ave. in Portsmouth. David Choate of Colliers International's Portsmouth office represented the lessor, 124 Group, LLC, and assisted Trigger House in the transaction.
The Londonderry Fire Department recently held a ceremonial groundbreaking to mark the start of work on an addition and renovation project at the Londonderry Central Fire Station. North Branch Construction of Concord is construction manager.
Attorneys Rick and Kelly Gagliuso have joined Bernstein Shur as shareholders in the firm's Manchester office.
Rick Gagliuso's practice focuses on commercial disputes and transactions, much of it in the, representing commercial contractors and other parties to the construction industry. He is a past board chairman of the New Hampshire/Vermont chapter of Associated Builders and Contractors, and a national director of ABC. Kelly Gagliuso has practiced in the areas of construction and commercial litigation for over 28 years, concentrating on construction and business litigation. She is a past chair of the board of directors of the New Hampshire/Vermont chapter of ABC and currently serves on ABC's national board.
The Manchester Firefighters Association's Operation Warm, part of a national initiative to supply new winter coats to kids in need, recently received a $10,000 donation from Brady Sullivan Properties. The firefighters' campaign has outfitted more than 2,500 children with new coats over the past five years, and Brady Sullivan's $10,000 donation will supply 500 coats, the firefighters said. Firefighters will coordinate two centralized coat drops, at Beech Street School and Parker Varney School in Manchester.
Trividia Health, a contract manufacturing company in Lancaster, has donated $2,500 to the Northern Forest Center to support revitalization of Lancaster's downtown, specifically through renovation of the historic Parker J. Noyes building at the north end of Main Street. The first floor of the building will become the new home of the Root Seller Marketplace, which is currently located at 77 Main St. in Lancaster. The remaining two floors will be turned into two-bedroom residential units for young professionals and families.