People and Property: NH Real Estate and Construction News Roundup
Ledyard donates to nonprofit focused on workforce housing, U.S. Senate passes CTE funding bill ... and more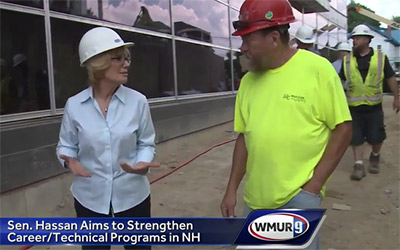 Hancock Associates, a Massachusetts' based provider of land surveying, civil engineering and wetland science services with a location in Salem, NH, is celebrating 40 years in business. The firm was founded in 1978 by Frank Hancock, PLS, PE, to provide land surveying and civil engineering services to the North Shore and Essex County. Today, under president Wayne C. Jalbert, PLS, Hancock Associates has offices in seven locations, over 70 employees and serves Massachusetts, Southern New Hampshire, Connecticut and Rhode Island. Hancock also maintains an archive of historical survey records from 25 land surveying and civil engineering firms dating back to 1852.
Deborah M. Zarta Gier of Nottingham, NH, has been promoted to principal at GZA GeoEnvironmental, Inc.'s Bedford office. Having worked at the environmental and geotechnical consulting firm for nine years, Zarta Gier has gained specific skills in natural resources management, planning, and construction compliance support. Her areas of specialization include large scale data collection and management, construction compliance monitoring, stormwater planning and management, surface and groundwater hydrology, regulatory implementation and compliance, and environmental site assessment in the Northeast and Midwest United States.
Earlier this week, the Senate unanimously passed bipartisan legislation updating the Carl D. Perkins Career and Technical Education Improvement Act and authorizing funding for states to implement high-quality career and technical education programs. As a member of the Senate Health, Education, Labor, and Pensions (HELP) Committee, Senator Maggie Hassan fought to include critical priorities for New Hampshire in the bill, including requiring that CTE programs collaborate with local industry and workforce development organizations to better meet the needs of innovative businesses; ensuring that traditionally underserved students, such as students who experience disabilities, have access to career guidance and academic counseling; and giving more CTE students the opportunity to obtain a postsecondary-recognized credential.
"When I visit businesses throughout New Hampshire, the number one thing I hear is that they need more highly skilled workers to compete in the 21st century innovation economy," said Senator Hassan. "This bipartisan bill is an important step to help expand economic opportunity for hard-working Granite Staters and provide our businesses with the workforce they need to thrive and grow."
Sean Holgate and Chelsie Arnold have joined the Coldwell Banker Residential Brokerage Center Harbor Team. Holgate has lived in the Lakes Region since 1992 and was a trainer for a major corporation and has held several management positions over the 23 years he worked for them. Arnold developed her love for real estate from her experiences living in Key West, Charleston and Boston after graduation from the University of New Hampshire with a BS in Hospitality Management. Her professional experience prior to real estate began through managing restaurants in luxury hotels, then changing her career path to work with commercial architects, selling solutions for all natural and engineered stonework in educational and healthcare institutions, multi-residential housing, hotels, restaurants and arenas.
Manchester Connects, the non-partisan, grassroots community action group focused on beautifying the City of Manchester, recently announced its steering committee, which includes co-chairs Sarah Jacobs and Harry Malone as well as:
· Nicholas Lazos, a real estate development attorney who will oversee legal and regulatory issues.
· State Representative Patrick Long and Economic Development Specialist Chris Wellington, who will deal with resource identification and coordination.
· Marketing specialist Marlana Trombley and longtime Union Leader columnist John Clayton from the Manchester Historic Association for branding and communications.
Those chosen to head up four of the initiatives outlined in a detailed report prepared by Civic Moxie include:
· US FIRST executive Dia Stolnitz and City Parks Planner Chris Sullivan will direct the creative place-making effort.
· Derek Shooster, a regional and city planner with the Southern New Hampshire Planning Commission will chair the parking solutions committee.
· Matthew Low, director of engineering operations for Hoyle, Tanner & Associates, Inc. will co-chair the pedestrian bridge effort along with Lauren Collins-Cline, who is director of communications and public relations at Catholic Medical Center.
· Anne Ketterer, a senior architect with Lavallee Brensinger Architects, will co-chair the Riverwalk Expansion committee with Steve Hebsch, who is a project designer at Lavallee Brensinger.
Ledyard National Bank, based in Hanover, donated $2,500 this week to help fund new workforce housing efforts at the regional nonprofit organization, Vital Communities, which convenes a group of influential regional business leaders who understand deeply the economic impacts of inadequate workforce housing. With support from Workforce Housing Coordinator Mike Kiess, Vital Communities will organize community conversations around housing, assist Upper Valley communities in development or strengthening workforce housing efforts, and work with partners to promote workforce housing.