Old cemetery wall missing capstones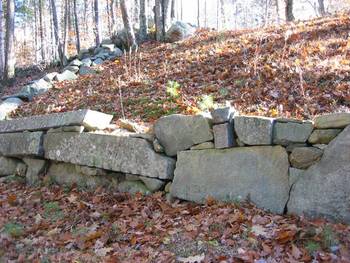 LYNDEBOROUGH – More stones have been removed from the western wall of the South Cemetery along Furnace Hill Road. Last year, several of the cut granite capstones were stolen, and now other stones appear to have been removed as well. There is a large gap in the top of the wall just north of the entrance steps.
Police Sgt. Michael Geha said the incident is under investigation.
"We'll keep an eye out," he said, acknowledging that the pieces of granite probably could not be identified.
The missing capstones are about the right size for entrance steps.
The section of wall along Furnace Hill Road is not visible from any neighboring homes, or from Cemetery Road. Furnace Hill is a dirt road, used mainly as a shortcut by area residents.
The date of the wall isunknown, but it was constructed in the early 1800s. In 1890, the cemetery was enlarged, Cemetery Road moved to its present location, and a new entrance built. The original entrance is by way of a set of granite steps up a steep bank, which are now an area of concern for the new Heritage Commission.
The wall beside Furnace Hill Road was repaired by the Cemetery Trustees two years ago.
Farm Bureau names president
MILFORD – Ben Cargill of Brookline was re-elected president of the Hillsborough County Farm Bureau at the group's annual meeting last month. Sean Trombly of Milford was named vice-president.
The Bureau's 11th Appreciate Award was given to past president Bill Hall Jr., of Hollis. Hall is a life-long farmer, active in community and at the state level of Farm Bureau.
The Hillsborough County group has 740 members, of which 234 are active farmers. Other members include retired farmers and people in farm-related businesses.
The state convention will be held on Nov. 20 in West Lebanon.
Bush wins again
BROOKLINE – Students at Captain Samuel Douglass Academy in Brookline recently voted overwhelmingly by a majority of 64 percent in favor of George Bush for a second term as president of the United States. The election was part of an enrichment program sponsored by the school's media center. The program focused on the United States electoral system, its history and the current candidates.
Students also participated in "Electoral Jeopardy" a game that included questions like "Where is the first Presidential Caucus held?" and "How many electoral votes does New Hampshire have?" Students thoroughly enjoyed the activity and watched the National Election closely to determine how accurate their predictions were.
Free licks
PEPPERELL, Mass. – A few lucky people who happened to pass by Doc Davis Ice Cream stand in Pepperell during the unseasonably warm weather on Halloween got an early treat.
Surprised to find Doc Davis open, ice cream lovers were doubly delighted to be treated to free scoops.
The proprietress explained that she'd been cleaning, and decided to open shop because it was so nice out, and she had some ice cream that might otherwise go to waste.
This reporter can attest that the caramel apple ice cream was gob-smackingly delicious, redolent of apple pie á la mode, but with lots more mode than pie.