Northeast Credit Union CEO killed in snowmobile accident
Accident occurs just days after announcing retirement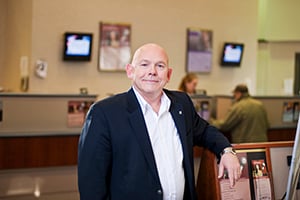 Just days after announcing his retirement as president and CEO of Portsmouth-based Northeast Credit Union, Peter J. Kavalauskas died early Saturday morning in a snowmobile accident.
New Hampshire Fish and Game officials said the 62-year-old Kavalauskas died after hitting trees on the shore of Millen Lake in Washington, N.H.
According to Foster's Daily Democrat, relatives said the Kavalauskas family has had a vacation home on nearby Highland Lake for 60 years.
Authorities say the crash is still under investigation, but believe speed was a contributing factor.
The accident occurred two days after Kavalauskas announced his retirement after 35 years with Northeast Credit Union.
The Portsmouth-based credit union's board of directors has appointed a search committee as well as hired O'Rourke & Associates, a credit union recruiting firm, to assist in the search process, which was slated to conclude in June.
"It has been both an honor and a privilege to serve such an outstanding organization and its membership for over 35 years," said Kavalauskas in announcing his retirement last week. He joined Northeast Credit Union (then known as Northeast Federal Credit Union) in 1978 as assistant general manager. He was promoted to general manager in 1984 and took over as president and CEO in 1985.
During his tenure, the reach of the credit union has expanded from three branches in southern New Hampshire to 15 branches throughout the state, with assets growing from $102 million in 1985 to over $957 million today.
In addition, membership has grown from 39,000 members in 1985 to more than 100,000 members.