No slowing down at 85
Software developer Dick Lilly's career spans decades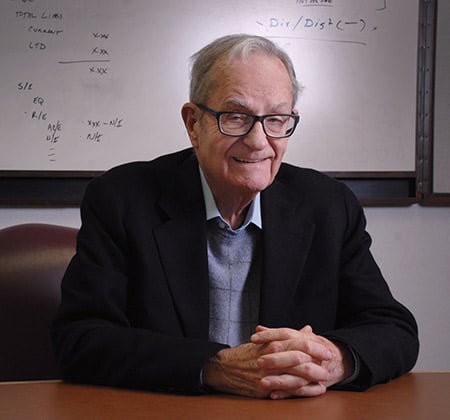 It's not every day that a crack software developer can upgrade and transform a successful product designed 25 years ago. But Dick Lilly is no ordinary software designer.
Lilly is CEO of Hampton-based LillyWorks Inc., the family-owned company founded in 2015 but with roots based on decades of manufacturing software innovations. "Decades" is no small modifier, given that Lilly, who is 85 and has no intention of slowing down, has been creating solutions his entire career — a career that spans back to the early 1960s.
"It's a long story, but to put it simply, the ERP [enterprise resource planning] software I designed more than 20 years ago needed to be upgraded," Lilly told NH Business Review, about why he kept designing. "So I did it."
He added that his modern web-based Protected Flow Manufacturing software was more urgent than ever to meet the on-time logistical needs of small- and medium-sized modern manufacturers, given that as much as 80 percent of global manufacturing is made to order.
"Scheduling is critical if you promise a delivery date. That can be very difficult to do if you don't have the materials you need and don't know exactly when you will have them. They need to see the up-to-minute schedule of supplies and production plans to maximize efficiencies. We needed a schedule that's online, accessible by laptop or smart phone to deliver those results," said Lilly who works closely with his sons Mark (sales and marketing) and Michael (chief technologist and product engineer).
Software as a service
In 1991, Lilly launched VISUAL Manufacturing, the first manufacturing software to offer a graphical user interface. This pushed the boundary in manufacturing software and earned more than 5,000 global customers. The technology and information changes since the early 1990s have been dramatic and Protected Flow Manufacturing is the product of intense reflection and innovation, Lilly said.
The new software incorporates automatic plan adjustments, advanced GPS-style navigation, and an intuitive system that streamlines processes to reduce wait times and maximize return on investment, he explained.
Lilly said the software — which is delivered on an annual software as a service basis — has been successfully implemented by five manufacturing companies in the Midwest. They are so-called "job shop" firms, which build parts for other manufacturers.
Cindy Jutras is president of the independent consulting firm Mint Jutras, which specializes in assessing the impact of enterprise applications on business performance.
In a press statement, Jutras said that Lilly's new product was a "radical new approach to manufacturing planning and execution, the first of its kind in more than 60 years." She praised it as "better" than other solutions "because it makes predictions that respect the reality that job priorities change over time, while also acknowledging limited capacity resources."
Simple solution
Precise choreography of shop floor execution, resource planning, material planning and purchasing "was very difficult to do until the cloud came along," said Lilly. Revolutionary innovations like smartphones and immense digital data storage and immediate access capabilities were unimaginable when he began his career as a systems engineer for IBM in 1960.
In the 1960s, Lilly said, software for manufacturers was developed to sell huge System 360s, which required specially constructed, air-conditioned computer rooms.
"It's mind boggling. In order to program then, you had to first write it on paper, then on key punch and then you had to correct errors of compilation and logic," he said. "It literally took months to do."
Lilly has worked through the computer revolution, step by step, from mainframes to minicomputers to microprocessors and now into the cloud.
Recently, Lilly was nominated for a 2017 Manufacturing Leadership Award by market research firm Frost & Sullivan in the Lifetime Achievement Award category.
"For over 55 years, I've dedicated my career to creating manufacturing control systems that push the boundaries of available technology," he said. "We've finally been able to do what needed to be done to give manufacturers a simple way to solve the problems that get in the way of on-time performance and flow."
Lilly enjoys working daily with his sons and admits the collision of their ideas and creative goals "can get pretty hot at times." While he says that retirement was fun, he decided to un-retire a few years ago after realizing "I needed something to do 40 hours a week."