Nine honored at 2014 Business Excellence Awards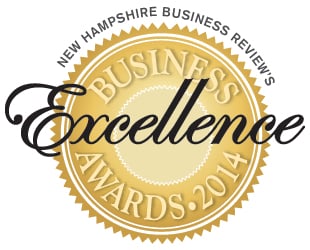 Nine businesspeople were honored Oct. 28 at New Hampshire Business Review's 12th annual Business Excellence Awards, which recognize the accomplishments of owners of companies with 100 employees or fewer.
Some 250 people attended the event, which was held at the Radisson Hotel in Manchester. WMUR-TV anchor Erin Fehlau was the night's emcee.
A portion of the proceeds from the evening benefited Court Appointed Special Advocates of New Hampshire, or CASA-NH, which advocates for children in the state's court system in cases of neglect and abuse.
While each winner had a different path to success, what they have in common "is determination, industriousness and the ability to come up with innovative solutions that have allowed their businesses to survive and thrive, regardless of economic conditions, and a commitment to serving their communities," said Sharron McCarthy, president of McLean Communications and publisher of NHBR.
NHBR editor Jeff Feingold praised this year's winners not only for the success of their companies, but for their dedication to the state's greater business community.
"We would like to salute all of the nominees, the people who nominated them and the winners themselves for their contributions toward making New Hampshire a great place to do business," he said.
Awards were presented in eight categories:
• Business Services: Matthew McClay of Pleasant Acres, New London
• Construction: Tom Sullivan of Sullivan Construction in Bedford
• Consumer Services: Sandra Cleary of CruCon Cruise Outlet, Moultonborough
• Media & Marketing: Sean Owen of wedu/Talient Action Group, Manchester
• Nonprofit: Maria Devlin of the American Red Cross of New Hampshire, Concord
• Professional Services: Susan Sylvester of Absolute Resource Associates, Portsmouth
• Real estate: Megan Prieto of Granite Commercial Real Estate, Bedford
• Technology: Ryan Barton of Mainstay Technologies, Belmont
In addition, the 25th member was inducted into the NHBR Business Excellence Hall of Fame. Accepting the honor was John Morison, CEO of Hitchiner Manufacturing, Milford, on behalf of the Morison family, which has had a centuries-long impact on the social and economic life of New Hampshire.
Five judges had the job of evaluating the nominees and selecting the winners.
The 2014 judges were:
• MaryAnn Manoogian, Center for Women's Business Advancement at SNHU
• Michele Petersen, AlphaLoft
• Gayle Price, Bank of New Hampshire
• Carmen Lorentz, director, state Division of Economic Development
• Angela Martin, Devine Millimet
Presenting sponsor of the Business Excellence Awards was Citizens Bank. Other sponsors were: Harvard Pilgrim Health Care; Service Credit Union; Bank of New Hampshire; the Business and Industry Association of New Hampshire; Ciroc Ultra Premium; New Hampshire Public Television; and Systems Engineering.