NHDRA launches 'all-inclusive' online taxpayer portal
First phase of three-part upgrade goes live for 9,000 taxpayers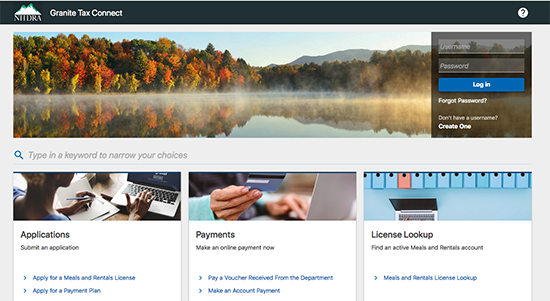 The first phase of the three-part revamp of the New Hampshire Department of Revenue Administration's revenue management system, including the introduction of a new online user portal, has gone live – the agency's biggest technology upgrade in nearly 30 years.
The user portal, Granite Tax Connect, is the public face of the revenue information management system, which was launched Oct. 28 for more than 9,000 taxpayers that pay the rooms and meals, nursing facility quality assessment and Medicaid enhancement taxes. The taxpayers can now pay file their taxes electronically, schedule automated online payments, view correspondence and check on the status of payments and requests, the agency said. Business operators and practitioners can complete the tasks online.
DRA Commissioner Lindsey Stepp said the portal "truly provides an all-inclusive view of the information necessary for taxpayers to interact with NHDRA and streamline the process, right at their fingertips. We have listened to feedback and suggestions from our taxpayers and incorporated it directly into our technology in order to provide the best service possible."
Colorado-based Fast Enterprises is designing the three-phase project, which involves overhauling decades-old technology with the goal of providing taxpayers with an improved online experience, the agency said.
Phase two, the largest rollout phase, is expected to be launched in the fall of 2020 and will be for the approximately 139,000 payers of the business enterprise tax, business profits tax, communications services tax and the interest and dividends tax. The third and final phase is expected to be complete by the end of 2021.
Among the features of the Granite Tax Connect portal are, according to the DRA:
It allows unique logins for different users under the same license, such as the owner and manager of one restaurant, with control over access to information for each user
It saves bank and payment information
It allows payment of assessments received by NHDRA electronically
A secure customer support feature allowing for NHDRA to provide improved customer service and screen sharing while protecting sensitive information, such as banking and passwords
Provides relevant mail correspondence from NHDRA for users to view online through GTC.
Without logging in, users can apply for a payment plan, pay from a voucher, look up a license and apply for a Meals & Rentals license.
Taxpayers with questions can call 603-230-5920 between 8 a.m. and 4:30 p.m. Monday through Friday.