NHBR's Health Innovator Awards: Cedarcrest Center for Children with Disabilities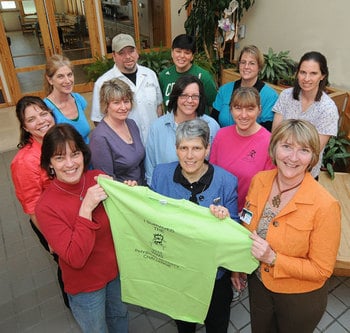 For its unwavering commitment to wellness, Cedarcrest Center for Children with Disabilities has earned Harvard Pilgrim Health Care of New England and NHBR's most recent Health Innovator Award. Cedarcrest Center is a non-profit organization based in Keene that works with children from across the state who have complex medical and developmental needs. Along with an emphasis on wellness, both for employees and children, the work of this organization also shows that even small steps can make a big difference.
"Harvard Pilgrim applauds Cedarcrest Center for demonstrating that taking even small steps toward promoting better health and wellness can make a big difference for their employees and for the children, families and community they serve." – Beth Roberts, Vice President Of Northern New England,Harvard Pilgrim Health Care
Q. Cedarcrest Center for Children with Disabilities has shown that, even if you are a smaller organization, wellness and keeping your employees healthy is important. In what ways does Cedarcrest Center show its commitment to wellness – to employees, children and the community?
A. Cedarcrest Center recognizes that a healthy, happy staff benefits everyone: staff, employer, the children, their families, and the community with whom we interact. As such, the organization offers flu vaccinations, wellness inservices, a healthy daily meal, access to our Employee Assistance Program, and other benefits and programs at no charge to our employees. Cedarcrest Center is also a champion of Vision 2020, an initiative to have Cheshire County become the Healthiest Community by 2020.
Q. Why is an emphasis on health and wellness, both for your employees and the children you work with, so important to Cedarcrest Center and the work that you do every day? How does it set your organization apart?
A. A healthy, happy staff benefits everyone. We'd been hearing about the importance of encouraging wellness from our benefits broker at IPG Benefits. Then, the state of New Hampshire Department of Education required that we have a wellness policy in place for the Cedarcrest School. We also formed an employee wellness committee, WIMS (Wellness, Inspiration, Motivation, Support), of about 6-7 rotating employees from across the organization who participate in planning and executing wellness programs. Many of us lead a healthy lifestyle and already engage in wellness activities as a general course of our personal life, so when the organization moved toward a more defined wellness initiative, we clambered aboard and we've never looked back: celebrating together and recognizing accomplishments of the children and staff.
Q. In what ways has Cedarcrest Center taken small steps toward promoting wellness that have made, or have the potential to make, a significant difference?
A. In the beginning, we thought big – maybe a bit too big. Then, as we started displaying tips and information on wellness bulletin boards and created our own wellness games, we realized we had a winner. Simple dietary changes were made, too, as our dietary team worked to incorporate more healthy choices. These simple things created an inclusive atmosphere – people talked about the tips they learned and shared them with other staff. Although dietary changes met a bit of resistance at first, staff realized that having choices gave them the power and control over their diet. Knowledge is power. Choice-making is power. When we can make an informed decision, hopefully we make a healthier decision.
Q. What would you say to other small organizations similar to yours who may be struggling with promoting health and wellness within their organization as well as in the community?
A. Dream big, but start small. Get management on board. Look at what you are already doing and add a healthy alternative. Take advantage of what is already in your community and within your organization. What wellness initiatives are in your region or community? Get invited to a meeting or ask to join, or have brief informational sessions presented to your team. Your staff might already be engaged in activities that they'd like to share. Identify a few champions who are interested, enthusiastic and creative. Multiple shifts and schedules present a challenge and we make the best of that, often planning activities across shifts or multiple presentation times for in-services to reach as many staff as possible.