NHBR's Health Innovator Award: Dawn Barker, RiverWoods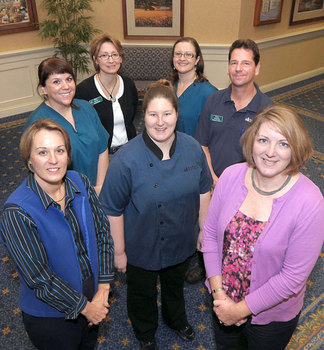 For its dedication to all facets of wellness, RiverWoods has been recognized by Harvard Pilgrim Health Care of New England and NHBR as the most recent Health Innovator Award recipient. RiverWoods' overall approach to wellness and its recently launched "RWell" Challenge, which affords employees the opportunity to compete on teams to lose weight, emphasizes that we are all "works in progress," and that the goal of wellness is a lifestyle choice that there is no right or wrong way to achieve.
Q. As an active independent retirement community, RiverWoods is dedicated to overall wellness, both for its residents and its employees. Can you elaborate on this?
A. RiverWoods promotes a "culture of wellness" rather than simply doing wellness programs. It is in the fabric of who we are.
We focus on the six dimensions of wellness: social, intellectual, spiritual, physical, emotional and occupational.
Everyone's wellness journey looks different and we want to help each employee on their personal journey by providing resources and support to help them achieve their optimal health.
For most employees, the idea of having a company concerned about their wellness is novel and it takes them a little bit to understand there is not a "yeah but" in there.
Q. Why do you think the response to health and wellness programs by employees has been so positive?
A. People want to be healthy, by educating them on how to make healthier choices and by removing some of the road blocks, people naturally will start to move towards making smarter decisions about their health.
We provide an encouraging and supportive work environment, employees feel they can reach their optimal health, whether that means taking less medication, controlling a chronic condition, running a marathon, getting out of debt, or going back to school to get the new position they want.
Q. In what ways does RiverWoods help individuals to improve their health one step at a time?
A. We provide a wide array of opportunities, such as on-site fitness classes, financial wellness classes, career development options, walking trails, a nurse practitioner, and many more options. Employees can choose what is going to work for them.
Wellness is not a human resource program, but rather an organic program that might look different in each department.
For example, one of our housekeeping teams started doing morning stretches. It only takes 10 minutes, but it allows for everyone to connect and stretch and be ready to start their day.
Another department had our fitness manager come to a monthly staff meeting and show some simple exercises.
Other departments run races together, others walk at lunch time.
We also just launched our RWell Challenge where employees have an opportunity to compete on teams to lose weight. We had an overwhelming response with 20 teams and over 60 employees participating across the organization.
We emphasize that we are "works in progress," and that wellness is a lifestyle choice and there is no right answer on how to accomplish that.
Q. Why does RiverWoods choose to stress the idea of health as having more than just physical implications?
A. People are not one dimensional. If we just focused on the physical aspects of wellness, we would only be looking at a very narrow segment of wellness.
RiverWoods takes a holistic approach to wellness. When we are not feeling well or are feeling stressed, it is typically more than just one thing that is impacting us.
If you are struggling with finances, for example, maybe you are not sleeping well or are making poor food choices or you are in a relationship that is not going well. This impacts your performance at work or other aspects of your life.
Employers need to recognize that employees are bringing their lives into the workplace. And they need to help support employees if they want to have a competitive advantage by having loyal and engaged employees.
Bottom line: it is about sustainability – both for our organization and our employees. By focusing on wellness, we are investing in our employees – that is our ROI – we want to create the opportunity for our employees to change their lives.
NHBR's Health Innovator Awards Program is presented in partnership with Harvard Pilgrim.