NH wellness is declining, costing businesses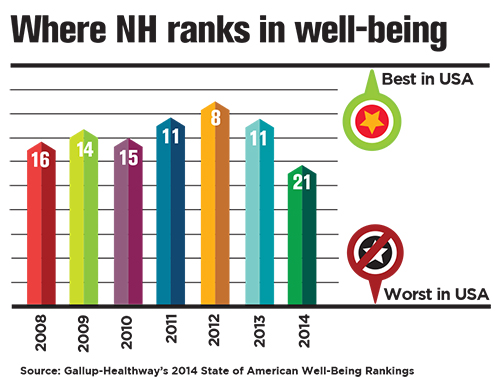 Since 2008, Gallup and Healthways, a global well-being solutions provider, have published the annual Well-Being Index. Although the full "State of American Well-Being" for 2014 hasn't been published yet, they have listed the composite wellness scores of the 50 states and it is not looking good for New Hampshire.
Through 2013, people surveyed were asked to respond to six general areas: life evaluation, emotional health, work environment, physical health, healthy behaviors and basic access. The scores are combined to produce a composite total for that state.
In 2008, New Hampshire's overall well-being score placed us 16th in the country. In 2009 and 2010, we got to 14th and 15th place, respectively. In 2011, we were No. 11, and in 2012 we peaked at No. 8. In 2013, we slipped back to 11. Although this may not seem that bad, the internals tell a different story.
Between 2011 and 2013, we made gains in some areas. Most notably, we went from 23rd to 14th in life evaluation and from 28th to 12th in emotional health, but we dropped from second place to 18th in healthy behaviors and we fell 20 spots, from second to 22nd in the area of physical health.
Potentially more bad news: Vermont, Maine and Massachusetts come in at 13th, 15th and 17th place respectively in overall well-being. New Hampshire is now 21st in the country.
However, last year Gallup-Healthways changed the wellness areas in which people were surveyed. There are now five: purpose, social, financial, community and physical. But the fact remains that we now find ourselves in 21st place.
Our latest composite score breaks down as follows: purpose, 36th; social and financial, 18th and 24th place, respectively; community, 11th; and physical, 27th.
The trend in physical wellness, going from second place to 27th in four years, presents an expensive challenge to New Hampshire businesses through increased costs and decreased productivity. Conversely, businesses that actively seek to address and reverse this trend can not only strengthen their bottom line and competitive advantage but also, and perhaps more importantly, help their employees lead richer, more fulfilling and possibly even longer lives.
The bulk of these gains are realized through lower healthcare utilization, decreased absenteeism and decreased presenteeism (reduced productivity due to health issues).
For example, let's look at the problem of obesity. Right now, about 35 percent of Americans are considered obese. In a company with 150 employees, about 52 of them will be dealing with this condition. A typical business pays an extra $1,350 per employee per year in excess medical costs for obesity. Absenteeism due to obesity is estimated to cost businesses about 1.4 percent in lost productivity. Obesity-related presenteeism can result in an additional 8.3 percent reduction in employee output.
This one condition adds close to $300,000 annually to our sample company's budget. Other conditions, such as depression, diabetes, hypertension, high cholesterol, migraines, tobacco use, physical inactivity, etc. can also negatively impact a company's health.
Joe McCue, owner of American Wellness Solutions LLC, Portsmouth, can be reached through AmericanWellnessSolutions.com.