NH Senate OKs Uber regulations
Measure imposes minimal fee, overrides local rules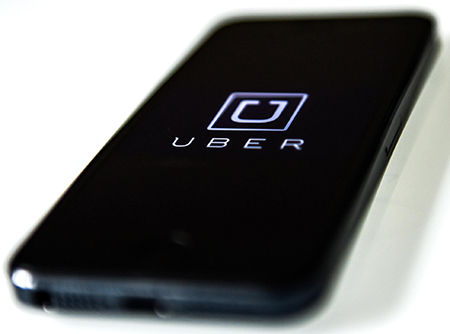 The NH Senate moved forward a bill on Thursday regulating online transportation networks like Uber.
The bill – which passed on a voice vote with no debate – still has to go through the Senate Finance Committee and win approval in the House.
Although the company supported the final version, House Bill 1198 – which is based on model legislation that passed in some 29 states – does not give Uber everything that it sought.
The latest version excludes language that would have carved out Uber's own definition of an independent contractor.
The bill would impose a minimal $500 permitting fee and allow drivers to have a flexible commercial insurance policy already offered by the company – one that only goes into effect when drivers are on call.
And while the latest version does spell out some penalties, to be handed out to the company by the state Department of Safety, they are relatively nominal: $500 for the first offense and $1,000 for subsequent offenses.
The measure would require that drivers have a valid license with a safe record, with no major criminal convictions, such as sexual or violent offenses. More importantly for the company, it would override local regulations on companies whose drivers often cross municipal lines.
"No municipality or other local entity may impose a tax on, or require a license for, a TNC [transportation network company], a TNC driver, or a vehicle used by a TNC driver where such tax or licenses relates to providing prearranged rides, or subject a TNC to the municipality's or other local entity's rate, entry, operational, or other requirements," the bill spells out.
Taxi and limo services opposed the legislation in hearings for those reasons. And the state Department of Safety noted that it would cost some $80,000 to regulate the companies, which might cause the Senate Finance Committee to question the $500 permit fee.
But several business groups backed the measure, saying they want to encourage a service used by young professionals and tourists that they hope to attract to the state.
Uber entered the New Hampshire market at the beginning of 2015. By the end of the year, it had about 500 drivers servicing the southeastern part of the state, mostly operating within Manchester, Portsmouth and Nashua. Several localities have since passed ordinances that Uber opposed as onerous.
Uber sent an email urging drivers and customers to support the legislation
"The proposed regulations will move New Hampshire forward by encouraging ridesharing companies to invest, grow, and create jobs across the state," Uber's email said, adding it would "help to ensure driver partners are able to access flexible work opportunities and earn money on their own schedules, and is critical in allowing ridesharing companies like Uber to provide seamless, affordable and reliable rides across the Granite State."