NH Liquor Commission seeks development partner for I-95 project
Two new Hampton stores seen as linchpin of public-private partnership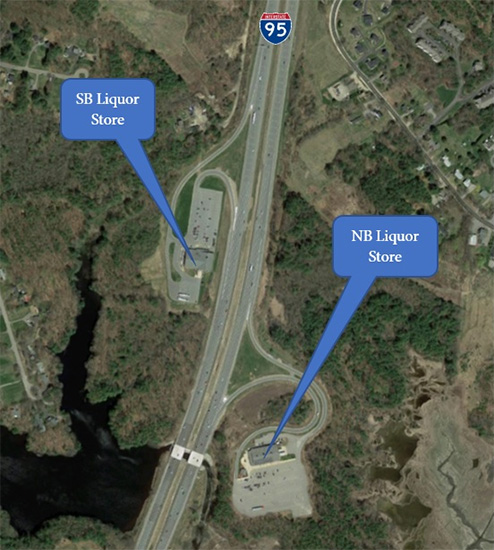 The New Hampshire Liquor Commission has announced plans to start the process to pave the way for development of new sites on Interstate 95 in Hampton that would result in construction of Welcome Centers similar to the twin facilities on Interstate 93 in Hooksett.
The commission said it wants to find a partner to build two new 20,000-square-foot liquor and wine outlets on I-95 northbound and southbound sites totaling 88 acres and is looking for a commercial real estate firm to help in the development process.
The commission said it is looking for a commercial real estate firm in an effort to find a buyer for the commission-owned I-95 acreage. The goal is to initiate a public-private partnership similar to the relationship it has with Granite State Hospitality, which built and owns the Hooksett Welcome Centers. Those each include a 20,000-square-foot liquor store, a 16,000-square-foot visitor center with several eateries and retail and 16 gas pumps.
The potential buyer will be found through a "carefully structured" bid process, the commission said. The agency also said it will be supported by an advisory committee, composed of representatives of state agencies and municipalities that will help guide the request for qualifications and request for proposals RFQ and RFP processes.
Commission Chair Joseph Mollica said the "unique and highly valuable" I-95 property is "a once-in-a-lifetime opportunity for the state and a developer operator" in developing a "New Hampshire-centric proposal that will deliver two new, state-of-the-art NH Liquor & Wine Outlet locations and accompanying facilities."
The current Hampton outlets generate over $54 million a year in sales, and the commission said it anticipates newly developed facilities would bring in even more.
More information will be posted at nh.gov/liquor in the coming weeks.