NH Liquor Commission issues RFQ for I-95 development broker
Agency seeks to build two outlets, Welcome Centers in Hampton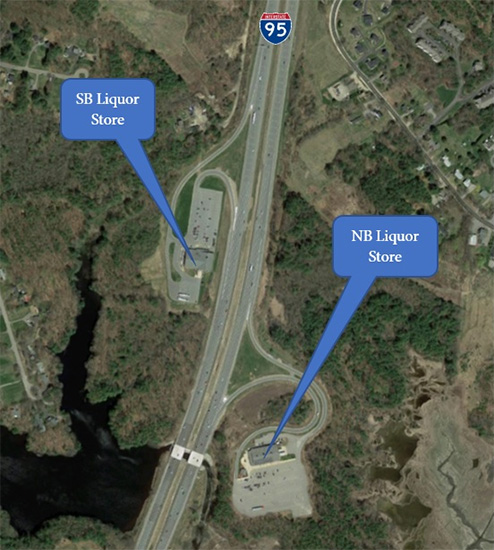 The New Hampshire Liquor Commission is taking the next step in the process of turning 88 acres of real estate along Interstate 95 in Hampton into Welcome Centers similar to the twin facilities on Interstate 93 in Hooksett.
The commission has issued a request for qualifications, or RFQ, seeking qualified commercial real estate brokerages specializing in highway-oriented commercial real estate to provide brokerage, valuation and marketing services.
The commission announced last November that it wants to find a partner to build two new 20,000-square-foot liquor and wine outlets on I-95 northbound and southbound sites and is looking for a commercial real estate firm to help in the development process.
"Very few sites in the country offer the unique development opportunities available in Hampton," said NHLC Chairman Joseph W. Mollica. "We anticipate a strong interest at each phase of the project and look forward to identifying a partner to deliver a creative and responsible, New Hampshire-centric proposal."
The potential buyer will be given the opportunity to identify potential development scenarios that showcase the two planned outlets as well as identify possible motorist services, such as food, fuel and other retail offerings – similar to the Hooksett outlets along I-93.
According to the commission, instrument and stamped surveys have identified 64 acres along I-95 northbound and 24 acres along I-95 southbound, including wetland and conservation areas. The agency said it anticipates the two new outlets will result in sales that will "far surpass" the current $54.3 million generated annually between the existing locations.
The agency said a selection committee will review each broker's qualifications and short-list up to six of the top-scoring brokers, who will receive a formal request for proposals. Brokers who are shortlisted will be selected based on qualifications, experience, New Hampshire presence and ability to attract prospective buyers and developers as defined in the RFQ.
The Liquor Commission has scheduled a voluntary broker conference and site visit beginning at 10 a.m. March 10 at the Hampton Northbound NH Liquor & Wine Outlet at Interstate 95.
Following the conference and site visit, brokers will be able to submit inquiries and questions to the NHLC at any time up to 10 a.m. March 13. The Liquor Commission said it will respond to inquiries by March 20.
Brokers must submit a qualifications package by 2:30 p.m. April 3. Up to six brokers will be announced on April 17, and the commission will issue the RFP to those brokers.
The commission said it anticipates that broker finalists will submit their proposals in June 2020, with the execution of a professional services agreement later that month. The agency said it will be supported by an advisory committee whose membership will be made up of representatives of relevant state agencies, municipalities and industry experts.