Insurance regulators eye 'real 'problems' with healthcare sharing ministries
In webinar, Insurance Department officials list them as a target for legislation in next session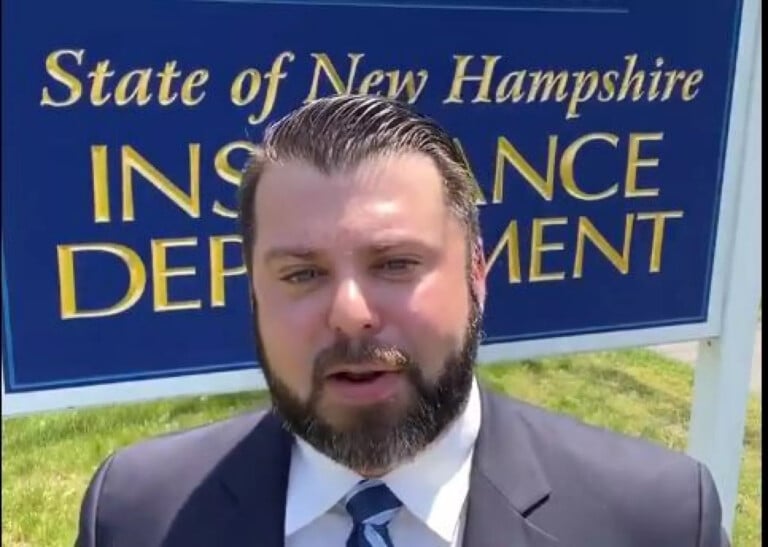 Healthcare sharing organizations and consumer guaranty contracts are among the priorities the NH Insurance Department will pursue during the 2024 legislative session.
Also known as healthcare sharing ministries (HCSMs), the healthcare sharing organizations are groups that share religious or ethical beliefs and whose members contribute a monthly amount to pay for the medical costs of other members.
"We have had some real problems in New Hampshire," D.J. Bettencourt, the state's deputy insurance commissioner, said during a webinar Aug. 22 to discuss 2023 and 2024 initiatives in the state Legislature.
"We have seen some real problems nationally with some of these organizations, particularly around their customer service, particularly around their financial solvency. So we're going to try to find a pathway forward so that those organizations who want to sell to New Hampshire consumers understand what the regulatory expectations of them are here in New Hampshire," Bettencourt added.
Sharity Ministries, formerly known as Trinity Healthshare, operated as a healthcare sharing ministry, serving as many as 1,200 residents in New Hampshire and filed for Chapter 11 bankruptcy protection in June 2021.
"That company was here one day and then – poof – went bankrupt and was gone the next day and left a whole bunch of those consumers in the lurch," said Bettencourt.
Consumer guaranty contracts are agreements that have insurance-like features but are not traditional insurance products nor are they normally sold by traditional insurance producers.
"We are aware of a senior citizen consumer in New Hampshire, who was sold five burial policies by the same company. That is just wrong," said Bettencourt, citing an example of a guaranty contract gone bad. "That type of marketing technique, that treatment of the consumer is just wrong. And it is one of a number of different things that we are seeing that are very, very concerning to us."
Legislation updates
Bettencourt, describing the 2023 legislative session as "an incredibly successful year for us," was joined in the update by Jason Dexter, life and health director, and James Fox, property and casualty director. They reviewed six pieces of legislation of importance to the Insurance Department that passed and were signed by Gov. Chris Sununu
From his purview, Dexter cited three bills from the 2023 legislative session:
House Bill 613, which updates regulations governing the individual health insurance market.
Senate Bill 72, which directs an insurance carrier to act on a change of status request within 30 days or notify the provider of the reason for the delay or inability to act. The bill also directs the insurance commissioner to accept and record complaints regarding health carrier compliance with credentialing procedures.
SB 85, which Dexter described as "a very important bill," defines behavioral health crisis programs within the mental health treatment laws, creates a commission to study behavioral health crisis programs, and limits pre-authorization requirements for emergency behavioral health services.
From the property and casualty perspective, Fox also cited three bills from the 2023 session:
HB 210, which revises certain requirements for combined insurance coverage against fire and other perils.
SB 249, which establishes regulatory standards for the sale of pet insurance and was amended to allow a restaurant owner to bring their companion dog to the restaurant premises.
SB 142, described by Fox as a "housekeeping item," which makes technical corrections to the law about regulation of forms and rates for property and casualty insurance.
Bettencourt cited three pieces of legislation that were held over from 2023 that will re-emerge in 2024 after study.
One has to do with aligning state regulations with the federal No Surprises Act, which protects people covered under group and individual health plans from receiving surprise medical bills when they receive most emergency services, non-emergency services from out-of-network providers at in-network facilities, and services from out-of-network air ambulance service providers.
Another piece of held-over legislation, according to Bettencourt, looks at how well insurance carriers process claims and how quickly they get payments to their providers.
A third issue has to do with a review of proposed legislation that requires health insurers to cover prosthetic and orthotic devices for children and youth, while another involves fertility treatments.
Asked by NH Business Review about whether insurance companies have shown indication of a reluctance by insurance New Hampshire property owners for certain weather/environmental events as is happening in California and Florida, both Bettencourt and Fox said they have not heard any rumblings to that effect, but Bettencourt used the opportunity to suggest to Granite State homeowners that they consider adding flood insurance to their property insurance. This summer, New Hampshire has experienced some record-breaking rainstorms that contributed to flood damage throughout the state.
"That is the most frequent environmental event that we do see in New Hampshire," said Bettencourt." So I'll use this as an opportunity to bang the drum of awareness around flood insurance."
Bettencourt has been nominated by Sununu to head up the Insurance Department as commissioner, succeeding Christopher Nicolopoulos, who resigned in July.
A public hearing before the Executive Council on Bettencourt's nomination is scheduled for Wednesday, Aug. 23.