NH House panel to weigh energy-efficiency charge opt-out bill
Bill would let businesses choose not to pay System Benefits Charge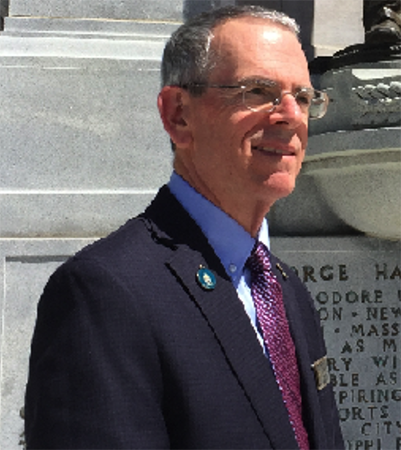 Should New Hampshire businesses be able to opt out of paying for a utility's energy-efficiency programs, even if they have benefited in the past and might benefit from them in the future?
That's what state Rep. Michael Vose, R-Epping, is proposing in an amendment to House Bill 317, pertaining to the state's relatively new Energy Efficiency Resource Standard (EERS), which will be considered by the House Science Technology Energy committee in a public hearing and a possible vote on Wednesday.
"The business community is frustrated that we are not doing anything to bring down the cost of electricity," said Vose. "This is something we can do to lower that cost."
The state Public Utilities Commission promulgated the EERS in 2016, bringing it into line with the rest of the region. Currently the state saves less than 0.6 percent of its electricity though energy efficiency. The PUC standard aims to increase that to 3.1 percent between 2018 and 2020, by increasing the System Benefits Charge, which is listed separately in your utility bill.
Ratepayers have always paid the SBC, about a third of a penny per kilowatt-hour, or about $2.15 a month for the average residential user. Some of the money is used to help low-income ratepayers pay their bills. The rest (0.18 of a penny) is dedicated to the utilities' various energy-saving programs, outlined at NHSaves.com.
That's the way it's been since 2001, but the PUC wants to increase that charge by about a half-penny per kilowatt-hour. That works out to an extra $1.35 a month for the average residential customer, and about $21 a month for a small business. That may not seem like a lot, but it will add up to about $100 million for the utilities' core energy-efficiency programs, roughly five times the amount it spends now.
Vose, however, said that many business have already invested in energy efficiency "and may have done as much as they want to do."
Businesses that opt out cannot take advantage of the utility core energy-efficiency programs, but the bill is silent on companies that have used the funds in the past, or could do so in the future, should they opt in again. Several utilities have raised those concerns, said Voss, and the committee or the Senate might "tweak" the bill later on to prevent businesses from "gaming the system." But he is "running out of time" on the bill, he said. Committees only have a few weeks to act on bills retained from last session.
The NH Sustainable Energy Association also opposes the amendment because it said it could "destabilize" the energy-efficiency program, said Executive Director Kate Epsen.
The efficiency program doesn't just benefit individual businesses, she said. By lowering peak demand, it can cut transmission and generation costs for all ratepayers.
"That's why the program is paid for by the system, because the whole system benefits, not just the customers who take advantage of the programs," Epsen said. "That's why they call it a System Benefits Charge."