NH gun industry comes under fire
Even the smallest firearms manufacturers face the same headwinds largest companies do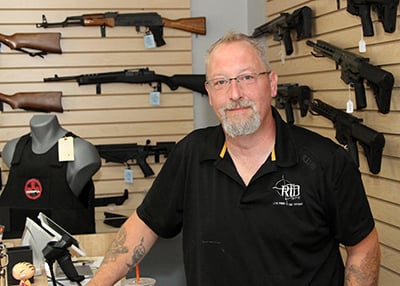 In the back shop of Wicked Weaponry in Hooksett, owner Ben Beauchemin might be putting together the parts of an AR-15 style semi-automatic.
Meanwhile, Anthony Hook at RTD Manufacturing might be designing the lower receiver to be machined in his Henniker workshop, before his employees add the parts to turn it into a firearm in Goffstown.
And Erik Croto, co-owner of Kraken Ammunition LLC, might be hand-cranking out about 1,000 bullets an hour with his two-foot-tall machine sitting on the counter of his shop, located atop a small mountain in Bradford.
These are just three of many businesses that make up New Hampshire's sprawling gun industry, which directly employs about 4,000 people in New Hampshire with a total economic output of about $1 billion, ranking the state first in the nation in firearms-related jobs and economic output per capita in 2017, according to the National Shooting Sports Foundation.
The industry is also expanding here more than in most states, with the Granite State among the top 10 states in per capita job and economic growth during the last year.
Of course, much of that is due to the two largest firearms manufacturers in New Hampshire — Sig Sauer on the Seacoast and Sturm Ruger in Newport, which together employ thousands of workers who make millions of weapons.
But New Hampshire's firearms industry is not just Sig and Ruger. There are 174 companies and individuals with licenses to manufacturer firearms or ammunition in the state, according to the federal Bureau of Alcohol, Tobacco and Firearms database.
Not all those allowed to make guns are doing it. Some did in the past. Others plan to do so in the future. Still others, retailers mostly, or gunsmiths, just want the license to make sure they are legal when they tinker with a weapon, since the ATF definition of manufacturing is very broad.
"You step out of line, you could be a felon," said Hook. "I like staying on this side of the bars."
It's also because getting a license isn't that expensive and difficult.
"Anyone can build a gun," said Hook. "The trick is to do it right."
The products
The mechanics are simple. Start with the lower receiver, "the heart of the gun," in the words of Beauchemin, since it is the part with the serial number on it, the part registered with the ATF. It's an irregular, mostly flat piece of metal, set up to receive the rest of the gun — such parts as the upper receiver, the barrel and the trigger.
RTD manufactures its own lower receivers on a machine that takes about 15 minutes to produce once it is programmed.
"Even a monkey could do it," Hook said.
Other shops, like Wicked Weaponry, buy lower receivers from an original equipment manufacturer, which stamps the serial number that Wicked registers in its name. Then it simply assembles the various parts, all sorted neatly in handwritten small boxes lined on portable metal shelving — the M4 upper receiver, the carbine gas tube, the A2 flash hide.
(Perhaps the most well-known local OEM supplier is Matrix Aerospace Corp., based in Claremont, which didn't respond to an interview request.)
RTD manufacturers its own lower receivers, marked with the company name, its slogan and the location as well as
custom laser markings.
This is a tough time to make weapons. The industry has been under fire. The horror and regularity of mass shootings, the daily use of firearms in crimes and the growing awareness of gun-assisted suicides, has led to political controversy, legal challenges and shareholder actions at nearly every level.
It took months for Croto to set up his ammunition shop because of the town's safety concerns, which Croto said were misguided since he uses smokeless powder, which won't explode unless compressed, and thus is classified as a propellant, not an explosive.
He hand-cranks his ATF-approved bullet machine even though it has an electric motor to avoid a state tax on the automated machines, until he has enough business to justify the expense.
The machine presses the powder into the brass shell. A nipple filled with mercury fulminate that squirts upon impact is attached to the bullet and a tip is added. In Kraken's case, the tip is usually designed to turn into powder on impact so the bullet can't ricochet, since Kraken currently mainly supplies bullets for military training at close range.
Croto figures he churns out about 15,000 to 20,000 rounds a week. "I'm on the smallest end," he said. "I'm just getting started."
Political winds
Saws Manufacturing, a Whitefield-based firm that caters to military and law enforcement with a custom-built AR-15 style firearm, ran into antigun sentiment four years ago. That was when the company wasn't able to accept credit cards, said its owner, William Scott Lauze.
Square, the credit card processor that the firm was using, began refusing to do business with gunmakers. Lauze was able to switch providers, but now QuickBooks has refused to process gun sales.
"To see this thing going on is quite alarming," Lauze said.
Such controversy makes manufacturers weary of talking to reporters. "Are you for or against guns?" more than one manufacturer asked this reporter.
But others, like Beauchemin, welcome the transparency, since he said it would make the public more aware and less suspicious. Beauchemin also said he is different than others in the industry who see the federal government as overly intrusive. In fact, he wishes that ATF would hire more people so they could process background checks more efficiently.
So far, nobody who has purchased a gun from him has committed a crime, he said, knocking on the wooden door frame, and credits the background checks for some of that, but some of the guns he has sold have been stolen.
"That's the sad part of it," he said. "We have no control after it leaves the shop. You just do your best to vet people. I understand, people sue everybody. If it happened to me, I'd probably be decimated."
Some gun owners don't have to worry about that happening because their guns can't be used for most crimes.
HMC Precision Manufacturing in Danbury owns the patent for a rifle dry-fire training device.
"It's impossible to fire a round," said Jon Daniszewski, vice president of operations for HMC. It is classified as a gun, because it still has the lower receiver with the serial number. It looks like a gun, and feels like a gun, and even loads like a gun, all of which soldiers use to train without the tragic accidents that often occur during boot camp.
HMC also makes parts for the aerospace industry, but Daniszewski expects his eight employees will mainly be working on the rifle, "which is now pretty much our focus."
Woodman Arms manufactures a rifle that does shoot live ammunition, but it takes 30 seconds to reload. It is a muzzleloader, an old-fashioned hunting rifle that makes hunting more of a sport. There is even a part of the season designated for muzzleloader use.
Muzzleloaders are less regulated than semiautomatic, said Mark Woodman, owner of the company. "Even a felon could buy one," he said.
Woodman Arms is an offshoot of Best Machine, both located in Fremont. It is a machine shop with about a dozen employees that make all sorts of equipment including the parts for the loader, which only accounts for a small part of business.
Although Woodman's gun-making is seasonal, at least it doesn't depend on which way the political winds blow.
Gun sales skyrocketed when President Obama was in office, creating a gun-buying stampede by those gun owners who expected — wrongly, it turned out — that stricter gun laws would pass during his administration.
Back then, RTD employed nearly a dozen people and was selling as many as 2,500 guns a year. This year, Hook expects to sell about a fifth as many. He mainly employs people as part-timers.
"These are the slow years," he said.
But Lauze is worried about the anti-gun atmosphere that seems to be growing across the country. "I may or may not have a job. But if I can't make firearms, I could always make fishing rods," he said with a laugh.