NH entrepreneur survives shrinking pool industry
Mike Baron's unique tables attract a national market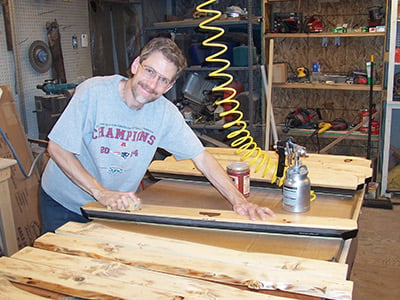 "You know how to make a small fortune with a pool room? " asked Mike Baron. "Start with a large one."
Baron has owned and operated Baron's Billiards in Laconia since 1989, riding the ups and downs of an industry buffeted by changing tastes in entertainment and the harsh winds of recession to emerge as a designer and supplier to the last remaining major manufacturer in the country of pool tables and accessories.
"It was the movie 'The Color of Money,'" Baron recalled, referring to Martin Scorsese's reprise of the "The Hustler," pitting Paul Newman and Tom Cruise in a cat-and-mouse rivalry between mentor and protege, played out over the green baize of pool tables. In 1986, when the film was released, Baron was working as a bassist in several bands before forming Flash Entertainment Agency and booking gigs mostly at venues in the Lakes Region while also working in construction.
"It was a bad mix," he said. "Bands went to bed at 6 in the morning and contractors started work at 6 in the morning."
While "The Color of Money" sparked fast-growing interest in billiards, Baron said that the spread of electronic entertainment and the campaign against drunken driving were taking a toll on live music.
"It was all drum machines, pre-recorded stuff, MTV, and karaoke was the last nail in the coffin," he remembered.
With three pool parlors sprouting up every week across the country, Baron and his brother decided to open a pool hall. "What fun that would be, we thought," he remembered. "We'll make lots of money and play pool all day. What were we thinking?"
Within a year, the business outgrew its original space in Belmont and the brothers moved it to Main Street in downtown Laconia. Along with a dozen tables, there was room to display tables and accessories for sale.
"There was lots of demand for tables and equipment along with repairing and servicing tables," said Baron, who turned his hand to keeping tables in good condition. At the same time, the Barons promoted billiards by forming a league and placing coin-operated tables at other venues. "Who wouldn't want 20 people in their restaurant on a cold night in winter?" said Baron.
One of the tables produced by Baron's Billiards of Laconia.
Boom years
The league grew and affiliated with the Billiard Congress of America. In 1993, what is now the NH Billiards League sent a team to the national playoffs in Las Vegas for the first time. By promoting and sustaining the popularity of billiards in the Lakes Region, the Barons provided the foundation for the annual Robbie Mills 8 Ball Tournament, which during the past decade has raised more than $40,000, split evenly between the Lakes Region Boys and Girls Club and the Lakes Region Children's Auction, in memory of the young boy who was cruelly slain in 1998.
Meanwhile, the Barons opened a second pool hall in Plymouth, at the site of the former Newberry's five and dime store. The 16-table pool hall partnered with an abutting pizzeria to offer alcoholic beverages.
"It was a giant pool room that you couldn't miss," Baron said, "but, some two years later the partnership with the pizza place failed for reasons beyond our control." The brothers applied for a liquor license under a provision of state law that exempts a pool hall with at least 12 tables from the requirement to serve food, only to abandon the project when the local newspaper carried a story beneath the headline, "Pool Hall Liquor Law Upsets Town."
In 1995, they closed the pool halls in Plymouth and downtown Laconia and reopened at the Cackling Crow on Lake Street in Laconia.
"With drinks, bar food, even waitresses, it was very successful," he said. "We had waiting lines for the pool tables and they were standing five deep at the bar. We were fat and happy."
One of the regulars was the late Norm Webber, a hustler called "Farmer" for stumbling into pool rooms in worn overalls, muddy boots and fair skill, leaving with his pocket full of cash. A former New England and Pacific Coast pocket billiard champion and celebrated trick shot artist, Webber lived in Laconia for 20 years.
"He lived, ate and breathed pool," Baron said. "We were so blessed to have him there." Webber, who once tied six-time world billiards champion Irving Crane for fifth place in the U.S. Open, routinely shared his knowledge and experience while his trick shot exhibitions drew crowds.
The recession hits
At the same time, Baron had developed a brisk business selling, installing, servicing and repairing pool tables. And when the owner of the Cackling Crow sold the space housing the pool hall, Baron decided to confine his business to retailing and servicing tables and accessories.
In 1991, he became a dealer for Olhausen of Portland, Tenn., the largest manufacturer of pool tables in the world and the last major manufacturer in the United States. In 2004, he sold more tables per square foot of showroom than any other dealer.
By the turn of the century, Baron was again hard-pressed for space. "We were selling more than 100 tables and servicing another 500," he said. He invented a device — the EZ Level — for lifting and leveling pool tables, which was granted a patent. And he had begun customizing factory tables to his own designs, using natural woods to fashion a variety of rustic motifs.
Baron traced much of his success to the fast-growing seasonal home market in the Lakes Region. "There were more and more people with lots of cash and big houses," he remarked, "and a pool table takes up a lot of room."
In 2004, Baron invested in purchasing and renovating a building that included showroom, shop and storage space as well as an apartment upstairs for him and his wife.
"We were selling lots of tables and kept a large inventory, 100 tables and all sorts of accessories," he said. "We had two installation crews working six days a week, a fleet of three trucks and eight full-time employees."
But by the end 2008, after the financial collapse, "the train went off the tracks," he said.
Between 2006 and 2010, gross sales in the billiards industry plummeted 71 percent and nearly 75 percent at Baron's Billiards. The number of players fell from about 50 million to 35 million, according to some industry analysts, while the number of coin-operated tables dropped by a quarter, from 340,000 to 260,000.
Baron recalled one veteran of the industry remarking "people need to stay warm and dry and a place to sleep. They need food. They need to get around. But they don't need pool tables."
Small-scale manufacturer
While continuing to install and service tables, Baron, who describes himself as "an average woodworker," threw himself into making and selling pool tables, fashioned to rustic designs and featuring natural woods.
The legs, trim, apron and rails of pine, spruce, cedar or hemlock — each with distinct grains and knots, bug holes and distress markings — lent each table a unique appearance and character, highlighted by inlays of authentic Indian head pennies and buffalo nickels.
"I knew I was on to something," Baron said, "and people liked it."
Meanwhile, Baron struggled in the throes of the recession. Apart from contracting with Olhausen, he "made anything I could cash a check on."
Along with shuffleboards, foosball tables and dartboards, he built furniture, from bar stools to bunk beds, all in his distinctive rustic style.
Since 2006, he has built 80 custom pool tables, each signed and dated. Nevertheless, he said that beginning in late 2008, he operated in the red for 10 of the next 11 quarters. In 2011, he leased his large showroom space to a newspaper, The Laconia Daily Sun, and relocated his retail operation to the rear of the building.
"I've become a small-scale manufacturer," Baron said, adding that he now has one full-time and three part-time employees. "We do stuff we can do well. My strength is in design, and I'm blessed to have inherited my dad's eye for design."
In 2008, two years after building his first table, Baron approached Donny Olhausen, knowing the company's line included little by way of rustic design. He sent the company a kit of finished parts, which, added to a standard frame, completed a rustic table.
"They ordered a half-dozen tables," he said, "and they took off, especially in ski country, places like Colorado, Montana and Idaho. They ordered another 62."
'Very fortunate'
Olhausen has since added two more of Baron's designs to its rustic inventory — the Pinehaven, a lower-priced cousin to the Cumberland, and, last year, the Timber Ridge, a more expensive model designed to complement a timber-framed home.
Olhausen featured the Timber Ridge over all its other models in its advertising and Baron introduced the model at the industry's premier trade show in Las Vegas. This year, the company added a shuffleboard to match the Timber Ridge. Baron now makes kits of between 25 and 50 pieces for all three Olhausen models, together with some accessories, like triangles and cue racks matched to the style of the table. And he represents the firm at trade shows and provides advice on manufacturing and finishing processes.
"I've been very, very fortunate," Baron said. "I just happened to be with the right people." As for the future, he ventured that "pool tables aren't going to go away forever, but they are slowly going the way of bowling alleys."
But this year, he said, has been his busiest since 2007. He ships 40 percent of his annual output between October and New Year's.
"I'm one of the few dinosaurs still in this consistently inconsistent business," he said, "but, we've finally turned the corner."