NH employers worry over Trump immigration plans
About 6 percent of state workforce is foreign-born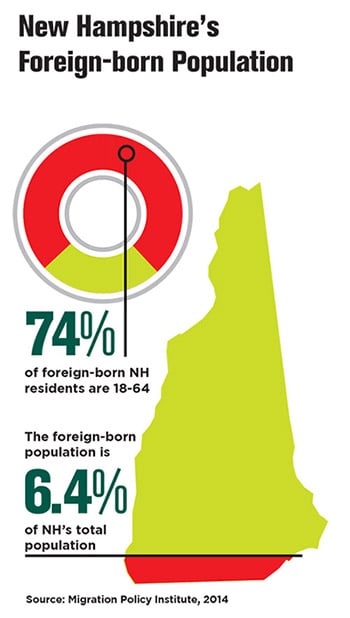 Yashesh Rawal hopes that this will be the year he wins the lottery, because if he doesn't do it soon, he may be forced to leave the country.
The lottery in this case is for an H-1B visa, which would allow Rawal – an Indian national working on a second master's degree – to continue working for MAE Consulting Group, an international regulatory firm based in Deerfield. Last spring, the federal government randomly picked 85,000 highly trained foreign workers (about 2,000 in New Hampshire) from among 236,000 vetted applications (3,800 from New Hampshire) to see who can work here.
Rawal wasn't one of them. That's why he enrolled in an online master's program in project management at Harrisburg University on top of his full-time job at MAE. While the degree might be useful, it isn't really necessary, since he has already earned a master's in regulatory affairs from Northeastern University. But it does allow him to stretch out his student visa.
"It is stressful," he said. "I like to just concentrate on my work. I don't have time for anything else but school and work." He won't even have time to visit his family in India during the holidays, he said.
Occasionally, the United States has lifted the cap on H-1B visas to allow more high-tech employees into the country, but after the election, both Rawal and MAE President Janet Kwiatkowski, fear the opposite will happen.
Incoming President Donald Trump didn't talk about the H-1B program during the campaign, but Kwiatkowski is concerned that "his negative rhetoric, not specific policies, will have a ripple effect that would impact talent working in the United States."
'The biggest problem'
Kwiatkowski isn't alone. The phone of Manchester immigration attorney Ron Abramson has been ringing ever since the election, with inquiries from immigrants as well as their employers.
"The message right now is that everything could be affected, but it's unlikely to happen right away," he said. "It's the uncertainty that is the biggest problem. Employers need to plan ahead."
About 75,000 people who live in New Hampshire were born in other countries, and 38,000 work here, constituting about 6 percent of the population and its workforce. In total, they earn some $29 billion in wages, according to the American Immigration Council, a Washington think tank.
In fact, according to the NH Center for Public Policy Studies, without foreign immigration, the state would have more people leaving than moving here, and these newcomers are – for the most part – highly educated, particularly for difficult-to-fill high tech positions.
In addition, 7.7 percent of New Hampshire's business owners are foreign-born, according to data compiled by Partnership for a New American Economy, which said that business startups by foreign-owned entrepreneurs generated $252 million in tax revenue for the state between 2006 and 2010.
Trump's rhetoric has been mainly aimed at illegal or undocumented immigrants, as well as legally settled refugees, particularly from countries with large Muslim populations.
There are about 15,000 undocumented immigrants living in the Granite State, with about two thirds of them working, constituting about 1.6 percent of the workforce, according to an estimate by the Pew Research Center. That population alone generates $893 million in economic activity and adds $397 million to our Gross State Product, according to a report by the Perryman Group.
Enforcement provisions
It's unclear if any of Trump's potential policies will affect these immigrants. Building a giant wall might have some impact in the Southwest, but the chances are that most in the Granite State either overstayed their legal visa, or came in via air or sea, or even though Canada. Trump originally threatened to deport all undocumented immigrants, but then backed off and said he would only deport criminals.
But that already is current policy, said Abramson, and "we are not clear how he would change that. Would he deport people for traffic violations?"
As Enrique Felix Mesa, another Manchester immigration attorney, put it: "Who is going to qualify as a bad hombre?" He was referring to Trump's statement in the final presidential debate in October, when he said, "We'll get them out, secure the border, and once the border is secured, at a later date we'll make a determination as to the rest. But we have some bad hombres here and we're going to get them out."
Both attorneys worried that the incoming administration could administratively remove the discretionary enforcement provisions that the U.S. Immigration and Customs Enforcement (ICE) has been using since 2012.
But it's too early to tell. At deadline, Trump had yet to pick a nominee to head the Department of Homeland Security. One of the candidates for that position – immigrant hardliner Kansas Secretary of State Kris Kobach – may have literally given us a peek when he met with Trump.
A photographer captured part of Kobach's "Strategic plan for the first 365 days" for Homeland Security. The partly obscured high-resolution image mentioned the "193,000 criminal removal cases dropped by the Obama administration" as well as issuing new ICE guidance that would define a "'criminal alien' as any alien arrested [emphasis in the original] for any crime."
Trump is also expected to reverse President Obama's executive order allowing many of the 1.3 million so-called DREAMers, children who were brought here as undocumented immigrants by their parents and continue to study and work here. There are about 500 in New Hampshire.
Alphabet of programs
More than half of New Hampshire's foreign-born population are citizens, but that still leaves 33,000 non-citizens.
Refugees are the most vulnerable. Some 454 were settled in the Granite State in 2015. The "extreme vetting" proposed by Trump on the campaign trail would vet those from Muslim countries. There were three from Syria (who would no longer be allowed entry under Kobach's plan) and 61 were from Iraq. (The largest number of Muslim refugees is from the Democratic Republic of The Congo, with 162.)
Other non-citizens either have a green card or are here on some temporary visa program.
H-1B is only one example of such a program. There are literally one or more visa programs for every letter of the alphabet, many of them well-known to employers. Consider H-2A for agricultural workers, H-2B for other seasonal workers. There is F-1 for students like Rawal, who often work as well as pay full tuition and are economically crucial to the state's colleges. There are J-1 visa students who come here to work and travel. There are B-1 and L-1 visas for transferees from related companies abroad.
It is unclear whether any of these programs would be scrapped under a Trump presidency. Many would take an act of Congress to alter. Perhaps the most directly impacted would be the 13,000 Canadian and Mexicans working in the U.S. under a TN visa, which was created under NAFTA, which Trump said he wishes to either renegotiate or withdraw from.
Abramson said he is worried that Trump could administratively bring back the National Security Entry-Exit Registration System, or NSEERS, which was instituted in September 2002, a year after the 9/11 terrorist attacks, to fingerprint, photograph and interview all those entering the country from Iran, Iraq, Libya, Sudan and Syria. Some 85,000 people were registered before the system was suspended in 2011. Trump has advocated registering all Muslims, and reintroducing NSEERS is the first item in Kobach's memo.
H-2A program
What worries employers most are any potential additional restrictions that may yet be proposed.
Take Chip Hardy, an owner of the Brookdale Fruit Farm Inc. in Hollis. He's been using the H-2A program to bring people from Jamaica to pick apples and other fruit on the 380-acre farm. Last season, he was able to hire 33, despite tougher restrictions.
"Our workers are fingerprinted," said Hardy. "There is extra effort to clear them down in Jamaica. These men are very loyal, they are hard workers and there is no local labor willing to do this."
The workers used to come in under a waiver, but that was closed up because of tightened security, said Joe Young, executive director of the New England Apple Council. "Now there are additional costs to the visa, and the employer has to pay for it. We are not talking immigration. These people work and go home."
Slim Willey also employs Jamaican workers (about 14) at his Hart Turkey Farm restaurant in Meredith under the H-2B program. Meredith's population of 6,000 swells to 35,000, mostly visitors, during the summer months, so "we don't have the worker pool to draw from."
The Jamaicans, who work at island resorts during the winter, are well trained, but he has to apply to allow them entry nine months in advance, and the paperwork cost him a total of $26,000 last year. He pays each of them $15 an hour.
Stricter process
Willey is "very nervous" about what will happen in the future. "I'm not sure where the government is going with all the rhetoric. Then again, I'm always nervous until they are standing right in front of me."
So now he is looking into J-1 visas. That's the program the Portsmouth Gas Light Company restaurant uses. J-1 is officially a cultural exchange program started in the Kennedy administration during the early 1960s and is run by the State Department to give students from another country a chance to learn about the United States.
For Portsmouth Gas Light owner Paul Sorli, it was a way for his family to learn about different cultures, "but as the restaurant grew, I found I needed these students."
So did many others. Sorli said that there are about 300 who come to Portsmouth alone, "and we would have three times as much if we could find housing for them."
Sorli employs four and pays their rent along with their wages. Since they are only in the U.S. for three months (with an extra month to travel), some employees get two shifts, so they are covered for six months. The students, who pay their own airfare and fees (about $3,000) are "from the Harvards and MITs" of former Soviet bloc countries. Some are from eastern Europe and others are from such places as Kazakhstan, a country with a large Muslim population.
Sorli worried that the State Department might restrict this program as well, "but employers would be screaming because they need these students. American students, it's like, 'Surf's up – I'm taking the day off.' These folks are reliable."
But perhaps some of the hardest people to get are through the H-1B program.
Giridhar Akkineni, president of AkkenCloud in Nashua, could tell you about that. An Indian immigrant who became a citizen about five years ago, Akkineni said he worked on one of the first fingerprinting identification software products. He started his current company, software for staffing companies, shortly after the dot-com bust. It now employs 26 people permanent workers in Nashua and has a branch in India. He would like to expand his U.S. operations, but it is hard to find employees with the right skill set, he said.
"I worked with campuses here, with the Department of Labor. I met congressmen. We even had an office in Boston," he said.
So he returned to the H-1B program. First, he has to recruit them from India before the American consulate vets them, the U.S. Labor Department certifies them and the State Department picks them in the spring lottery. Then, after they arrive, they are free to take a better offer.
Even before the election, he said, "The process is getting stricter. Visa fees have tripled in the last five or six years."
Akkineni, who is Hindu, grew up with many friends who were Muslim, though neither were that observant. He doesn't probe into his applicants' religious beliefs.
"We don't ask that question. Obviously, we are all people. Does that mean you jeopardize the security of this country? I don't think it's appropriate for me to comment on that."
But Akkineni thinks it might be a good thing to toughen immigration laws in some ways. He wouldn't mind, for instance, if the people he helped bring over were required to work for him, at least for a year. And he has nothing against cracking down on illegal immigrants. After all, he followed the rules.
"It cost me a lot of time and money to do that. I don't see why other people should have to do that as well," he said.