Newport lawsuit still lacks resolution
Developers sue town of Newport for change of fees around water and sewage meters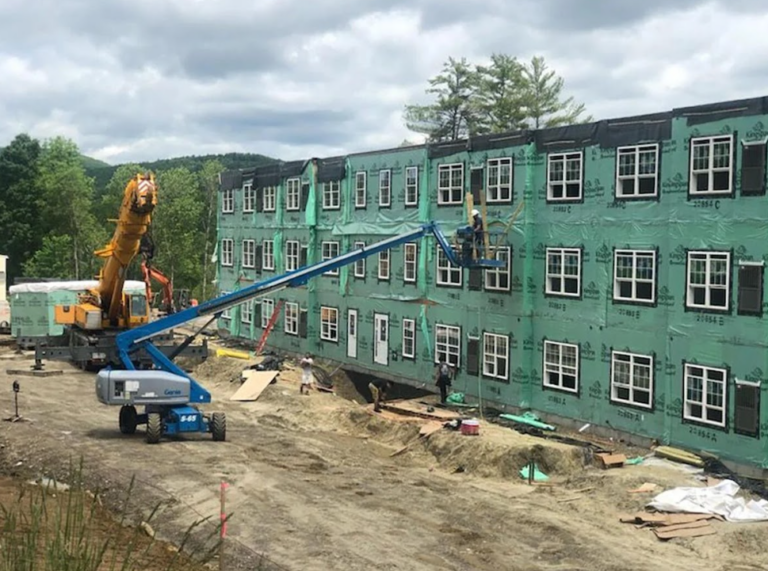 The Newport Board of Selectmen discussed water and sewer access fees during its Monday, Aug. 28, meeting, which led to an extensive discussion with developers John Livadas and Jack Franks, who are building the Ruger Mill and Spring Street affordable housing projects.
Franks filed a lawsuit on June 14, accusing Newport of changing its connection fees to user fees, usually centered around installing water meters, after finalizing the deal. He said the change significantly increased his costs. In June, Livadas had yet to file suit, telling the Eagle Times he was still talking with town officials in the hope of coming to a satisfactory resolution. Lawyers, he said at that time, were drafting a lawsuit against the town.
Livadas, who led the discussion with the board, said Franks filed the lawsuit because "it was the only way to get information and answers about fees and why he's being charged.
"The last thing we want to be in is a lawsuit," he said. "We're trying to work shoulder-to-shoulder to figure this out. At this stage, we feel we're not getting the same response back and the reason I am here tonight is because I believe it's your policy that you don't speak publicly about ongoing lawsuits."
He said the change in the town manager provided an opportunity for a resolution.
"We are talking about $260,000 in water and sewer fees not listed on the website between our two projects and we have the ability to bring $1 million to the town from our projects," Livadas said. "We're not asking not to pay a fee. We're still willing to pay a fee. To me, it's getting $260,000 or a little over $1 million. It's almost $800,000 that we feel like it's not an open discourse to understand what that means for the town and what we're trying to bring to the town."
Livadas said the project is over budget, interest rates have gone up and labor is short.
"There are significant cost issues at every single housing project in the state and across the border in Vermont," he said. "We're still not being told what they're for and why they are so much. We are working on projects in Hanover and Lebanon that are less than Newport."
Franks, who owns Avanru Development Group, agreed with Livadas and said he doesn't want to fight with anybody.
"We came here in May, with our attorney, and spoke briefly but, we came here with our civil engineer and, from your minutes, the board voted unanimously by roll call vote to take the proposed presented under further advisement and do further research on the information provided," he said. "We gave you what we had for information that night. The attorneys were going to get you folks more information."
He said the board voted unanimously to affirm its previous position and reduce the water cost for eligible fees on housing projects.
"We left here in good faith that night and you guys were going to give us the time to give you that information. You didn't even give us a day to get you the information to the attorneys we all agreed to. You voted on it that night and said nope, it's going to be this much and that's all there is to it.
"You went completely against what you said you were going to do 25 or 30 minutes earlier," Franks said. "I don't know who it was that pressed that issue, whether it was the previous town manager or a discussion among you guys. Quite frankly, I was pretty incensed the next day when we got that email from Hunter Riesberg. We were working together diligently to pull together the RSAs, to work with you to come up with a plan to move forward and we got sideswiped."
Franks said he instructed his attorney to write a letter to InvestNH.
"We were in the process of getting $420,00 and it hasn't come," he said. "That $420,00 plus $580,000 is $1 million and we told you we'd be willing to work with you on that. The town is going to have $1 million because we decided to spend $35 million in your community."
He feels confident about the lawsuit's outcome.
"I think it's a real risk you're going to lose the $260,000 as well," he said. "I don't want to have that happen. What I want to do, and what John wants to do, is be good stewards of this investment. We want the town to get the $1 million and we want to be good stewards of that money. It's awful hard when we're on opposite sides of the spectrum."
Franks thanked Interim Town Manager Paul J. Brown for meeting with him and being a "complete gentleman."
"I didn't get that for the past 2 and a half years from the previous town manager," Franks said.
Board of Selectmen Chairman Barry Connell said they usually don't speak about legal issues but noted that Franks and Livadas want the issue resolved.
"What method would you use to resolve it," Connell asked Franks.
"I think, if you look at the investment opportunities here and how many big projects like this have happened in the last 25 years, it wouldn't be a lot," answered Franks, who went on to suggest that the board should address its fees and work cooperatively with developers, so as to attract more development in Newport. Franks said he would have never invested in Newport if he had known about the infrastructure fees.
"What made it so hard to find [these fees], " Connell asked. "You're a good businessman and you said you didn't know until you closed?"
Franks said he didn't find out until 90 days after the closing.
"I got a building permit. I paid my fees for the building permit and I had my water and sewer sign-up," he said. "There was nothing online and there was nothing said to me; 'oh, by the way, we have these fees.' We literally asked you to share these fees with us. The attorneys called the town and they said we only have a copy of them and they are in a drawer and we can't get it out to you. It was one of the gals that worked here."
Franks said he doesn't want a freebie, just something in line with what developers in the region are paying in other communities.
Connell said their presentation makes the Board of Selectmen look "incompetent."
"The whole process, if we can step back and start over, and both sides took a little different approach, this would be done," he stated.
Connell also asked Franks if the town offered to reduce the fees by one-third. Franks said it had.
"We're not talking about the original amount. We're talking about the adjusted amount," Connell said. "From my perspective, you didn't come in with the desire to negotiate. You came in with 'here's what I'm going to pay.' That's the way it came across."
Connell said the town also offered "other things," including a 50 percent discount on the fees. "If we can get it out and come to an honest discussion on both sides, maybe we can solve this," he said.
Livadas said during the entire process, he got phone calls and lawyers were involved.
"It didn't seem right to negotiate with someone telling me they don't have the ability to do this…" he said. "All I want to do is end this lawsuit, sit with all of you guys and figure this out. I'm struggling with how the $1 million is being thought of. It's a substantial amount of money and, right now, 50% (off) versus what we are offering, we're thousands of dollars off. That seems inconsequential in the larger scheme of things.
"I'll end the lawyers right now. We can sit down and talk and make this work," Livadas said. "There hasn't even been an acknowledgment of the potential $1 million that has been brought."
No date for a meeting was scheduled that night, though the parties are expected to make the necessary arrangements.
This article is being shared by partners in The Granite State News Collaborative. For more information, visit collaborativenh.org.