Newmarket company provides art valuation through mobile app
ARTBnk utilizes artificial intelligence and sales history to bring transparency to art market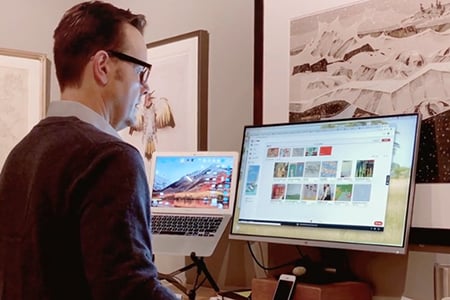 ARTBnk, located in Newmarket, claims it is the industry's first collection management system to provide accurate and objective real-time valuations of art.
With over 500 beta user subscriptions, ARTBnk is a cloud-based software-as-a-service application that utilizes artificial intelligence to access a database of art.
The art marketplace is notably a place where buyers have faced lack of transparency and inconsistency. ARTBnk's data intelligence enables users to make informed decisions regarding their art investments through getting custom auction alerts and real-time valuations of art, with the ability to add new art to be considered.
"You got an expert in a box pretty much helping you make all these qualitative decisions," said Rob Steinberg, CEO and one of ARTBnk's three co-founders.
The application collects art from users in the United States and across Europe, Asia and Central and South America.
"In art there isn't big data," said Steinberg. "It doesn't exist in our realm, so we found a way to use small data to get detailed accurate results, and we believe that is a huge breakthrough."
Although the application cannot predict what users may pay for a piece of art, it can tell users what the artwork is worth.
"Within the collection management system we have a collection of art; simply you can upload a picture of art and fill in the artist, title, the medium, size, and then we can get the evaluation going," said Jamie Lefleur, chief product officer and co-founder.
"Evaluations are produced for artists that sell at an art auction," Lefleur added. "We collect through auction sales data and are able to produce an evaluation over that."
ARTBnk's collection ranges from modern art, fine art and contemporary art, as they have seen a transition from 19th and 20th century pieces to a newfound growth of contemporary collectors.
"We have seen an art transition that we have to adapt to as well, and this has been going on for a decade," said Lefleur. "We have noticed the millennial generation are becoming the collectors and the baby boomers are aging out and have stopped collecting and are more on the sell side."
The utilization of artificial intelligence, past sales, auction history and other criteria can help determine the valuation of the art. ARTBnk sifts throughout all sources to accurately reflect what a good investment for an art collector can be by deciphering if the piece is real or fake, and if it is worth the price presented day based on what it was bought for in the past.
"It's like seeing a diamond in the window and asking the jeweler if it's really worth the money that he's asking for and he says yes. Well how do you know? That's what we have solved for our users of art investors," Chief Data Officer Kelly Wright, one of the co-founders.