Newly launched program gives women a pathway to building trades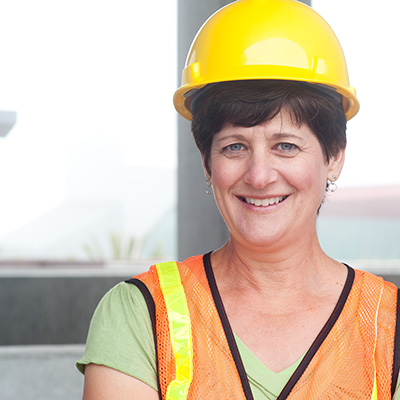 Lisa Wiggin was looking for a career change. A 40-something nurse's assistant, she wanted a job that was "more hands-on" and gave her the satisfaction of working on a project and seeing something finished.
At a visit to the unemployment office, Wiggin learned about Building Pathways New Hampshire, a program to provide pre-apprenticeship training to unemployed and underemployed women in hopes of building the female ranks in the construction industry. About 13 women were selected for the inaugural class, which began May 12 and runs for five weeks. Women attend free training sessions at the Carpenter Training Center in Manchester from 7 a.m. to 3:30 p.m. – the hours of a typical construction day – and learn construction math skills, get OSHA 10 and First Aid/CPR safety training, and practice basic hands-on skills in fields like plumbing, sheet metal work and carpentry.
Graduates of the program will then be placed in a union apprenticeship in their trade of choice, a key first step in a career in construction.
Wiggin, who attended a Manchester informational session in March, left eager to apply for the program.
"When I first heard about it, I talked to my family. I was not sure I was capable of doing it, as an older person," she said. "Now, I feel it would be a good fit."
Liz Skidmore, a carpenter with 25 years of experience who now works for the Carpenters Union, said she's been trying to recruit women in the trades for almost as long as she's been in the business. Because of retirements, there is a constant demand for new, younger workers. For those who join a union, there is good pay, benefits and job security.
At an information session in March, Skidmore talked to about 20 women about the program and what a job in construction is really about.
Skidmore gave them the straight dope about the benefits, the pay and the satisfaction of knowing you've built something. She didn't hold back on the bad either. The work is hard, you get bumps and bruises, you're expected to work in the hot sun and bitter cold, there are occasional layoffs, and you need a thick skin if you're going to be the only woman on a worksite.
"Most people in the trades come in through a father, a brother or an uncle. In this program, we're like a sister or a mother," said Skidmore.
Equal pay
Building Pathways New Hampshire is a cooperative effort of the New Hampshire AFL-CIO, the State Building and Construction Trades Council and the Carpenters Union. The work training program has financial support from federal Workforce Investment Act funds and the New Hampshire Charitable Foundation.
At the March 24 informational session, Employment Security Commissioner George Copadis was on hand, along with AFL-CIO President Mark MacKenzie, Building Trades Union President Joe Casey and Gov. Maggie Hassan, who joked that as the second female governor of New Hampshire she knew a thing or two about working in a male-dominated field.
She encouraged the women to give construction a shot, because it's a good way for someone to support a family.
"Know you will have some rough days. Everybody does, but know you have what it takes to do this," Hassan said.
Pay is one of the main draws for women interested in the trades, said Skidmore.
The culture pushes women into lower-paying office jobs, caregiver jobs and service industry jobs. When women are encouraged to take more labor-intensive work, like men often are, it increases their ability to make money and provide for their family, she said.
Equal pay for women and the minimum wage are hot political issues on the national stage, but they were very real for the women at the information session.
One woman talked about working forced overtime at a factory, while another said she had picked up odd carpentry jobs to supplement her bartending income. Yet another talked about unfair treatment and poor pay at a warehouse job, where she was eventually laid off.
Most of the women raised their hand when asked if they had recently worked a minimum wage job.
Skidmore told the women a first-year apprentice earns roughly $14.66 an hour, depending on the union. That's more than twice the federal minimum wage, plus they receive valuable training. A construction journeyman earns $25.11 and receives medical benefits and a pension.
But working a union trades job isn't just about the good pay, Skidmore said; it's about equal pay, too.
"Women in union construction make the same amount as men," she said.
Despite the on-the-job training being offered, program coordinator Joe Gallagher said recruiting women to apply was tougher than he thought.
"We did a job fair in Manchester, and the women were apprehensive to come over and listen," said Gallagher. "But those that did said, 'That's a good deal.'"
Physical challenges
Getting women – and the men who hire on construction sites – to overcome cultural ideas about gender is a roadblock for women across the country.
Roughly 2 percent of the people who work in construction trades nationally are women. Even when the job pushes for more women on the site, it can be hard to find females to staff them.
A recent email went out from the U.S. Department of Labor to members of the New Hampshire chapter of Women in Construction looking for female construction workers and laborers to work at the new Job Corps Center in Manchester, a federal construction project.
"When they think of construction, they think of steelworkers hanging off of buildings," said Patricia Stagno, owner of Powerskills for Life, a Goffstown construction training company, and president of the Women in Construction chapter. "They see that and think, 'I can never do that.' They get discouraged."
Being a female on a male-dominated job site is also not easy, according to Stagno. Men, she said, "give you a lot of crap, and they expect you to take it."
While the physical part of job can sometimes intimidate women, Stagno says that's only part of the job.
Skidmore agreed, adding that women also need good organizational and math skills. Whether it's a bartender lifting kegs or a mother carrying around young children, women's jobs have always had physical challenges, she added.
"Women have been doing heavy labor since the dawn of time," said Skidmore.