New weapons trigger Ruger sales boost
Rifle built in N. Carolina is credited with some of the increase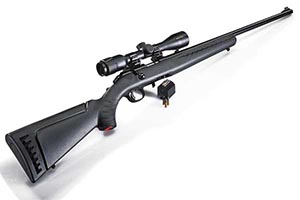 Despite an industry slowdown, Sturm Ruger & Co. Inc. increased gun sales by 9 percent and profits by 2 percent in its first quarter, which ended March 31.
The gun manufacturer, based in Connecticut with its largest facility in Newport, N.H., credited introduction of a number of new weapons into the marketplace, which accounted for about a quarter of sales.
And although CEO Michael O. Fifer said he was "embarrassed" that no new firearms were introduced last quarter due to some engineering delays, "I can assure you that we have a slew of great new stuff coming."
While Sturm Ruger's $170 million in revenue did top the first quarter of 2013 – a year when the company achieved $688 million in annual sales – the increase was not as sharp as the double-digit growth the company has enjoyed the last three years.
But the 2013 surge – boosted by the fear that lawmakers might actually pass some strict gun control laws in the wake of the mass shooting of schoolchildren in the company's home state – has subsided, as most of those attempts stagnated.
Fifer took some credit for helping gun owners get their voices heard by launching a software program on the Ruger website to make it easier for customers to target legislators and "to put their own personal message in, in addition to some text from us." That resulted in some 6 million letters going off to lawmakers.
Background checks fell by some 22 percent in the first quarter of 2014, but Ruger reported that units sold from its distributors to retailers went up about 10 percent.
The company said its profits would have been even higher had it not been for an accounting change, which accelerated the depreciation of equipment from 10 to seven years – a more realistic projection, given how quickly the company needs to change production apparatus to churn out new products.
That change resulted in nearly doubling the capital write-off for the quarter to $8.9 million. Otherwise, net income would have been $47 million a share, rather than the reported $24.3 million. ($1.22 a diluted share, resulting in a dividend of 49 cents a share.) And it would have meant a 13 percent increase compared to the same quarter in the previous year, rather than 2 percent.
One of the new products that has increased sales is the American Rimfire Rifle, which is being produced at the company's new North Carolina plant, which it built because it "tapped out the prospective employees pools in New Hampshire" as well as its other major facility in Arizona, Fifer said.
While Ruger has only hired about 100 employees in North Carolina, it's hoping to keep expanding until "we really run out of space and find a new factory," said Fifer.
Ruger is now up to 2,400 employees, including 90 engineers, and hopes to expand its workforce, picking up talent from competitors who have been more affected by the slowdown.
Fifer said Ruger might eventually be affected by the slowdown as well, but it said the firm was "not going to be as cautious as we were in 2010." This time, the company wants to build up inventory, he said.
It was up to 266,000 guns last quarter, considerably more than the 64,000 units in the first quarter of 2013, at the height of the gun and ammunition shortage, but less than the 350,000 guns it would like to have on hand and ready to ship.