New opportunities for affordable homeownership
New Hampshire has put manufactured housing on solid ground. Will other states follow?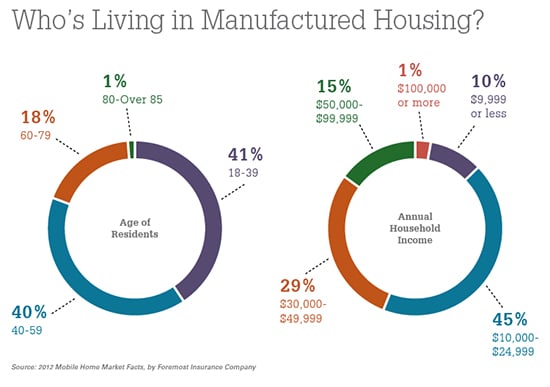 Starting in September, more lenders have been able to underwrite mortgages for the purchase of manufactured homes in New Hampshire, knowing they'll be able to sell those loans to Fannie Mae.
Fannie Mae has been purchasing manufactured housing loans in the state since 2007 under a pilot program that involved mainly one lender, St. Mary's Credit Union, and 10 resident-owned communities (ROCs).
That program is expanding to include more lenders, more mortgage insurers and more ROCs.
Right now, this only works in New Hampshire because it's the only state with laws recognizing the purchase of a manufactured home as a real estate transaction, so the purchase includes the land beneath the home. In other states, purchase of a manufactured home sited on rented land is considered a personal property transaction.
Setting the precedent
This isn't the first time New Hampshire has pushed the manufactured home envelope.
During the 1980s, a dozen families living in a manufactured home park in Meredith wanted to buy the land where they lived instead of having it sold by the owner to a condominium developer. They formed a co-op and bought the land with funding from the NH Community Loan Fund.
More residents in New Hampshire organized to purchase their communities, a model that's been replicated nationally.
The nonprofits also worked to change the state's real estate laws to recognize buying a manufactured home as a real estate transaction, where you own a portion of your community.
The next step was to create a secondary market where lenders could sell these loans. In 2007, Fannie Mae entered into a $10 million pilot to purchase mortgages for homes in 10 approved ROCs, about 750 homes.
On Sept. 1, the NH Housing Finance Authority expanded the program to allow more lenders and mortgage insurers to participate. The agency will become the conduit for selling the loans into the secondary housing market and will service the loans, easing the burden on originating lenders. Additionally, New Hampshire Housing is working with six additional ROCs for approval.
Fannie Mae remains the sole secondary market participant.
The increasing loan volume from this program will help Fannie Mae meet its ongoing commitment to underserved housing communities, including manufactured housing, under the Federal Housing Finance Agency's Duty to Serve rule.
Affordable housing
The average price of a new, single-section manufactured home is less than $45,600 (excluding land), compared to $177,000 for a traditional home, according to the Manufactured Housing Institute.
At that entry point, factory-built housing could help ease the affordable housing crisis, providing reasonably-priced homes for low- and moderate-income buyers, and those buyers can start building equity.
For many, it's also a lifestyle choice. A ROC can represent a safe place community for raising a family or living out retirement years. Some feature amenities like in-ground swimming pools, playgrounds and clubhouses that provide neighborhood appeal and build a sense of community. Seniors, in particular, are pooling their funds with other seniors to buy out the parks they already live in so they can age in place in a home that's less costly to buy and maintain than site-built homes.
What separates manufactured housing from trailers and mobile homes is they are built to specifications developed by the U.S. Department of Housing and Urban Development in 1976. HUD-code homes have stringent standards for energy efficiency, ventilation and wind resistance — up to 110 miles per hour for homes in hurricane-prone areas.
These houses also feature innovative designs and custom-home features like state of-the-art kitchens, luxury bathrooms and wood burning fireplaces. Buyers may also select from a variety of exterior designs and siding materials, including wood, hardboard, or vinyl siding.
Unlike trailers or campers, these homes are not easily moved from one spot to the next. To move, occupants would spend upwards of $5,000.
Growth industry
Manufactured housing is an increasingly popular housing option. According to the Manufactured Housing Institute, there are about 50,000 manufactured housing communities in the U.S. About 2.7 million Americans live in these communities. Some of these communities have thousands of homes, others are small — where two or three homes share a parcel.
Indeed, the manufactured home industry is booming, having recorded a seventh consecutive year of growth in 2016. Eighty thousand new homes shipped in 2016, a 15 percent increase from the prior year, says the MHI. What's more, these homes are manufactured in the U.S., so they're creating jobs and invigorating local economies too.
While New Hampshire is the first state to allow financing of manufactured homes with mortgages, proponents hope it won't be the last.
The advocacy group Prosperity Now (formerly the Corporation for Enterprise Development) was behind passage of a model uniform titling law in 2012. This model law gives every U.S. state a template to follow New Hampshire in making real estate titling of a manufactured home available.
So far, there are no takers, which is unfortunate. This template offers a way for other states to quickly replicate New Hampshire's example.
New Hampshire sets a much-needed precedent to recognize these homes for what they can be – quality affordable housing.
Jeff Walker is senior vice president and national customer delivery executive for Fannie Mae, the Federal National Mortgage Association.