New nurse grads struggle to find jobs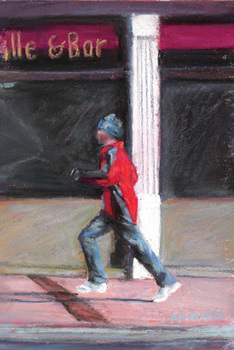 For over a decade health-care facilities have all but begged for nurses in an industry that has grown increasingly sophisticated as beds have become more filled.That need has grown only more dire in an aging state such as New Hampshire, but the current recession has added a new twist.Newly graduated nurses cannot find jobs because positions at hospitals and other health-care facilities have been filled by more experienced nurses who have taken on more hours or put off retirement.
Concord residents Chelsea Goldthwaite, 22, and Allison Herrick, 20, are baccheloreate nursing students at the University of New Hampshire in Durham, and both say the challenge of finding a nursing job took them a bit by surprise.
Herrick, in her junior year, said, "You tell people you're in nursing and they said, 'Well, at least you'll find a job when you graduate,' but that's no longer true. It seems to be a little less of a challenge in New Hampshire than other places, but it's still difficult."
Goldthwaite, a senior, said she has begun applying for jobs ahead of her graduation in May, and has found the experience disappointing.
"The human resources people [at hospitals] have been very discouraging. They're saying they're not taking new grads or there are no nursing jobs available at all," said Goldthwaite. "No one's encouraging you at all."
She said friends are telling her to use inside resources, people she knows who may already have jobs at the hospitals she's interested in.
"They said to network instead of applying online," said Goldthwaite.
Angela Russo, a nursing student from Hudson, is cautiously optimistic about her job prospects. The first-year student at Nashua Community College's two-year registered nurse program has some contacts in the health-care industry that may help her find a landing spot when she graduates.
Still, Russo, 22, is looking for a job in the meantime to help make ends meet while she raises her young son.
"I've been looking for an LPN (licensed practical nurse) job, but a lot of places are not hiring LPNs now," she said. "Jobs are tough to find."
Russo said her school told her when she entered the program that the job market would be tight at first, "but in five or 10 years, thing would really open up as more nurses retire."
Anita Pavlidis, head of the nursing department at NHTI-Concord's Community College, said the ramifications of the recession and the subsequent slashed reimbursement rates are directly responsible for the new grad hiring crunch, causing a whole cascade of problems.
"Not only are hospitals not filling vacant positions, those already working in part-time or per diem positions have floated up to working more hours," said Pavlidis. "Furthermore, it isn't just hospitals; long-term care and home care have all been affected by the financial situation. New graduates would often go to long-term care if there was no room in acute care, but even long-term care is not hiring."
Linda Ryan, director of the career development center at Rivier College in Nashua, said another reason for the scarcity of entry-level nursing positions is that baby boomers aren't retiring, so positions aren't opening up.
"They are staying longer in their careers. Others are covering for spouses which may have been laid off," she added.
Tight budgets also mean new positions cannot be added or open ones are closed. Consequently, nurses already working at a hospital might have more on their plates making close supervision of new graduates more difficult.
"There is less opportunity for supervisors to work with new grads. If they're short-staffed, they will hire those with more experience," said Ryan.
Pavlidis said students in community college nursing programs, such as NHTI's, can sometimes be in an even more difficult position because, on average, they are slightly older and have more ties to the area, making relocation less of an option.
"Our average age [of nursing students] is 32. They have homes here, family here. Other colleges with younger students can move more easily [to find a job]," she said.
"It's a real Catch 22," said Pavlidis. "The graduating class of 2010 is wondering about employment opportunities."
The recession has even trickled down to impact enrollment figures.
Pavlidis said admissions at NHTI's nursing program are holding steady for now, but won't expand enrollment until the market opens.
Rivier is XXX.
As recently as a few months ago, perusal of any job openings page at any New Hampshire hospital would often include dozens of vacant nursing positions. Today a similar review would reveal just a handful, if that many.
Beth Hale Campoli, vice president of patient care services and chief nursing executive at Manchester's Elliot Hospital, had budgeted for and hired 40 newly graduated nurses in 2008.
Then the economy went on life support.
"When the economy fell a year ago, we didn't see the level of retirement we typically see – a spouse might have lost their job or lost benefits," said Hale Campoli. "Those are the positions that normally open up."
For the last two years, she budgeted for only half as many and said she'll probably do the same for fiscal year 2011 for the 313-licensed bed hospital.
She said she "over budgeted a little" to bring new grads into Elliot's Transitions program, a 12-week intensive preceptorship where new nurses are mentored by highly experienced ones.
"Normally we bring them all in at once so they can build relationships and support, but there's nowhere to put them. I'll probably have to stagger them in," said Hale Campoli.
In the case of Littleton Regional Hospital, a North Country 25-bed critical access hospital, Georgene Novak, director of human resources, said the hospital has never really had a nursing shortage, but their ability to bring in new nurses has ebbed and flowed depending on the economy and the patients.
"We have a wide variety of patient acuity," she said. "Sometimes we didn't have the ability to precept new nurses. They need close oversight for as long as 12 months."
She said when the beds are filled with acute patients, "the nurses are running," and it is just not feasible to take them away from care duties.
Novak said they typically hire first those that are already employed by the hospital in other positions and who have completed their nursing programs, but there have also been instances when the hospital couldn't even bring these candidates on board because of the lack of ability to supervise them.
Currently, Novak said they do have several nursing opportunities, "but we've had no new graduates apply yet."
"In any event, we'd look at new graduates on a case-by-case basis," said Novak. "It's just a matter of timing."
Even more disturbing that they sudden and severe nursing job squeeze are anecdotal stories told to the state Board of Nursing that the enormous patient care loads current nurses are experiencing are becoming a fact of life.
Margaret J. Walker, executive director of the New Hampshire Board of Nursing, told NHBR some nurses have told the board employers said "if they refused assignments, there were plenty of candidates waiting in the wings" for their jobs.
Elliot's Hale Campoli said the future also portends to be ominous.
"There is a shortage and it will hit hard in five to 10 years from now," she said. "Since the baby boomers aren't slowly retiring now, they may all retire at once. How will we transition our new nurses with out the more experienced ones? I need my wisdom workers to mentor new nurses."
And her fears are not unfounded.
According to figures from the New Hampshire ELMI, the registered nurse occupation is expected to grow by some 31 percent by 2016.
A recent study by the Center for Interdisciplinary Health Workforce Studies at Vanderbilt University's School of Nursing
estimated that there will be a shortage of some 285,000 nurses nationally by 2020.
But newly minted nurses can't wait a decade or more to start their careers. What are they supposed to do now?
Ryan said, like any career or amount of experience, networking is key.
"Join professional associations and attend their events," she said. "Networking and professional workshops are two of the biggest ways to make contacts and find a job."
Ryan also suggested new nurses, even students, look beyond the basic bullet points of their resume.
"They need to know the value they have and how to articulate that," she said. "What makes you unique? How have you made a contribution to your clinical experience?"
For those who can afford it, Pavlidis said NHTI is counseling students to continue their studies, going for either a bachelor's degree or go to graduate school.
"We're really talking about education advancement," she said, "Some say they would love to, but they don't have the money."
Pavlidis said the school is also talking about other employment routes.
"We're telling them to consider exploring weekends, evenings and nights, which are typically less popular among more experienced nurses," she said.
She also recommended volunteering. Although there is no pay, the contacts and continued experience often leads to a paid position.
Littleton Regional's Novak suggested new nurses consider phyisicans offices and Rivier's Ryan recommends outpatient treatment or cancer centers, rehabilitation centers or even psychiatric facilities.
"Patients aren't staying in acute care for long anymore. They are being set up with home-health or rehab," said Ryan.
And while a few graduates may consider working as a licensed nurse's assistant while searching for an RN job, that plan does have some pitfalls.
"You can be licensed as an LNA and an RN at the same time in New Hampshire," said Pavlidis, "but if you're hired as an LNA, you have to make sure you're not practicing at that higher level outside of the scope of the LNA."
Many, however, want to use their degree and want the greater opportunities – and paycheck – that being a registered nurse confers.
UNH student Goldthwaite said she still hopes to work in a hospital, preferrably in that coveted position on the medical/surgical floor.
She said she has friends and family at local hospitals and is getting inside contacts from them.
"I'm going to see what happens with the two hospitals I've applied at," she said. "I would only consider working at a nursing home as a last resort."
Russo, the nursing student from Hudson, said she has contacts in human resources at a hospital as well as with a home-health agency.
"Home health is probably the way to go," said Russo, because those patients often require less complicated care than those in an acute care setting like a hospital and therefore are easier positions for new graduates to move into.
For Herrick, the junior from UNH, said she's hoping her trips to Mexico will help her stand out in the crowd when she graduates next year and begins her job search in earnest.
"Last year, we worked in a major city in Mexico in L & D (labor and delivery), mental health and out in the community. This summer, I'm going again as a teaching assistant."
"It's a struggle no one expects to encounter," said Herrick. "They all tell you there's a million things you can do with your nursing degree, but you have to find a job first."
Russo summed up the old story that's suddenly new again for nurses.
"You need to have experience to get a job, but you need a job to get experience," said Russo.