New law boosts electric vehicle charging infrastructure in NH
DOT will install highway signage for EV stations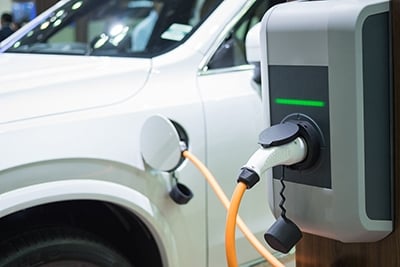 There will now be rules and signage for electric car charging stations in New Hampshire, thanks to a bill signed into law on Monday by Governor Chris Sununu.
SB 575 would require that the state Department of Transportation provide signs on highways alerting drivers to the availability of charging stations, and would give the NH Public Utilities Commission the power to set rates.
It also would ensure that any vehicle could be plugged in at any station no matter what make, and it would give the owner of some businesses, like hotels, the right to charge for an EV charge without being considered a public utility.
The bill, which will take effect on August 11, follows Sununu's signing of SB 517 at the end of May. That bill sets up a commission to look at ways to encourage the establishment of a charge station infrastructure, including possible tax credits, or exploring non-general fund financial assistance. The commission would consist of members from state agencies such as the Office of Strategic Initiatives and Department of Transportation, members of the legislature, an industry representative appointed by the governor as well as representatives from Eversource, Unitil, the New Hampshire Automobile Dealers Association, Business and Industry Association of New Hampshire and Drive Electric NH.
HB 517 also calls for the state to participate in a regional Multi-State ZEV (zero emission vehicles) Task Force, which is trying to assure that the region has a reliable network of charging stations.
"In the next few years, there will be thousands of electric and hybrid vehicles on New Hampshire roads, and we must insure there are adequate recharging/refueling stations to handle this influx or there will be serious deleterious effects on our economy and mobility," explained Rep Skip Cleaver D-Nashua, in arguing for the study bill. The bill did run into some objections, saying that government would be interfering with free enterprise by encouraging the technology. Indeed, HB 517 only passed the House 180-155, after racing through the Senate on a voice vote.
The more regulatory-focused HB 575, on the other hand, had a smooth ride though the House, though it faced a 19 to 3 roll call in the Senate, with opponents like Sen. Andy Sandborn, R-Bedford, objecting that the bill would have interfered with the free market.
The commission has until November of 2020 to issue a report.