New Hampshire's unhealthy confusion
Rising costs hamstring state's health market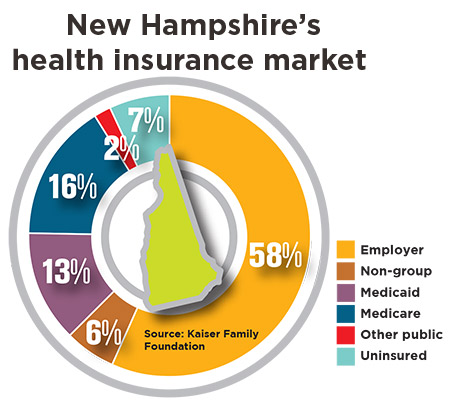 With all the uncertainty in Washington over health care in the coming years, this much is certain about health coverage in New Hampshire over the next few months: Those buying individual plans on the Affordable Care Act's exchange in 2018 will pay substantially higher rates and have fewer plan choices with narrower networks.
But for most of the state's population, not much will change — at least for now.
After all, nine out of 10 people in the state are covered by group plans at work or through Medicare or Medicaid.
This is especially true in New Hampshire, where 58 percent of people get their coverage through their employer in 2016, the second highest behind Utah, according to the Kaiser Family Foundation. (The nationwide figure is 49 percent.)
New Hampshire is also up there when it comes to the number of people on Medicare — no surprise given the state's aging demographics — and lower on the scale in the number of people on Medicaid, given the state's relatively high average income.
So, since Medicare still has political third-rail status, you'd think the Granite State would be in pretty good shape when it comes to the trials and tribulations over Obamacare.
Well, yes and no.
First, whether the ACA is axed or it staggers under many tiny cuts, the individual market will bleed members, resulting in a larger pool of uninsured. And that won't be healthy for the group market in the long run.
Second, New Hampshire's unique way of expanding Medicaid — by getting insurers and providers to pay for the state's share and to include that population on exchange — worked at first, but may be costing the state dearly now.
And third, those covered in the individual market receive less of a tax credit than other states. More than a third, 36 percent, received no subsidy at all this year. Nationwide, that figure is 16 percent. And many of those who receive a subsidy in New Hampshire still had to pay for, on average, nearly half of their premiums.
"If you are paying 90 percent of your premiums, you are still paying 90 percent of 40," said Tyler Brannen, the state Insurance Department's director of health economics.
Employer costs
Costs in the group market are not rising nearly as much as they are for individuals.
In 2016, for instance, employers paid 3 percent more for their premiums while individuals paid 20 percent, according to the Kaiser study. Indeed, ever since the ACA was instituted, group rates have slowed, since there was less of a need to shift costs for paying for treating the uninsured.
Rates for individuals on the exchange were much lower last year, thanks to a more competitive marketplace, but that was not sustainable. Minuteman Health, which offered the cheapest rates of all, had to withdraw from the market because of financial woes, accompanied by the federal government's inflexibility for adjusting an assessment formula for Consumer Oriented and Operated Plans like Minuteman.
The two carriers left that are primarily serving the exchange — Anthem Blue Cross and Blue Shield and Harvard Pilgrim Health Care — have filed for rates that averaged 44 percent higher. The federal government won't release final rates until sometime after they are approved at the end of September. (The state won't do it until November.)
Meanwhile, group rate filings — mainly driven by prescription drugs costs, but also because of uncertainty brewing on the individual market — are up an average of 11.4 percent, much more than last year.
The difference might be even greater between the two markets. The increase that employers actually pay might be smaller because they can switch to a cheaper plan, since there are more carriers offering more choice on the group market and for self-insured organizations. In addition to Anthem, with 217,000 group members, and Harvard Pilgrim, with 134,000, there are also Tufts Health Freedom Plan, UnitedHealthcare and Cigna, all of which offer group coverage.
"It isn't just the increase in the product," said Brannen. "It also depends on what product people actually buy."
Unsuccessful effort
The 44 percent average premium hike on the individual market doesn't include Ambetter, also known as NH Healthy Families, a subsidiary of Centene, which also offers plans on the individual exchange. Ambetter was only seeking a 0.37 percent increase. But that's small comfort, since its members are limited to those who joined the exchange via Medicaid expansion.
One reason the Insurance Department has allowed insurers to charge more was to encourage them to stay in the market. But its effort to stabilize rates was unsuccessful.
The department was looking to obtain a federal waiver, which would allow federal money to be used in conjunction with an assessment on insurers to set up an assigned risk pool. But federal regulators, who were already frowning on New Hampshire's use of voluntary contributions to fund the state's share of Medicaid expansion, would not allow another federal pass-through. Second, some Republicans, including Gov. Chris Sununu, said that the assessment was too much like a tax.
There had been some hope that a bipartisan group of senators led by Sen. Lamar Alexander, R-Tennessee, chair of the Senate Health, Education, Labor and Pensions Committee, would come up with some sort of stabilization relief before rates were finalized on Sept. 27. But Alexander ended negotiations as the Republican leadership pushed one last effort to repeal Obamacare.
That repeal effort, which fell flat, would have meant certain states would have to pay more, including New Hampshire, which would have to shell out, on average, an extra $1,200 per person, according to a New York Times analysis of the plan. The fears that their states might lose federal money prompted a number of Republican governors, including Sununu, to oppose the plan.
But even before this delay, many thought that it was simply too late for the federal government to have much of an effect on next year's rates.
"They had to do this weeks ago," White said. "The deadline has come and gone."
More uncertainty
It isn't just rates. There will be a lot less choice next year, because two federally seeded co-ops have both dropped out of New Hampshire in the last two years, leaving three insurers. Last year, there were four, offering 32 individual plans. This year there were 15.
Last year, Harvard Pilgrim and Anthem offered a plan that included all of the hospitals in the state. This year, none do. Harvard Pilgrim's ElevateHealth plan includes 18 hospitals, with none in Belknap and Carroll counties. Anthem's plan covers 22.
Individuals might also have less of an opportunity to make their choice next year since the window to sign up for coverage on the exchange has been cut in half, running this year from Nov. 1 to Dec. 15.
And it's unclear whether the Trump administration will enforce the ACA penalty on those who don't sign up for coverage.
The IRS has said it would enforce the coverage mandate for businesses with more than 50 employees, with penalties of up to $3,390 per employee for companies that don't comply. But to do that, the IRS would have to match up those getting subsidies on the exchange with the companies they work for —something the understaffed agency has not made a top priority.
All of this has already had some effect on the exchange in New Hampshire.
The Medicaid expansion population, which is not price-sensitive, was 42,319 at the start of September, 100 more than last year. But the other 44,123 exchange members represent almost a 9 percent decline from September of 2016.
"Some of these are priced out, hanging on by their fingernails, and figured this is it," said White. "They fix their sour knee in March and by April they fall off after they get what they needed to get done."
And some people might think they don't have to pay the individual mandate, Brannen said. "They may think that the ACA is already repealed."
The concern is that a large drop in the number of paying individuals on the exchange will leave a greater percentage of those who do not — those on expanded Medicaid. The Medicaid population costs 39 percent more, driving up overall rates by 14 percent. But Brannen argued that subsidies "almost serves as a ballast, since they are remaining on the exchange."
It could also have ramifications on businesses with fewer than 50 employees, which are not required to offer insurance and are increasingly willing to send their employees to the exchange. Such firms pay an average of $1,500 more annually for family health coverage, according to the Kaiser 2017 survey of employer-sponsored benefits. Only half now cover their workers, compared to 60 percent in 2012 and two-thirds at the start of the century. And 16 percent of those that don't offer health insurance now pay for employees to purchase health insurance on the exchange.
Will there be more pressure for such firms to provide coverage again, especially in an increasingly competitive marketplace for employees? So far, this has not been happening, said agents.
Nor has there been any noticeable run on emergency room costs, at least not yet. Indeed, that cost has been stabilized.
One cost that remains on the rise is for prescription drugs, which account for more than a fifth of all medical costs.
Harvard Pilgrim is trying an innovative way to bring that down — negotiating a money-back guarantee on certain new expensive drugs.
"If it doesn't prevent a heart attack, we shouldn't pay for it," said Dr. William Brewster, Harvard Pilgrim's vice president of the New Hampshire regional market.
The company has negotiated eight such contracts. For instance, one agreement would require that Amgen refund the cost of Repatha, which is supposed to prevent stroke or a heart attack if the patient suffers one after taking it for six months.
There are other innovative things insurers and providers are doing to control costs, said Lucy Hodder, director of health law and policy programs and a professor of law at UNH School of Law — integrating behavioral health into primary care, merging insurer and provider risk to create savings and offering more transparency on prescription drugs.
"It is really frustrating. Instead of focusing on all the progress we've made, we have to deal with so much disruption," she said.