New Hampshire's unemployment rate at lowest level since 2001
Transportation, warehousing jobs set the pace for job growth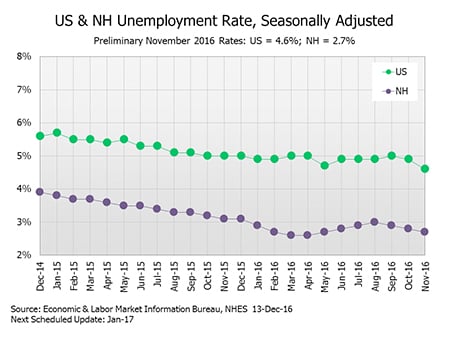 New Hampshire's seasonally adjusted unemployment rate fell to 2.7 percent in November, a decrease of another tenth of a percent from October, and four-tenths of a percent lower than it was in November 2015.
The last time the state's unemployment rate was this low was in January 2001, following several months in 2000 when it hovered between 2.6 and 2.7 percent. The last time it was substantially lower was in 1987, when the unemployment rate stood at 2.2 percent.
New Hampshire's November rate was under the national seasonally adjusted rate of 4.6 percent, which was also down three-tenths of a percent from October. In October, the state was tied for the lowest rate for the nation. State-by-state numbers aren't in for November yet.
In terms of the labor force, the Granite State now employs 734,400 people, about 17,100 more than the year before.
Interestingly, as we are in the holiday shopping season, the number of people employed in retail stands at less then a percent more than it did last year.
But employment in transportation and warehousing – think Amazon and UPS – has gone up by nearly 10 percent. The other big gains came in hospitality, which added more than 4,000 jobs over last year, 1,400 of which were in the arts, entertainment and recreation.
Manufacturing employment was flat, as was construction, but that could be because of the difficulty in getting workers.
"This is the busiest I've ever seen," said Michael Dion, president of Metro Walls, who has been in business since the early 90s. "If could find 50 to 75 skilled workers, I could put them to work tomorrow." Dion said he offers benefits and pay rarely seen in the construction industry.
Overall, the labor shortage is beginning to push wages up. The average hourly earnings in New Hampshire (which includes professionals and management) is now up to $26.10 an hour, 65 cents more than a year ago.