New Hampshire's trades deficits
Auto dealers' study sees big need for workers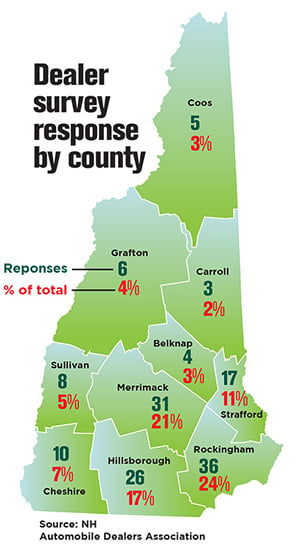 The need for skilled workers isn't just being felt by employers in high tech, manufacturing and health care. The latest sector to sound the alarm is New Hampshire's automotive industry, which has teamed up on a report focused on ways to address current workforce challenges as well as future needs that are expected to be even greater.
The study, put together by the NH Auto Dealers Association and the Community College System of New Hampshire, includes a survey of 151 Granite State motor vehicle businesses.
One conclusion resulting from the study is that there will possibly be as many as 900 unfilled positions in the industry across the state by 2020. That comes out to an average of approximately six unfilled positions per employer, according to the analysis.
In particular, the respondents pointed out needs for collision repair technicians, service advisors, service managers, parts counter workers, sales associates and entry-level and advanced-level automotive technicians.
The biggest demand is for entry-level and advanced automotive techs – there are a total of 400 possible vacancies, according to the study – and sales associates, with 250 possible vacancies.
Currently, there are 4,268 people employed in the positions of greatest concern to the industry: collision repair technicians (559); service advisors (451); service managers (191); parts counter workers (451); sales associates (1,258); entry-level auto technicians (442); and advanced technicians (916).
But by 2020, according to the analysis, the total number of jobs available is expected to top 5,100 – a 20 percent increase. The needs are anticipated to be: collision repair techs (608, a 9 percent increase from 2015); service advisors (501, up 11 percent); service managers (193, up 2 percent); parts counter workers (529, up 17 percent); sales associates (1,679, up 34 percent); entry-level auto techs (531, up 20 percent); and advanced auto techs (1,090, up 19 percent).
"Anecdotally I heard about the griping in the industry, but this time we can see the numbers, thanks to the report," said Peter McNamara, executive director of the New Hampshire Automobile Dealers Association.
'Good-paying jobs'
The overarching problem for the industry, he said, is "getting the message out" about the openings as well as the benefits of taking on a career in the automotive industry.
Consider, said McNamara, that the average auto industry wage in New Hampshire is $58,000 "plus almost all of them have a 401(k), sick days and vacation days."
He said techs can earn over $75,000, and "if you're a proficient, efficient fix-it-right technician, you can earn even more. There are techs who earn in the six figures. And they're in their 20s."
McNamara said the industry itself needs to work harder to get that word out about the careers that are available.
"There's more capacity in the pipeline, I know there is. It's a matter of getting more men and women to hear the message," he said. "We need to do a better job to get the word out to schools about the careers we offer to young men and women. These are great jobs, good-paying jobs."
Currently, there are four auto tech programs offered at the community college level – at Lakes Region, White Mountains, Nashua and Manchester Community Colleges. Over the 12 years between 2004 and 2015, the average number of students graduating from the programs with either an associate degree or a certificate has been 63.
In addition, 20 high schools participate in regional career and technical education center auto tech programs that are scattered around the state, providing a much larger pool of potential community college auto tech students. But there's a disconnect between many, if not most, of those CTE students and the community college programs.
"I think the high schools do a great job in terms of teaching the auto tech, but it's just a matter of getting them to pursue a career," said McNamara. "There's a big falloff between the number of kids in the high schools that move on to either the community colleges or maybe just directly into a shop doing light maintenance work."
The first step in the industry's effort to get the word out was commissioning the CCSNH analysis, said McNamara. The next step is making sure that parents, teachers, schools and state policymakers are presented with the picture.
"For some reason, there's a stigma attached to the trades, and parents want their kids in four-year schools," he said, "but it's not the same job anymore. As an auto tech, for example, 75 percent of your job is diagnosing problems. You're a car doctor, and to fix it is more of a software thing; it's an electrical thing.
CTE programs
McNamara said the industry also "needs to do a better job to get the word out to schools." To help accomplish that, the association is hiring an in-house recruiter who will meet with parents and visit schools. "We've been calling every single school district to find out when their career and college days are. We want to have representation at all of them."
Among the other hurdles is that schools, intentionally or not, are reinforcing the message that the goal for as many students as possible should be attending a four-year college.
A couple of months ago, he said, his group met with representatives from 30 high schools. "It was a great dialogue. One of the questions I asked was that I heard that the schools are only judged by their four-year college acceptance rate, and I was told it's true. We need to get the districts to measure their success by not just four-year degrees."
In addition, he said, he feels that CTE programs are not given their due at the school board level. "They look at it from a budget perspective, when they should look at it from a desire perspective. Don't say we can only afford to send 15 kids even if 30 are showing an interest."
McNamara said another issue is that there are so many other industries in New Hampshire facing the very same problems.
"You can take 'auto tech' out of my mouth and make it 'HVAC' or 'building trades,' trades and it will be the same concerns."
"The problem is that we're all fishing from the same small pond, but I have to make sure I have the best tackle," said McNamara.
That's why, he said, lawmakers should understand the situation.
"The Legislature needs to be aware that the CTE centers are critical to all of the trades," said McNamara. "They haven't been properly funding it for the last 10 years."