New Hampshire's chemical reaction
Lawmakers seek to put tighter controls on PFCs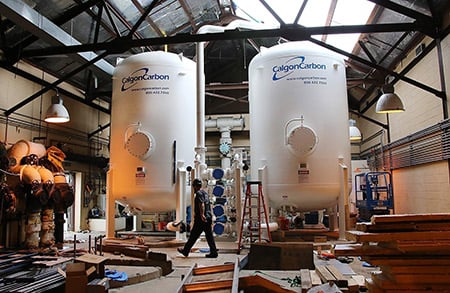 New Hampshire lawmakers have introduced several bills this legislative session aimed at imposing stricter regulation of perfluorinated chemicals (PFCs) in the environment.
Three of the bills — House Bills 1101 and 485 and Senate Bill 309 — would provide the NH Department of Environmental Services with the authority to regulate groundwater pollution caused by air emissions and instruct the agency to reconsider drinking water standards.
"We currently don't have the ability to take into account businesses that put out certain pollutants into the air that might have an impact on groundwater," said Jim Martin, NHDES spokesperson. "The rules or way we do those types of investigations haven't really connected those two dots and we've been looking for a legislative fix to that issue."
But legislation requiring NHDES to presumably lower drinking water standards requires additional resources and staff to determine what would be an appropriate standard, he said.
"We told the Legislature we'd be willing to reconsider drinking water standards, we just didn't want the Legislature to dictate what a new standard should be," said Martin.
In May 2016, the U.S. Environmental Protection Agency released a suggested health advisory guideline of 70 parts per trillion for perfluorooctanoic acid (PFOA) and perfluorooctane sulfonate (PFOS), which NHDES adopted for its drinking water quality standard.
The current legislative effort targets perfluoroalkyl and polyfluoroalkyl substances (PFAS), and some of the bills even extend the focus to include other chemical compounds, including perfluorononanoic acid (PFNA) and perfluorohexanesulfonic acid (PFHxS).
But legislators, including Rep. Mindi Messmer, D-Rye, note that other states have adopted stricter standards.
For instance, a few months before the EPA released its health advisory guideline, Vermont's Department of Health set its safe drinking water standard for PFOA at 20 parts per trillion, based on studies by the EPA. Vermont reviewed the EPA's health advisory guideline but did not adopt it.
In late 2017, New Jersey's Department of Environmental Protection accepted the New Jersey Drinking Water Quality Institute's recommended drinking water standard of 14 parts per trillion for PFOA.
Compliance costs
The bills are making their way through the legislative process just as NHDES announced an agreement with Saint-Gobain Performance Plastics, which in 2016 reported that it had released PFCs at its Merrimack factory. The agreement calls for the company to fund million-dollar buildouts of municipal water lines to affected residences in the area.
The Business and Industry Association of New Hampshire has been closely monitoring the measures.
"Some of our members may be affected by this legislation, and we're providing them with a voice as well as a liaison between them and NHDES so we come up with something everybody can live with," said Stefanie Lamb, the organization's vice president of public policy.
She said the BIA is concerned about compliance costs for its members as well as the financial impact on treatment facilities that could result in significant costs to utility ratepayers.
Among its members are Textiles Coated International of Manchester, formerly of Amherst, and Lydall Performance Materials in Rochester. Testing ordered by the NHDES revealed elevated levels of PFAS at TCI's Amherst site and at Lydall.
Last September, TCI, a manufacturer of glass fiber fabrics and polymer films, received a $5 million, low-interest loan approved by the Executive Council to finance expansion of municipal waterlines to approximately 100 properties in Amherst that tested positive for elevated levels of PFAS.
In late March, Saint-Gobain agreed to extend waterlines to 302 properties in Bedford, Litchfield and Merrimack, in addition to more than 450 properties currently being addressed.
As reported by the Union Leader, Saint-Gobain and TCI have declined to also contribute to the cost of installing carbon-activated filtration systems in the Merrimack School District, despite efforts by the school district's attorney.
Merrimack residents will vote on April 10 whether to approve the district's operating budget, which includes $120,000 to install the filtration system, said Matt Shevenell, assistant superintendent.
The schools' water tested at 20 parts per trillion, "below the [federal health advisory] guidelines of 70 parts per trillion, but parents would like it to be at zero," said Shevenell.
Portsmouth resident and environmental health educator Lindsey Carmichael is committed to doing the same for the Portsmouth School District.
"I would like to see the city of Portsmouth work with the Air Force to address the PFAS contamination in the municipal water," said Carmichael.
Portsmouth will soon replace the carbon in one of the activated carbon filters at the Harrison and Smith wells at Pease International Tradeport, site of the former Pease Air Force Base. Two filters were installed in September 2016, but the filters are now at their end of life. Only one filter will be changed out so officials can study the life cycle of the first filter, with the newer filter serving as a catchall for contaminants that slip through the first.
Brian Goetz, deputy director of public works for the city, said the city is currently covering the costs of the filter change-out, but has been in talks with the Air Force regarding which party is responsible for covering future carbon change outs and maintenance costs.
Then there's the nearby Haven Well, which has been shut down for four years.
"Due to an order by the EPA, the Air Force is obliged to put the treatment online, but they also have to clean up the aquifers," said Goetz. That includes cleaning up groundwater in the area with a separate treatment system that pumps water out of the ground and injects treated water, and carbon will be replaced more often for Haven Well, he said.
Goetz said the Air Force is actively involved in finding a solution to the matter, with "boots on the ground" and an "extensive" team of engineers.
"It's a very complicated issue so things don't move at a rapid pace," he said. "Getting these big agreements together takes time, but we've had a good response from them."
Clean Water Act
Additional regulation of the water at Pease has also affected construction there.
"You have to treat all water as if it's contaminated; it drives up the cost of construction and repairs," said David Mullen, executive director of the Pease Development Authority.
The PDA is working with the New Hampshire attorney general to reach a settlement with the Conservation Law Foundation, which filed suit against the PDA for allegedly violating the federal Clean Water Act.
"We were concerned a lot of redevelopment activity was occurring at the former Air Force base and that was proceeding in the absence of a federal clean water permit, and it struck us that people were not looking at whether PFAS were showing up in surface water," said Christopher Kilian, clean water program director at the Conservation Law Foundation.
Messmer expressed concern that leaving water untreated around the state could halt interest in businesses and potential employees from moving to the area.
Mullen said he has seen no impact on commercial interest in Pease, but David Choate, executive vice president of Colliers International in Portsmouth, noted two instances he's seen of clients' hesitation due to potential water contamination.
Convenient MD, which in September opened an office on the second floor of the Seacoast Media Group building at Pease, expressed concern about water contamination, though those fears were pushed aside when Pease shut down the well.
Another client he worked with halted attempts to sell land for workforce housing on Route 1 in Hampton since it is adjacent to the Coakley Landfill Superfund Site.
"The owner has realized it's unsellable until [the issue is] settled," said Choate.
Phasing out substances
Manufacturers of PFAS worked with the EPA to complete the phase-out of certain long-chain PFAS in 2015, after manufacturer 3M supplied data to the EPA indicating such substances are very persistent in the environment and have a strong tendency to accumulate in human and animal tissues.
The industry has since moved on to produce substitutes, but the impact of PFAS remains.
"The world of perfluorinated chemicals is huge. There are thousands of them with varying chemical structures," said Liz Harriman, deputy director of the Toxics Use Reduction Institute in Massachusetts, an agency created in 1989 to help companies reduce their use of toxic chemicals. "PFOS and PFOA have been used in the past as processing aids and basic materials, but more than that, they're the ultimate breakdown product of other chemicals."
TURI does not regulate chemicals but issues requirements that request companies to report the quantities of chemicals used, how they're disposed and whether alternatives are available.
"Polyfluoroalkyl and perfluoroalkyl substances [two of the substances targeted in current New Hampshire legislation] are not currently on our chemical list," said Liz Harriman, deputy director of TURI, adding that TURI's scientific board is evaluating whether to add them.
"I think there's been a shift in acknowledging they're a problem and they're out there and they just never breakdown. So if they were used in the past, they're still used there somewhere," said Harriman.
In general, Massachusetts companies have been "pretty willing" to find chemical alternatives, said Harriman. "It depends on the chemical as to how much focus has been put on it and what success it has had."
Often it requires a market shift. For instance, the move away from lead in electronics.
"That was driven primarily by the European Union," said Harriman. "They're a bit more progressive about their chemical policy than in the U.S."
"Taking lead out of electronics was a much bigger deal for companies because that's a material in their product. That took more time. We had an industry consortium and they took more than a decade to make sure they could build boards with lead-free solders," said Harriman. Companies shifted to tin, silver and copper solder.
"The science on perfluorinated chemicals is coming out daily," explained Harriman. "There's been a lot of research in the last five years — it's very much an emerging science for companies to keep up in that. They're in the business of making products."