New Hampshire, Vermont are excelling at vaccination, but there's plenty more to do
'We've done great,' but potential surge is still possible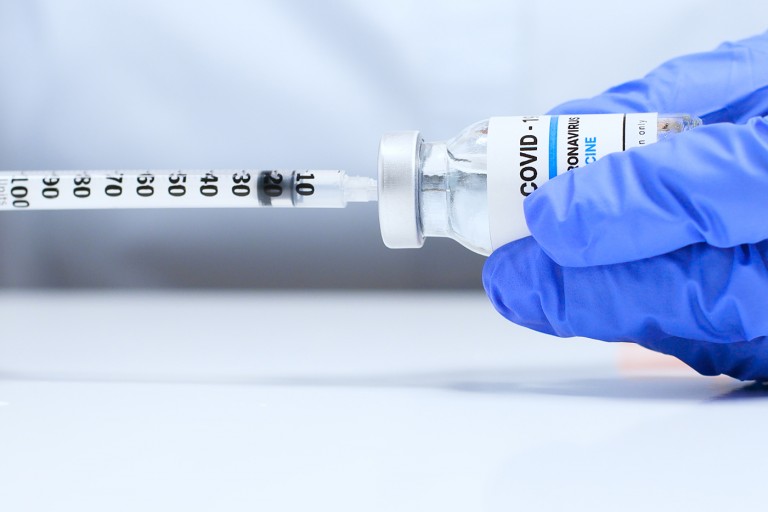 Residents of the Twin States continue to get vaccinated at relatively high rates and mask mandates in New Hampshire are easing, but Covid-19 cases and hospitalization rates also remain high.
When ranked nationally, New Hampshire comes in second and Vermont fourth in terms of Covid-19 vaccine administration per 100,000 people, according to the Vermont Department of Financial Regulation's weekly Covid-19 modeling report.
As of April 15, 181,500 Vermonters, 29% of the state's population, and 363,300 Granite Staters, almost 27% of the population, were fully vaccinated against Covid-19, according to the Centers for Disease Control and Prevention's Covid data tracker. A larger share had received at least one dose: in Vermont, 278,600, nearly 45%, and in New Hampshire, 764,600, more than 56%.
"We've done great, in fact much better as far as the country is concerned," Dr. Jose Mercado, a staff hospitalist and the associate hospital epidemiologist at Dartmouth-Hitchcock Medical Center, said.
At the same time, however, the states have been reporting more new cases each day; New Hampshire is averaging about 450 new cases daily and Vermont 141. Those numbers are well below the peak of the winter surge, but still above the low numbers of last summer. In New Hampshire, that average is up at least 10% from the week before and at about the same level as when the state first instituted its mask mandate in mid-November.
Similarly, hospitalizations in New Hampshire stood at 130 this week and in Vermont at about 30. As with cases, those numbers are down from this winter, but above those from last summer. In New Hampshire, current hospitalizations exceed the number the state had during its first surge last May and are roughly equivalent to where they were when the state issued its mask mandate as the second surge was growing in the fall.
The "concern now with the increasing positivity rate and the uptick in hospitalizations is that we may be looking at another potential surge," Mercado said.
The two sets of numbers, one showing gains in the effort to return to normal and the other that the pandemic continues, illustrate the difficulty of balancing the desire to reopen the economy and return to normal with a need to prevent illness and further mutations of the virus.
Younger people still at risk
Though both states report that most people 65 and older have now been vaccinated, due to their higher risk of developing serious illness should they contract the virus, many younger residents are still awaiting their shots, including some who are at higher risk due to their living conditions or employment-related exposure such as college students, restaurant workers and grocery store employees.
While the rate of Covid-19 related deaths in the Twin States has decreased since the peak this winter, the death rate due to Covid-19 is "still unacceptably high," Mercado said. Such deaths tallied 1,266 in New Hampshire and 242 in Vermont as of Friday.
In addition, though younger people may be at lower risk of serious or life-threatening illness, somewhere between 10% and 30% may develop a post-acute Covid syndrome that can include "persistent symptoms that can really be debilitating for them" and last for weeks or months following the initial illness, he said. This syndrome can prevent people from working, and performing their usual activities and can even affect people's mental health, he said.
Because most people still do not yet have immunity to Covid-19, Mercado said he continues to urge people to continue wearing masks and to avoid unnecessary travel and large gatherings.
"(We're) not at the point that we should let our guard down," he said. It's "about having a little bit more patience (and) a little bit more endurance in following the mitigation strategies."
By Monday, all residents of both Vermont and New Hampshire age 16 and older will be eligible to schedule appointments for vaccination. Out-of-staters also can begin registering in New Hampshire on Monday, and college students with out-of-state addresses can begin registering in Vermont on April 30. Federal and state leaders have targeted a return to normalcy by July 4, although vaccination plans remain uncertain for children under 16, for whom no vaccines have yet been authorized for use in the U.S.
In the meantime, states already have begun rolling back restrictions, with Republican New Hampshire Gov. Chris Sununu allowing the statewide mask mandate to expire April 16.
Some local mask mandates remain in place, and Sununu said last week that the state is still encouraging mask-wearing.
"The pandemic is not over and we are not declaring victory by any means," he said.
Anne Sosin, a policy fellow at Dartmouth's Nelson A. Rockefeller Center who has been following the Twin States' response to the pandemic, said that though younger people and college students will become eligible for vaccination on Monday, it will take weeks or months for them to get their shots and for them to take effect. She said it's a mistake to roll back restrictions too soon and rely on vaccination as the only tool to prevent transmission.
"I think we're at a very precarious point in the pandemic right now," she said. People can "look ahead with great optimism to the summer. It's this next month or several weeks that concern me the most right now."
Alice Ely, executive director for the Public Health Council of the Upper Valley, said she's not surprised by the climbing case counts, but she thinks that including non-residents in the state's vaccination rollout beginning on Monday will help bring case counts down.
"We need to be able to move quickly to get the vaccine to those folks (and) encourage those folks to get out," she said.
Dartmouth College also is eager to get students vaccinated and will require that students do so before next fall, the provost announced last week.
Beyond Dartmouth's mandate, Ely said she hopes younger people will get the message that vaccination will help protect them as well as their family members and the community at large from illness and from further mutations in the virus that might make it more difficult to control.
They're "doing everyone a community service if they will agree to get vaccinated," she said.
Access expanding
Getting a Covid-19 vaccine in the Twin States has gradually become easier in recent months, and Ely said she anticipates access will continue to improve as time goes on.
After beginning in December with hospital-based clinics for healthcare workers and clinics in nursing homes for residents and staff, public vaccination sites now have popped up in former department stores, as well as at hospitals and pharmacies around the region. In New Hampshire, people are required to sign up through the state's website, while in Vermont people can sign up through the state site or directly through pharmacies. Phone numbers are also available.
It's not yet clear if or to what degree last week's announcement that federal and state health agencies would pause administering the Johnson & Johnson vaccine due to reports that six women — of the nearly 7 million people who had received the vaccine — developed serious blood clots. But President Joe Biden and the Twin States' governors said for now at least they will move forward with their vaccination efforts using the two other vaccines currently authorized in the U.S.
Mercado said he was less concerned that the J&J pause might affect vaccine supply than that the incident might create hesitancy in those who have yet to be vaccinated. He noted that people who get Covid-19 are at an elevated risk for developing blood clots. He encouraged people who haven't yet been vaccinated to seek out reliable sources for information, and people who've already received their shots to talk to others about it.
"I think sharing experiences is very powerful," he said.
This article is being shared by partners in the Granite State News Collaborative. For more information visit collaborativenh.org.