New Hampshire trucker, law firms file national truck stop suit
The suit against the Pilot Flying J chain was filed shortly before the quick settlement of a similar case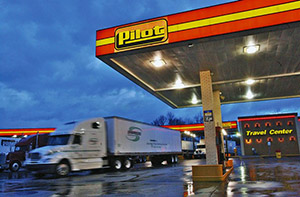 A New Hampshire truck driver and two local law firms have filed yet another class action suit against Pilot Corp. and Pilot Travel Centers (known as Pilot Flying J), accusing the national truck stop chain of shorting its customers on fuel rebates.
The suit was filed a week before Pilot announced the preliminary court approval of national settlement.
Fred Woodward, a long-distance trucker from Epping, filed suit in U.S. District Court in Concord on July 9, aided by four law firms, including Dover-based Shaheen and Gordon and Bonsignore and Brewer of Belmont. William Shaheen, husband of U.S. Sen. Jeanne Shaheen, was one of the lawyers listed in the filing.
The suit echoes many of the 20 (and counting) lawsuits filed since April against the nation's largest truck stop operator. They were filed after the FBI and IRS raided the company's Knoxville, Tenn., headquarters as part of an ongoing federal probe into the rebate scheme.
The New Hampshire lawsuit, citing secretly made recordings based on FBI affidavits used to justify the April 15 raid, said the company paid "unsophisticated customers" less in rebates than others, sometimes by manually changing spreadsheets.
Informants also allegedly recorded training sessions during which sales representatives were advised to commit the fraud and were told how to determine which customers would have more difficulty discovering the price discrepancies.
The suit charges that Pilot executives discussed teaching the "rebate fraud system" at Pilot's sales meetings as well as how to deflect questions by blaming any error on a computer glitch.
Pilot CEO James Haslam III, President Mark Hazelwood and Chief Financial Officer Mitch Steenrod were aware of the fraud and consented to it, according to the suit.
The New Hampshire suit class would include all truckers — not limited to those in New Hampshire — receiving rebates dating back to 2005. It does not spell out a figure, but said that at least 1,000 truckers would be affected and the amount to be over $5 million.
There is one Pilot truck stop in New Hampshire, located on Route 3A in Bow near Interstate 93.
No information about Woodward is provided in the New Hampshire lawsuit, and he could not be reached for comment. Calls to all plaintiff law firms involved in the suit (including one in Georgia and another in Ohio) were not returned by NHBR deadline.
It is unclear how the class action settlement filed Tuesday in Little Rock, Ark., would affect the New Hampshire litigation. Although the Arkansas settlement only involved the eight firms involved in that lawsuit — first filed on April 24, nine days after the FBI raid — it includes all truckers who received a discount from 2008 forward.
The settlement offers a full rebate, plus 6 percent interest, plus attorney's fees. The settlement does not spell out the fees, but USA Today reported the deal enables attorneys to receive one-third of the settlement amount, capped at a total of $14 million.
Such an early settlement that includes attorney's fees is unusual.
Some observers credit the firm with quick damage control. Haslam — who's also majority owner of the Cleveland Browns — released a statement saying that the company was settling in order to "do the right thing" so that customers "are made whole as soon as possible with interest," without them "incurring extraordinary legal or investigation expenses."
"Customers who are concerned about their accounts may join the class by simply doing nothing," Haslam said.
Pilot has 600 retail locations, sells 9 billions gallons of petroleum annually and employs 25,000 people.