New Hampshire real estate market faces its toughest test
Covid-19 crisis brings turmoil, uncertainty to industry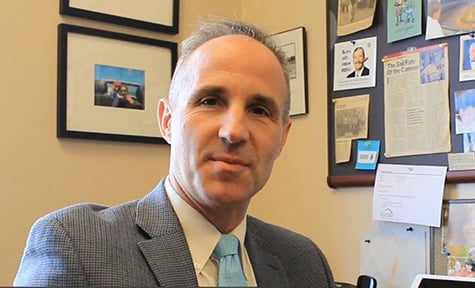 In February, before the Covid-19 crisis had yet to be called a global pandemic, the New Hampshire residential real estate market was still showing some signs of strength. According to the New Hampshire Association of Realtors, there were 768 closed sales (down 7.2% from February 2019) with an average sale price of $289,000, which was up 7% from the same month in 2019.
Realtors also reported that there were 1,350 pending sales, which was up 22.5% from 2019.
March and the succeeding months will likely tell a much different story as headlines change rapidly and the full public health and economic impact of the pandemic plays out to great uncertainty.
Though the real estate sector has been deemed an essential business per Gov. Chris Sununu's statewide stay-at-home order in late March, like so many industries throughout the country it has been turned upside down and faces an unknown period of uncertainty – for both buyers and sellers and the jobs of broker/agents.
"To nobody's surprise, there's a high level of anxiety among our members, as it would be with anyone whose livelihoods are being disrupted," said Dave Cummings, director of communications for the Realtors Association. "Our members are trying to get as much information as possible and practicing an abundance of caution. They are concerned for their clients and their own well-being. They are proceeding with and leaning towards caution and putting health and safety first which is very heartening."
Market 'on pause'
Cummings said Covid-19 disruption became pretty clear in the first couple of weeks of March, when the first positive cases became known in New Hampshire. NHAR closed its office in mid-March and canceled all in-person meetings and events. NHAR's seven employees work remotely from home.
While some sales and showings are taking place, the business has changed dramatically, and in ways much different from the financial meltdown and real estate bottoming of 2007-08.
"This is much more dramatic and immediate," Cummings said.
"I wouldn't call the market frozen right now," said Adam Gaudet, president of the Seacoast Board of REALTORS. "It's more like on pause."
Almost 900 members responded to an association survey sent out the week of March 23-27 to measure the extent of the disruption. (Cummings said typical surveys sent to the 14 real estate boards in the state usually only get 200 replies at most.) The responses provide a snapshot of economic uncertainty, with at best a strong recession and high unemployment looming and a market transformed seemingly overnight. For example:
63% of respondents said buyers have decided to delay a home search.
51% of sellers are delaying bringing new listings to the market.
22% said the coronavirus has no impact on their business.
15% sellers canceled an open house even before the state banned them.
11% of sellers took their homes off the market.
The Seacoast market (13 towns, from Portsmouth to Exeter) was already tight and becoming even pricier before the disruption. In February, according to the Seacoast Board of Realtors, single-family home sale volume was the lowest in two years and the lack of inventory of homes for sale was historically low.
The good news for sellers, and continuing bad news for buyers, is that the three-month median sale price in 2019 increased more than $100,000 to $493,750. Seacoast condominium sales volume was the lowest since 2014, but the median sale price was a record-breaking $410,000 for any month on record.
Gaudet said the Seacoast market had been tight but strong. Going forward into so much unprecedented uncertainty is another matter. While low interest rates remain attractive, job uncertainty will have an impact on buyers.
Sununu's order, for example, banned real estate open houses so the technology of virtual home tours and other fast-track measures, such as on-line financing options, will come more into play. He said brokers and agents are taking every safety precaution, including a form for potential home viewers declaring they haven't traveled overseas in the previous two weeks, haven't had contact with a coronavirus-positive person, or have any symptoms themselves.
"It's become a lot more serious, and we're not sure what to expect," he said.
Some optimism
In the NHAR survey results for the Seacoast, 66% of buyers decided to delay a home search and 53% of sellers are delaying listing their homes – both figures slightly above the state average.
Nationally, the online real estate service Zillow has closed all of its operations in the 24 markets it served. And Lawrence Yun, chief economist for the National Association of Realtors, said strong February pending sales figures nationally could be a good foundation for a future rebound.
"Many of the home sales that are likely to be missed during the first part of 2020 may simply be pushed into late summer and autumn," Yun said in a March 30 statement. "Numbers in the coming weeks will show just how hard the housing market was hit, but I am optimistic that the upcoming stimulus package will lessen the economic damage, and we may get a V-shaped robust recovery later in the year."
Cummings said the NHAR will do continue to conduct regular surveys during the crisis. Though he doesn't like making predictions, Cummings said with the new environment it's likely that March sales figures be mixed. Afterwards? "I think in April you will see a precipitous drop."