New Hampshire ranks in the middle of 'Top States'
State praised for business friendliness, quality of life, but is dinged on infrastructure, economy, cost of living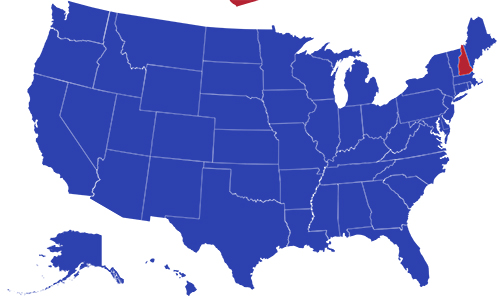 For the fourth year in a row, New Hampshire retained the top spot for its business friendliness, according to CNBC's latest "Top States" rankings. The Granite State also landed in the top 10 for its workforce and quality of life.
But overall, the state was in the middle of the pack of 50.
CNBC has compiled rankings of all 50 states for the past 12 years. This year, New Hampshire ranked 25th overall, a drop of one from last year's ranking of no. 24.
The ranking, however, was the second highest in New England – behind Massachusetts, at No. 14. The state also showed gains in several categories.
For instance, the state rose to no. 8 for its workforce, an 11-place jump from no. 19 in 2018.
The state also retained no. 5 for the second year in a row as the best state to live in, based on data that includes crime rates, environmental quality and inclusiveness.
But on the flip side, the state received low rankings for its economy (no. 34, a drop from no. 22 in 2018); infrastructure (no. 45, up from no. 49 in 2018); cost of doing business (no. 40, the same as 2018); access to capital (no. 35, up from no. 41 in 2018); and cost of living (no. 37, up from no. 39 in 2019).
In addition, the state was rated no. 13 for education, a significant decline from its no. 2 ranking in 2018, and no. 29 for technology an innovation, a drop from its 2018 ranking of no. 26.