New Hampshire poll finds widespread housing dissatisfaction
65% in survey by Realtors voice concerns about cost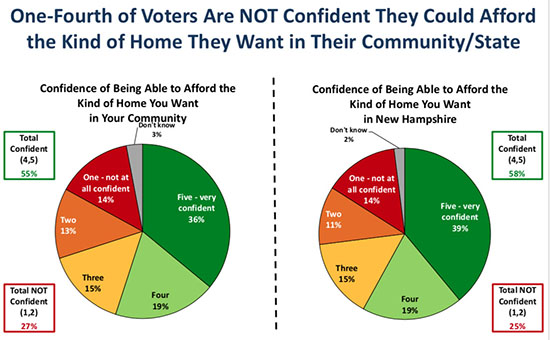 Housing affordability remains a nagging problem, with a recent poll revealing 65% of all New Hampshire residents indicated they are dissatisfied with the cost of housing, and even larger numbers want local, state, and national elected officials to start talking more about the housing crunch and make it a priority.
According to a poll of registered New Hampshire voters conducted for the New Hampshire Association of Realtors by American Strategies, while most are generally content with their current housing situation, they recognize that the cost of housing would likely prohibit their ability find adequate housing if they had to move.
In fact, over a third of registered voters said they have a desire to move to a new home, but more than half are not confident they can afford the kind of home they want in their community (51%) or elsewhere in New Hampshire (47%).
According to NHAR, the statewide median sales price of a single-family home is $296,000 through the first six months of the year, up nearly 6% from a year ago, and there's a 3.4-month supply of available homes, down 17% from a year ago.
NHAR also pointed to data from Laconia-based Applied Economic Research that estimates over 2,000 new homes are needed to normalize existing statewide housing demand, and nearly 10,000 new rental units are needed to provide adequate labor force for the state's employers.
"Policymakers need to hear these concerns about the cost of housing and the impact it might be having on our state," said NHAR President Dan O'Halloran, a Realtor in the Lake Sunapee region. "While New Hampshire is trying to keep and attract younger workers in order to expand our economy, the lack of housing is taking its toll. Too many of our young people are saying they might leave the state due to high housing costs."
Also, according to the poll:
38% of registered voters say their rent or mortgage payment is a strain on their monthly budget, including 15 percent who say it is a significant strain.
One in eight registered voters between ages 35 and 50 are considering moving out of state due to high housing costs.
The poll also found that New Hampshire voters are open to building both single-family, detached homes and single-family, attached townhomes in their community in order to reduce housing prices. Some 82% support building single-family, detached homes, and 67% support building single-family attached townhomes. Support for building single-family detached homes is stronger than support for building townhomes (42% compared to 27%).
Respondents were more divided on building apartments (55% support, 43% oppose) and condominiums (48% support, 50% oppose). Younger people are more likely to support these developments than older people.
There was equal support for building more housing for families with school-age children (84%) and building more housing for residents age 55 and over (84%). Significant majorities of voters under age 50 strongly support building more housing for families with kids (64 percent strongly support for ages 18 to 34; 57 percent strongly support for ages 35 to 49).
Although older residents also support building more housing for families with school age-children (48 percent "strongly," 81 percent "total support"), they do so with less intensity than younger voters.