New Hampshire home prices continue to rise
Median price hits $298,850 in July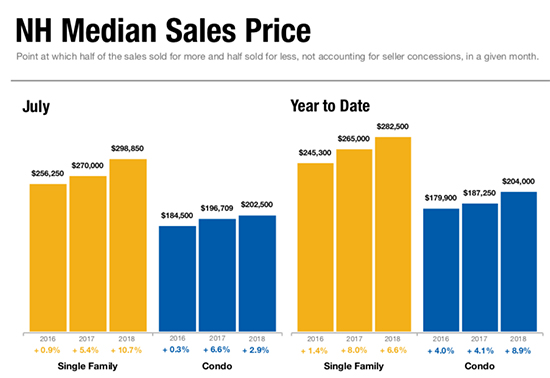 Prices continue to rise and what inventory there is continues to be snapped up, according to the NH Association of Realtors' latest snapshot of New Hampshire's residential real estate market.
In their July report on the housing market, the Realtors, reported that 1,888 single-family homes were sold, at a median price of $298,850. That's 30 more homes than were sold in July 2017; the median price was nearly $30,000 more than last year's $270,000. That's a 10.7 percent increase
The picture for condo sales was slightly different, with 483 units sold in July, 29 more than 2017, with a median price of $202,500, up 2.9 percent from last year's $196,709.
Months supply of homes dropped to 3.8 in July, from last July's 4.7 months. For condos, months supply dropped to 2.3, down from last year's 3.4.
At the end of July, the Realtors said there were 5,840 homes for sale in New Hampshire – 16.2 percent fewer than last year. There were 977 condos for sale, down 25.9 percent from last year.
Median single-family sale price rose in all counties except Coos and Sullivan, according to the Realtors' data. Median condo price rose in all counties except for Merrimack and Sullivan. The highest median single-family price was $389,950, in Rockingham County. The lowest was $106,500, in Coos.
For complete data, visit nhar.org.