New bridge in place, not yet done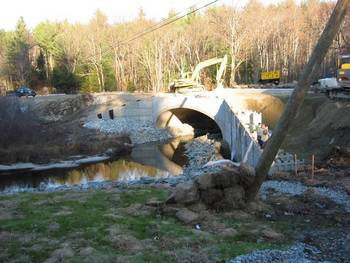 LYNDEBOROUGH – The new pre-cast concrete bridge bypassing the two stone arches on Old Temple Road West is in place but not yet complete.
Work has begun on the intersection of Old Temple Road and Route 31 and the steep hill between the highway and the railroad tracks.
Old Temple Road has been closed to traffic since the end of August causing area residents to take the long way around via Pettingill Hill Road, an added four miles for those planning to go toward Greenfield.
The road is expected to be reopened in January.
Work still to be done includes re-grading the road and creating new drainage in the area of the railroad crossing, possible removal of some ledge, and improvement of sight lines at the corner of Route 31. A large boulder near the intersection may be reduced in size.
Work on the railroad crossing was postponed until after foliage season, the busiest schedule for the Wilton Scenic Railroad.
The contract with the builders, Hansen Construction Co. of New London, states work will be completed by Jan. 27, with provisions for bad weather. Hoyle-Tanner Associates of Bedford are the consulting engineers.
Final landscaping may be done in the spring.
The new bridge is much closer to the larger stone arch than many residents would like, or had been led to believe, they say. However, the old bridge, constructed sometime in the mid-1800s, is visible from the new bridge. The section of road over the old bridges will be restricted to foot traffic.
The road was closed to vehicles by selectmen in late August when concerns were raised about vibrations from the construction work and possible blasting loosening the stones. The original plan called for the closure to last only a week.
A workman at the site on Tuesday said, "The old bridge hasn't moved an inch." He also commented on the workmanship in the stone arch.