New book offers a fresh take on leadership
'Future of Everything' shows how to adapt to a new corporate landscape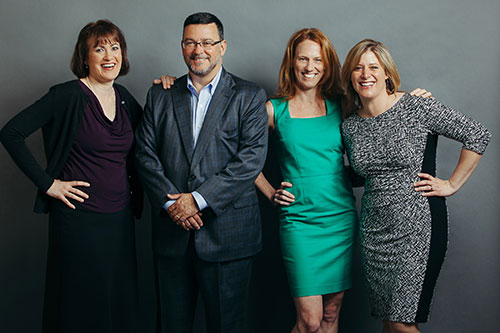 The more technology changes the workplace, the more important human interaction will become, a new book asserts – and business leaders would do well to recognize that.
"The Future of Everything: Strategies for Successful Business Behavior," by Russ Ouellette with his Bedford-based Sojourn Partners colleagues Heather Ramsey, Trinnie Houghton and Debra LeClair, says that the future depends on people working together in the new corporate landscape by using "distributed leadership" concepts. It's an idea woven throughout the book and illustrated in actual case studies.
The team at Sojourn Partners recently talked with NH Business Review about the new book and the current state of business behavior.
What is the premise of this book in the context of the future (as the title implies)?
Russ Ouellette: As Southern New Hampshire University President Paul LeBlanc mentions in the foreword, our professional landscapes are changing all around us. In that sense, the field of organizational development plays an epic role in changing our business and world in a profound way. Leaders like Paul understand that.
Technology has taken us far, but it will be the human being interacting in these technology changes that will leverage organizations, companies, industries and economies. The future depends on people working and leading together in a new landscape. Our future will depend on "distributed leadership", and the concepts in the book will add to the future advancement of more leaders in a small way.
Who is this book for/who might benefit most from the book?
Ouellette: This was written for the average worker who does not want to be average. Our working principle is that every person has the ability and capacity to lead, if they want to. We want them to, and if we can articulate small leadership stories that they can relate to, it should fuel their ambition.
Leadership is not necessarily the corner office, especially in today's world. It's more about individuals being leaders of themselves and what they are responsible for. We envision a future working reality where we are all energized by leading what we can.
In that way, we can rely on ourselves to fuel ourselves to really do our best, always, with other people in mind. So, in reality, it's for anyone who really wants to be a better leader and professional contributor.
What sparked your passion for empowering people?
Heather Ramsey: It always been there – it is just who we are at our core. Knowing that the perspective of belief and the power of choice are the key elements to empowerment comes naturally to us. Helping people and teams break through barriers (self-imposed or otherwise) not only sparks passion for us – it ignites it.
The move into executive coaching came from being in situations where people were drawn to us in a quest to better themselves, their teams or their organizations. In our previous work, we all felt like something was missing or wasn't quite right in our career. We could not just "do" something we had to "be" something. This drove us to learning more about science of coaching and how we could incorporate our natural talents with the coaching tools.
In what ways is that passion reflected in the book?
Ramsey: The writing in this book comes from our experiences, which are authentic and real. It pulls together concepts of leadership, corporate culture, strategies and personal growth that we have seen open up the power of choice, belief and action to leaders at all levels. Each section brings a piece of us and our clients which results in key takeaways that can be applied now.
We want to elicit the freedom to open up, unleash our innate power and take hold of the responsibility that fulfills our purpose.
What sets the book apart from other business books?
Ouellette: Everything about our work is "real." In other words, while we continually study and create concepts that help people learn and grow, our approach to everything is applying these concepts to something real, something being experienced by the client. In that sense, we are never teaching, rather we are experiencing others. This book represents real experiences that we have lived through and conceptually share with readers.
I think that every book on business sociology offers the reader something. What this is offering are experiences rather than theories that people can relate to. They will recognize themselves in these stories and be able to learn through their relating to it. Hopefully after reading a section they will feel they recognize this situation, and be validated in their thinking about the solutions.
This is stuff and thinking they can apply in real time to their real situation to advance stretch the professional experience and provide them with a sense of confidence.
Deb LeClair: What we would like people to take away from the book is an empowered sense that they can make things better — their performance, their team dynamics and most importantly their experience of themselves as a vital contributor to their organizations.
The book is also a way of offering shifts in perspectives supported by concrete steps for a person to enhance their knowledge, skills and abilities both as a team member and in regard to their own personal development and fulfillment.
How can the book help someone starting to plan a career strategy?
Trinnie Houghton: This book covers what people in leadership positions are thinking about and wrestling with. Planning a career strategy means talking to people about pathways to leadership and what is important to experience. This book can give them insights and a place to begin a more meaningful conversation.
What's an important piece of leadership advice you can give to a seasoned executive?
Ramsey: Believe in your power and the power of others. Know that when authentic values and purpose are clear people have the agility to navigate obstacles and the beacon to draw them back to the path of success. Everyone can lead, they just need to come from the perspective that they can – no matter what their role is, influence and power are there, as a leader you just need to help them learn that they can take it.
What changes in corporate culture have you seen recently?
LeClair: The best improvement I have seen in corporate culture lately are the various ways employers have been attending to the well-being of their workforce where the result is that an employee feels cared about and valued. Specific practices have included investing in lifestyle enhancement through flexible schedules, wellness programs and family friendly benefits.
A related trend is the increase in coaching for those at the executive level to help them improve their interpersonal communication and leadership skills. Since the number one reason people leave their jobs is because of problems with their managers/supervisors, this investment then carries a larger impact by creating manager- employee relationship that foster respect and appreciation.
Who doesn't want to work for someone who values them as a person and an employee?
What section of the book do you think will be most valuable to someone who may not be an executive yet, and why?
Ramsey: Leadership — the core of stepping into creating a culture of support and adaptation to change starts with stepping into a stronger leadership role. You are an executive even if not yet by name – you just have to step up and step into that role.
In order to navigate the new business landscape your mindset makes all of the difference. The leadership section helps people to approach their opportunities and challenges from a level that does not just address their needs or the needs of other people, it encompasses the whole – the greater good. That is the empowerment we want to see for our leaders at all levels of an organizations.
What is the biggest challenge facing leaders today – and what might they find in the book that will help provide solutions?
Houghton: How to handle complexity and take risks. Time and energy constraints, new organizational configurations or reconfigurations, generational divides, and communication challenges all are topics we see. There are numerous practical solutions, some of which clients have expressed to us, for each of these areas in the book.
What makes the Sojourn team so strong?
Ouellette: In this case, the cobbler's kids have excellent shoes. Seriously – I don't think I could be working with a better set of professionals. When people work together, they have to have the same value set, but also have complementing and diverse skills.
We all value the real and meaningful work we do, we honor our clients and put them first, and it's important that we care for each other. This is what we want for the teams we help move forward, and this is the foundation for a shared passion for our work.
While we share similar professional training, the ability to bring our very different professional backgrounds and experience to the table, and work cooperatively together sharing these skills, is extremely valuable to our work. Our willingness and ability to share these experiences allows us to truly create amazing solutions for our clients.
You should see us in our conference room with the whiteboard when we are working through a problem, and see the elegant solutions that emerge. When we co-facilitate, it's a dance of sorts that comes from each other's energy, like we have very different but connected minds. It's really a joy to work together.
Houghton: We believe that we are simply guiding brilliant people who know what they want. Each of us does one-to-one executive coaching, and many of our areas overlap, but there are areas in which each of us specializes. Clients have told us how much they appreciate Russ's directness and straightforward way of seeing things.
Russ is our go-to for strategic planning and change management. Heather brings exceptional expertise in communication and emotional intelligence. She has a way to getting to the source underlying any matter with great care. I am is our systems, team and communications specialist. Clients appreciate her ability to see the whole, her directness, and her heart. Deb specializes in corporate mindfulness, working with companies on wellness strategies. Clients seek Deb out for her wisdom and calmness in stressful situations.
LeClair: What makes the Sojourn team so strong is that we have consciously gone through many of the same team-building processes together that we have taken out to our client organizations. That includes having the difficult but truthful conversations, going to vulnerable places and then being supported so that trust is created between us. It's through these processes that we know each other's struggles and strengths.
So, for example, I know I can ask for help in an area that is a challenge for me. I might get it in the form of collaboration, a little coaching or just plain brainstorming. Now when I am on the end of being asked for help, that reinforces the contribution I feel I am making to the team in that my expertise and experience are bringing value to someone else.
As a dynamic, being asked for help makes it then easier to seek help since. I know there is a balance of being accepted around my vulnerabilities and being appreciated for my strengths. I would also say that we do express gratitude to each other on a regular basis — helping no one to feel taken for granted. Similarly we also have proven to be great cheerleaders for each other.
What is the most important message you'd like readers to know about the book?
Ouellette: I'm not kidding when I say that the future depends on people stepping up to their lives in a different way. I want more people to be brave, ambitious, and try to lead. I want people to understand that leading is as easy as following, and it is an intuitive role. I want people to feel empowered and confident to lead the way they naturally can. I want more of us to feel a sense of ambition, take a tactical risk and take on that hard assignment.