NEM offers the benefits of electronic document archiving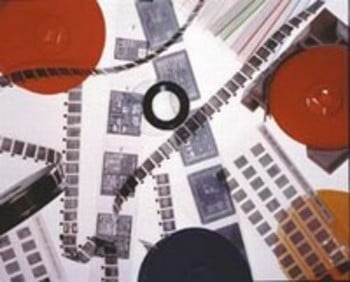 Is your business being buried under all the "Paper Weight"? Document Imaging may be the solution.
New England Micrographics can convert paper files into searchable, retrievable electronic documents available at the click of a mouse.
Founded in 1983 by Nick Brattan, President, and Don Forst, Vice President, New England Micrographics was initially a microfilm company. Since then NEM, with almost 100 employees, has expanded its business to include Off-Site Record Storage and Document scanning services. As a value-added reseller for Digitech, a leader in document imaging software, NEM uses PaperFlow as its capture software and PaperVision as a retrieval system with a web-based viewing option.
There are many advantages to converting paper records into electronic files. They can be searched, viewed, printed and e-mailed within seconds. Records are archived and protected from disaster with a back up CD stored in NEM's climate-controlled vault. Document imaging reduces and even eliminates filing and boxes of records which saves time, money, floor space and greatly increases efficiency.
"We consult with a company and develop the archive plan that best suits their needs" said Lynn Siska, NEM sales manager. "Depending on the situation, we may suggest they store several year's worth of paper records at our storage facility, then have their documents scanned on a 'go forward' basis for quick retrieval." NEM provides a weekly courier service that picks up the records and brings them to NEM to be scanned. "Because we pick up weekly, customers can eliminate their filing systems. We can send back a CD-ROM of the records with the next week's pick up or use FTP (file transfer protocol)," said Siska.
Companies have choices. They can maintain the images on a server within their own company or with a document repository ASP (application service provider) called ImageSilo. Either way, their records are instantly accessible. "Because of our expertise in scanning, we can also set up companies to scan their own documents," explains Nick Brattan, NEM's president. "We provide the software, hardware, installation and the 'know how' to make this a successful operation for them," says Brattan.
Such documents as accounts payable records, accounts receivable invoices, quality control documents, human resources and payroll files are frequently converted to digital formats. The legal and medical communities also are demanding audit tracking of files in order to comply with HIPAA regulations.
"Auditors are finding electronic imaging so beneficial, many are suggesting the process to clients who are not already using it," said Brattan of imaging's growing popularity.
Microfilming is still a strong part of the company and the demand for Off-Site Record Storage services required NEM to expand and build a 25,000-square-foot Records Center dedicated to the storage and retrieval of files. These services round out the options available to companies around New England.
For more information on document storage and electronic archiving, call New England Micrographics at 625-1171 or visit www.nemicrographics.com.