N.H. wood harvesting industry impact: $51 a ton
3.3 million tons logged in 2012 contributed $170m to state's economy, study finds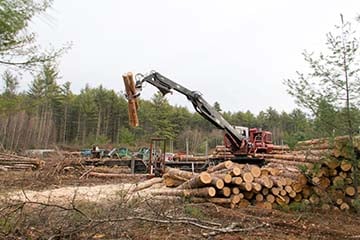 The New Hampshire logging industry contributed nearly $170 million to the state's economy in 2012 – or, to look at it another way, a little more than $51 for each of the 3.3 million tons harvested in the state, according to a report prepared for and released by the New Hampshire Timberland Owners Association and released to NHBR.
Past studies, which measured the entire wood products industry, pinned that economic impact in the neighborhood of billions of dollars. But this time the association wanted to quantify "the sharp point of the stick," said Eric Johnson, program director, and measured the economic impact of wood harvesting alone on local communities so they would have a sense of the economic impact of their policies
"People don't think of logging as an economic activity. It's all on the back roads, you rarely see it, and it happens in one location every 15 years or so, and then all of a sudden it comes out of the woods," said Johnson.
With the $51-a-ton figure, he said, "we could say this town's policy would mean harvesting 200,000 fewer tons, you can say that the town would lose some $10 million in economic activity. Maybe they will think twice about it."
The logging industry employed 1,124 people directly in 2012, and if it was only their income and value-added contribution, the economic activity would be about $87.4 million.
But the report – which was authored by the Plymouth State University Center for Rural Partnership with about $30,000 in foundation grants – employed a commonly used method to estimate that the industry created another 800 indirect jobs, bringing the total to 1,921. Those jobs range from the short order cook fixing a logger breakfast to the doctor who stitched them up at the local hospital.
In addition, the industry generated more than $20 million in taxes, with a quarter of that going to state and local coffers, mostly via the property tax.
The report is extrapolated from a survey of 388 logging firms in the state. Only 28 loggers responded, but they represent about 18 percent of the wood harvested, and – according to the model used – had a 95 percent confidence error.
Johnson said he felt pretty good about the numbers. The main thing that surprised him was that the wages were not higher than they were. He speculated that may be because many loggers used off-the-books family labor for jobs like bookkeeping.